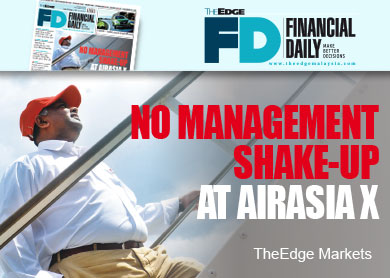 KUALA LUMPUR: AirAsia Bhd group chief executive officer (CEO) Tan Sri Tony Fernandes has affirmed that no upper management shake-up is on the cards for loss-making AirAsia X Bhd (AAX) and is confident that with its revamp plan, the low-cost, long-haul carrier can turn around in the next financial year ending Dec 31, 2015 (FY15).
He does not rule out the possibility of AAX returning to profitability in the fourth quarter of this year.
"We are still confident about the business model, and will support the current management," he told reporters after launching a new product called the Asean Pass yesterday. The pass enables travellers to utilise pre-purchased credits to book flights at a fixed rate across selected routes throughout Asean.
"They are unlucky in terms of timing, where 2014 is a challenging year for the whole industry, not only them [AAX]," he said.
On Wednesday, AirAsia X reported a wider net loss of RM210.85 million in 3QFY14 from RM128.79 million in 2QFY14, on higher operating expenses, foreign exchange losses and finance costs. This was its fourth consecutive quarterly loss since 4QFY13.
It also unveiled a revamp plan which sees the airline halting expansion of its Malaysian route network next year and slowing down its aircraft capacity growth by deferring the delivery of two aircraft each in 2015 and 2016 and another three in 2017.
AAX CEO Azran Osman-Rani had announced that he was expecting the airline to turn around in 4QFY14 with the rationalisation of industry capacity and the significant drop in global fuel prices in recent weeks.
Fernandes said the revamp plan involves merging AirAsia and AAX departments to remove duplication, improve efficiency and lower costs as well as rationalising AAX's Australian routes. He noted that the revamp plan is still being finalised.
"The plan will be finalised by tomorrow [today] internally, and we will implement it right away," he said.
The Edge Financial Daily on Tuesday reported, quoting sources, that AAX was facing problems paying salaries and allowances due to the late arrival of incoming funds, and that Fernandes will take on a more prominent role in the management of AAX to revive the airline.
Fernandes said he, together with AirAsia executive chairman Datuk Kamarudin Meranun, will allocate more time to help AAX's management team steer the airline.
"We are aware that a lot of Malaysians buy AirAsia X's shares, therefore both of us will take the responsibility and are committed to turning around AirAsia X," he said.
Asked if AAX had expanded its fleet too quickly, Fernandes said its expansion plan was reasonable, save that there were unexpected events such as the MH17 and MH370 tragedies and the Ebola outbreak that had affected demand for travel.
Nevertheless, he expects 2015 to be a "good year" for AAX, mainly due to lower jet fuel costs and the airline is seeing a strong rebound in demand from its China route.
This article first appeared in The Edge Financial Daily, on November 21, 2014.