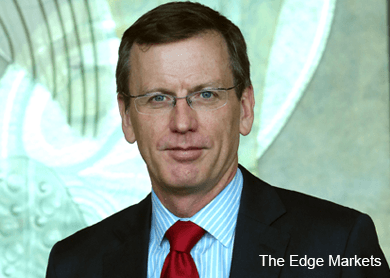 KUALA LUMPUR (April 20): There are no signs indicating that the ringgit, which is currently trading at levels of 3.6130 against the US dollar, will depreciate further against the greenback.
Chief economist of the Bank of Singapore, Richard Jerram, said the ringgit's performance is already reflective of current market conditions such as the weak crude oil prices and the effects of monetary easing.
"One of the factors that caused the weakening of the ringgit is the low crude oil prices, and the performance of the ringgit so far has been reflective of prevailing oil prices.
"The inflation rate in Malaysia is currently at low levels (0.1% in February), and in a situation of low inflation, it suggests that [at] some point, you may have monetary easing and in anticipation of that [monetary easing], I believe the markets have already been selling the ringgit [thus causing its weakening]," he told The Edge Financial Daily on the sidelines of the APAC Investments Summit 2015, which is organized by Marcus Evans.
Commenting on capital outflows for Malaysia, Jerram said it should not be a cause for concern.
"One of the concerns has been that when the US raises interest rates, whether this will cause a repatriation of assets, and considering that foreign ownership of Malaysian and Indonesian short term bond market are pretty high, these currencies are more vulnerable than other closed economies in the region.
"However I don't think we are seeing any big capital outflows for Malaysia," he said.
In fact, foreign funds have persisted with their build-up of Malaysian equity portfolio, buying for the fifth consecutive week, according to MIDF Investment bank. "Foreign funds sold RM539.9 million net of [equities] in March and this has already been reversed in April, as the cumulative net purchase for the month until last Friday was RM633.1 million," said MIDF in its latest report.
On reports that Fitch Ratings is more than 50% likely to downgrade Malaysia due to its shrinking current account surplus, Jerram says this is "surprising", considering Malaysia has taken steps to address the deteriorating current account, such as with the implementation of the goods and services tax (GST).
"I think the public finances in Malaysia was definitely [a] concern that led to the rating agency wanting to downgrade, but with the government bringing in GST, that should be quite a positive support factor by helping to diversify the government's source of finances," he said.