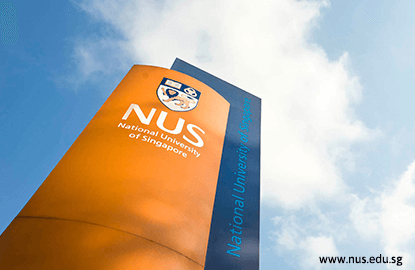 SINGAPORE (May 27): The National University of Singapore (NUS) is spending US$12 million over the next five years to set up the Institute of Data Science to help lift capabilities in this growing field.
The centre, which counts Microsoft as its launch partner, will see 20 NUS faculty members across different specialities — maths, computer science, statistics, medicine, health, public policy and social sciences — working together.
Even with this cross-disciplinary mix, IDS won't be working in isolation. It is to be part of and co-located within the broader NUS Smart Nation Research Cluster, which also includes the National Cybersecurity Lab, the university's operations research group and a number of other new research centres.  
A couple of key focus areas have been identified. One is on developing technologies to identify, model and predict the flow of talents across geographical regions over time, drawing on unstructured data and giving deeper look into what affects people's decision to move.
The second focus is to give internet users the capability to make better searches, given the mass of information out there which is not all useful.
NUS says that at "steady state", the IDS will have around 100 researchers and staff. It is also giving out a total of 50 scholarships for PhD students over the next five years to develop talent pool in this field.
"The future will be increasingly shaped by data, technology and the rise of global cities," says NUS president professor Tan Chorh Chuan at the launch of the centre on the morning of May 27.
The event was also attended by Satya Nadella, Microsoft's CEO, who observes that "data is the new currency" in the so-called Fourth Industrial Revolution.
Earlier today, Nadella also spoke at the Microsoft Developer Day event, where he urged partners to help more evenly spread the benefits of technology, specifically, by creating tools that others can use to create better applications and services for the wider community.