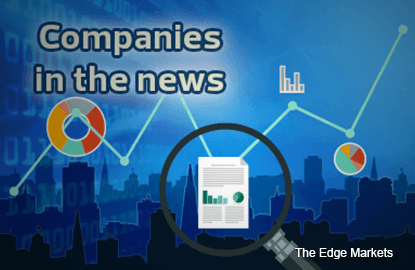 KUALA LUMPUR (Oct 9): Based on corporate announcements and news flow today, companies that may be in focus next Monday (Oct 12) could include: OSK Holdings, Innoprise Plantations, Fajarbaru, Mitrajaya, Landmarks and BSL.
OSK Holdings Bhd has appointed Ong Ju Yan as its deputy managing director (MD). The company also announced the appointment of Datuk Saiful Bahri Zainuddin and Ong Ju Xing as executive directors (EDs).
Both Ju Yan and Ju Xing are the sons of OSK Holdings's substantial shareholder and chief executive officer/group MD, Tan Sri Ong Leong Huat.
In a filing with Bursa Malaysia today, OSK Holdings said Ju Yan, 35, has over 14 years of experience in financial services, having worked in Citibank Malaysia and Morgan Stanley in New York, Hong Kong and Singapore.
Ju Xing also holds directorship in PJ Development, OSK Property and KE-ZAN Holdings Bhd.
Saiful Bahri, 53, currently serves as an independent non-ED of Bursa Malaysia Bhd.
In a separate filing, OSK Holdings said it has successfully received 318.21 million OSK Property shares, representing a 97.1% stake; and 17.66 million warrants, equivalent to 93.12% stake; under its takeover offer of RM1.95 per OSK Property share at the closing date today.
Sabah-based oil palm player Innoprise Plantations Bhd plans to undertake a one-to-two share split, followed by a renounceable two-call rights issue to raise up to RM36.57 million for its working capital, repayment of bank borrowings, and capital expenditure.
Innoprise said in its filing today that the share split is to improve the liquidity of its shares trading, as its stock prices would become more affordable and appealing to a wider group of public shareholders.
To date, the group's issued and paid-up share capital is RM191.24 million, comprising 191.24 shares. There are also 1.22 million outstanding employees' share options granted and yet to be exercised (ESOS).
Assuming all outstanding ESOS have been exercised prior to the share split, the issued and paid-up share capital of Innoprise will rise to RM192.46 million, comprising 384.92 million split shares, on completion of the share split exercise.
After the share split, Innoprise will undertake the two-call rights issue of up to 96.23 million rights shares, on a one-for-four basis, to raise funds for its bank repayment and expansion plan.
As at Sept 28, its total bank borrowings amount to RM90.57 million.
The indicative issue price of the rights share is 50 sen — the first call at 38 sen (payable in cash on application), and the second call at 12 sen (to be capitalised from its share premium and retained earnings).
The substantial shareholders of Innoprise, namely Innoprise Corporation Sdn Bhd (50.3%) and TSH Resources Bhd (21.97%), had on Oct 5 provided their respective irrevocable undertakings to subscribe in full for their respective entitlements, under the proposed rights issue, which total 72.27%.
The proceeds raised from the rights issue could reduce its gearing to as low as 0.33 times, from 0.39 times as at Dec 31, 2014.
The group expects to complete these corporate exercises by the first quarter of 2016.
Fajarbaru Builder Group Bhd's 51%-owned subsidiary, Smooth Accomplishment Sdn Bhd, has entered into an agreement with AK Timber Sdn Bhd to undertake the extraction and sale of timber in Hutan Simpan Yong in Mukim Tembeling, Jerantut, Pahang, for RM3.15 million.
In its filing to Bursa Malaysia, Fajarbaru said the timber would be extracted from two blocks, namely Block A, Compartments 134-A and 135-A with an approximate area of 268 acres; and Block B, Compartments 135-B and 136-A with an approximate area of 232 acres.
AKT has acquired all rights in the timber logs to be extracted or removed from the timber concession from Lembaga Pemegang Amanah Yayasan Pahang, and AKT warrants, and represents that they have absolute right to deal with the said timber logs, said Fajarbaru.
The acquisition is expected to contribute positively to the earnings and net assets of Fajarbaru for the financial years ending June 30, 2016 and June 30, 2017.
Mitrajaya Holdings Bhd's wholly-owned subsidiary, Pembinaan Mitrajaya Sdn Bhd, has bagged a RM52.19 million contract to undertake main infrastructure works at Pahang Technology Park in Gambang, Pahang, for the East Coast Economic Region Development Council Package 1B.
In a filing with Bursa Malaysia today, Mitrajaya said the contract is for 78 weeks and is expected to be completed by April 18, 2017.
The contract is expected to contribute positively to Mitrajaya Group's future earnings, it added.
Developer Landmarks Bhd is planning to build a 338-ha (835-acre) resort on Bintan, an island in the Indonesian archipelago off Singapore, adding to a potential oversupply of hotels, as visitor numbers and room rates decline.
Bloomberg, quoting Landmarks' chief operating officer C.K. Fong, reported today that Landmarks had spent about S$250 million (US$175 million) to buy the land, and had added another S$50 million for development costs for the first phase of the project.
Fong said once completed, Treasure Bay Bintan will account for about 80% of Landmarks' revenue.
Landmarks currently owns a resort in Langkawi in Malaysia and a minority stake in the Eastern & Oriental Express luxury train.
Fong said the company expects a return on investment of about 10% for its Bintan development and is targeting the conference and meetings market that is big in Singapore.
He also said the development will have 5,000 to 7,000 hotel rooms to "make it a relevant tourist destination."
Treasure Bay's development is timed to coincide with the completion of the Bintan International Airport in 2017, he said.
BSL Corp Bhd, which is in the stamping and manufacturing of metal parts, intends to move into contract manufacturing as part of its new strategy for future growth and to turn the company around.
The group's chief executive officer Richard Ngiam Tee Yee said the group will be targeting Western-based clients for future growth.
He said as the company was set up to support multi-national companies (MNCs) in Malaysia, it has been dependent on Japanese based clients since the 90s, such as Panasonic and Yahama.
BSL was in the red for nine straight quarters between 2013 and 2015, before returning to black in its latest third quarter ended May 31, 2015 (3QFY15), when it made a profit before tax of RM75,000, which left it with a net profit of RM2,000.
As at May 31, it has a cash and bank balance of RM19.16 million, with reserves amounting to RM17.41 million.
Ngiam said the group's traditional business of producing and supplying components, as well as printed circuit board (PCB) assembly, could see a 10% to 20% improvement in orders for FY16, due to the weak ringgit.
(Note: The Edge Research's fundamental score reflects a company's profitability and balance sheet strength, calculated based on historical numbers. The valuation score determines if a stock is attractively valued or not, also based on historical numbers. A score of 3 suggests strong fundamentals and attractive valuations.)