This article first appeared in The Edge Malaysia Weekly, on September 6, 2021 - September 12, 2021.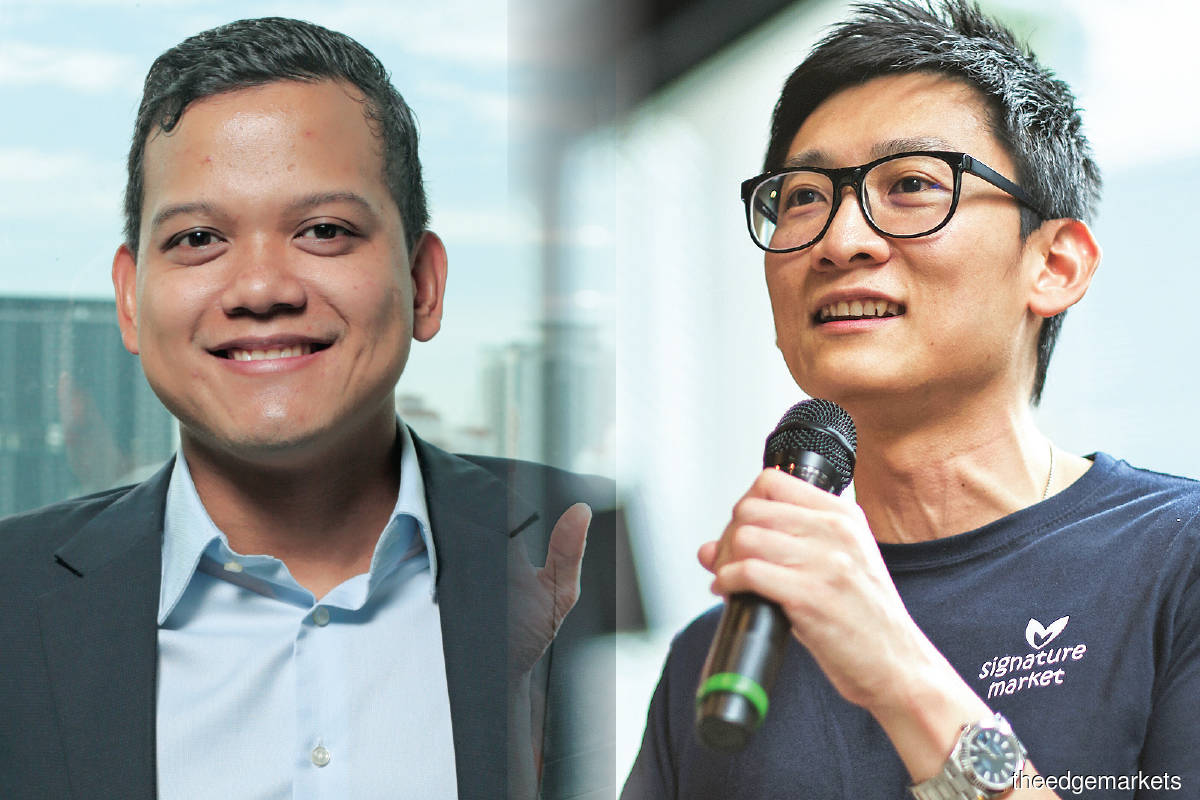 HAVING seen significant demand for its products during the long-drawn-out pandemic, Signature Market Sdn Bhd is looking forward to a debut on the local stock exchange next year.
According to Signature Market founder Edwin Wang, a reason for the rise in demand is the emphasis on healthy living brought about by the Covid-19 pandemic. But more than that, he says, the manufacturer and retailer of healthy snacks has also benefited from the extra disposable income of the middle-income group, whose typical consumption habits have been affected by the many intermittent lockdowns since March 2020.
"With the extra disposable income that the middle-income groups have because of the reduced spending on leisure activities such as overseas travelling and nightlife, most [of them] have started to consume higher-quality food," says Wang in an email reply to The Edge.
Signature Market's target market strategy seems to be paying off. By focusing on the middle-income segment, Wang says, the company's customer base remains intact despite the pandemic-induced financial constraints.
"Our customers are from the M40 [middle 40% income] group and the impact from the pandemic is limited. We haven't seen such trends and we believe health and food will be the last areas of their lifestyle that they will scale back on," he adds.
Currently, Signature Market has about 464,880 customers and the numbers are growing monthly, at an average of 3.5%. Notably, it has evolved from its early days in 2016 as a snack food company to include groceries in its portfolio. At present, it has a vast selection of 800 products in categories such as snacks, instant meals, beverages, essential oils and even traditional Chinese medicine.
Along with the increased disposable income, an openness to new food products has increased during the pandemic, Wang observes.
Signature Market's new products are launched weekly and often receive good response. All of its products are designed in-house.
"In times like these, when companies have decided to cut their advertising and promotions budget, Signature Market as an e-commerce company took up the responsibility to provide excitement to the market," he says.
The growth has been impressive. For the financial year ended Dec 31, 2020 (FY2020), revenue spiked 115% to RM45.7 million, from RM21.2 million in FY2019. More significantly, the company turned profitable in FY2020, posting a net profit of RM3.6 million from a net loss of RM2.04 million in the previous year.
Wang believes revenue growth momentum can be maintained, and forecasts a repeat growth of at least 100% in 2021.
"The Southeast Asia online grocery market share grew almost three times to 0.8% in 2020, according to Bains & Co. Online groceries in Southeast Asia will be growing the fastest, with a 32% compound annual growth rate.
"With the fast-rising income [of] the middle-income group, a lot of companies [have been] investing in premium convenience stores and grocery stores. My view is that the pandemic just sped up the inevitable lifestyle upgrade of Malaysians [with more disposable income] and it is not [a change] due to fear [for their health]," says Wang, adding that the e-commerce company is exploring a move into the retail market when the pandemic ends, given the largely untapped market.
"E-commerce will remain our biggest channel but we are definitely exploring retail. As the online grocery market in Malaysia is just 0.8% of market share, we have a 99.2% untapped market out there to explore.
"We are a data-driven company and, with customers' data, we know what would be bestsellers for each state and city. Thus, it is easier for us to make decisions to diversify into the retail market. We have taken the time during the pandemic to firm up our offline strategy before we go full force into retail when Covid-19 ends," he says.
Signature Market plans to debut on the Ace Market in 2022 and on the Main Market in 2023. Wang is confident that, by 2023, the company will be able to meet the minimum listing requirement of being profitable for three years.
Signature Market a fruitful investment for RHL Ventures
Venture capital (VC) company RHL Ventures has been an investor in Signature Market since January 2019, when it participated in the company's Series A fundraising exercise and invested between RM1 million and RM2 million, at a valuation in excess of RM20 million.
"That investment has proven to be fruitful for us, as the company has continued to grow at a sustainable rate, building its strong online presence and, most recently, generating revenues in excess of RM40 million," says Raja Hamzah, managing partner of RHL Ventures.
As to the allure of Signature Market for RHL Ventures, he believes the trend of healthy eating — especially among millennials — is here to stay and not a short-term fad.
Signature Market, he adds, has seen sales increase 20 times since 2016, with its revenue breaching RM20 million in 2019 because of its strong brand and affordable pricing positioning.
"Instant connectivity and access to customers have allowed direct-to-consumer (D2C) businesses like Signature Market to be nimble in terms of providing instant feedback and creating what customers want and desire, while cutting layers of costs from middlemen and distribution," he says.
Will RHL Ventures continue to be an investor in Signature Market after it is listed? Raja Hamzah says it will depend on the circumstances.
"As Signature Market continues its path towards IPO, we will have to re-evaluate our position on the investment and determine whether to retain some equity when the time comes. We'll do what's in the best interest of the firm and its investors," he says.
RHL Ventures believes the post-pandemic landscape will be productive and exciting for the sector.
"It is predicted that the current generation of disruptive businesses will continue to expand in scale, value and relevance — while exits might also increase in value and numbers. These winds should surely boost any VC's interest and capability to fund the next big start-up," he explains.
The VC hopes to see more innovation-driven entrepreneurship and creativity from the market.
"As we ease our way out of the Covid-19 mindset, we as VCs might want to look into some industries more as they begin their post-Covid boom. For example, industries such as tourism, travel and hospitality have suffered tremendous losses during the pandemic. As borders reopen, however, many people are likely to take the opportunity to travel to recoup the lost time during the pandemic," Raja Hamzah says.
"On that end, we see significant potential for those industries, and we'll just have to time investments into those industries correctly."