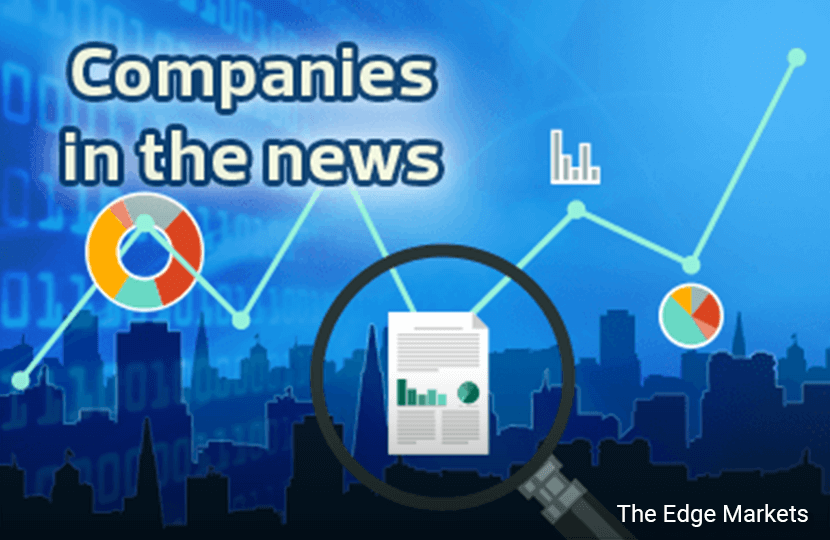 KUALA LUMPUR (Oct 21): Based on corporate announcements and news flow today, companies in focus tomorrow (Oct 22) could include: Pantech, Hua Yang, Zelan, Alam Maritim, Tex Cycle, TMC Life, Barakah Offshore, Anzo and KNM Group
Weaker sales have dragged Pantech Group Holdings Bhd's net profit down by some 22.11% to RM10.43 million in its second quarter ended Aug 31, 2015 (2QFY16), from RM13.39 million a year ago.
This translated into an earnings per share (EPS) of 1.72 sen in its latest quarter, compared to 2.33 sen in 2QFY15.
Revenue was down 14.12% at RM121.41 million, from RM141.37 million a year earlier, according to its announcement to Bursa Malaysia today.
Nevertheless, the pipes and fittings manufacturer, which primarily serves the oil and gas (O&G) industry, has declared a second interim dividend of 0.6 sen per share for its FY16, payable on Jan 14; the ex-date is on Dec 18.
Pantech said the weaker sales performance was mainly due to weaker demand delivery in local and overseas O&G sector, while more competitive pricing has caused its profit to shrink.
As for its six months ended Aug 31, 2015 (6MFY16), net profit fell 27.54% to RM19.55 million, from RM26.98 million in the same period last year, which caused its EPS to shrink to 3.23 sen, from 4.7 sen; revenue fell 4.41% to RM260.04 million, from RM272.05 million.
Pantech's filing showed the weaker performance was caused by the decline in local and export demand, by both its trading and manufacturing divisions.
Hua Yang Bhd's net profit for the second quarter ended Sept 30, 2015 (2QFY16) grew 10.4% year-on-year to RM28.69 million or 10.87 sen per share, from RM25.98 million or 9.84 sen a year ago, due to better performance from the property development segment.
Revenue for the quarter increased 8% to RM150.62 million, from RM139.49 million in 2QFY15, its filing with Bursa Malaysia revealed today.
For the cumulative six months (6MFY16), its net profit increased 17.4% to RM58.58 million or 22.19 sen per share, versus RM49.92 million or 18.91 sen per share in 6MFY15.
Revenue for the period came in 6.24% higher at RM293.19 million, from RM275.96 million in the previous corresponding period.
Zelan Bhd has bagged sub-contract works worth RM96.99 million from MMC-Sumitomo Consortium, which is constructing the Langat centralised sewage treatment plant and sewer pipe network connection for the Langat river basin catchment.
In a filing, Zelan said its wholly-owned subsidiary, Zelan Construction Sdn Bhd, will undertake the sub-contract works with ICOP Construction (M) Sdn Bhd on a joint venture basis, through an entity to be incorporated.
Both companies accepted the letter of acceptance for the sub-contract works yesterday (Oct 20), from MMC-Sumitomo Consortium.
The sub-contract works involve the construction and completion of 16.6km of pipe jacking in various sizes, and 164 shafts for jacking and receiving pit in various sizes and depths, for the sewerage conveyance system for Zone 7A and 7B of the Langat project.
The date of completion for the whole of the sub-contract works is 26 months from the date for possession of the site, to be notified by the contractor, said Zelan.
Alam Maritim Resources Bhd has bagged a RM53.5 million subcontract from Petroliam Nasional Bhd (Petronas).
In a filing with Bursa Malaysia, the company said its wholly-owned subsidiary, Alam Maritim (M) Sdn Bhd, received a letter of award from Petronas Floating LNG 1 (L) Ltd, a wholly-owned subsidiary of Petronas, for the subcontract for the floating liquefied natural gas (FLNG) offshore works of final positioning and mooring system hook-up, including flexible riser installation, pre-commissioning and commissioning of pipeline, pipeline end terminal and riser from KAKG to FLNG (Package No 2).
The duration for the subcontract is from June 15, 2015 until April 30, 2016.
"The subcontract is expected to contribute positively to the earnings and net tangible assets of Alam for the financial year ending Dec 31, 2015 and beyond," said the company.
Tex Cycle Technology Malaysia Bhd, which saw its share price nearly hit a nine-year high today, said it is not aware of any reason that may have contributed to the recent sharp rally in its share price.
In response to the unusual market activity (UMA) query issued by Bursa Malaysia earlier today, the recycling and recovery of scheduled waste specialist said it is not aware of any corporate development, rumour, report or explanation, to account for the sharp rise in its share price.
However, it pointed out that its single largest shareholder Can Cycle Sdn Bhd, had on Oct 7 and Oct 19, sold a total of 10 million shares to institutional funds at RM1.20 a piece, for a total consideration of RM12 million.
It did not disclose the identities of the institutional funds that acquired the shares.
Hospital operator TMC Life Sciences Bhd may collaborate with Singapore-based sister entity Thomson Medical Centre Ltd, to grow the Malaysian group's operations.
TMC chief executive officer Roy Quek Hong Sheng said the group might explore synergies with Thomson. Singapore billionaire Peter Lim Eng Hock is a common major shareholder in TMC and Thomson.
Barakah Offshore Petroleum Bhd is teaming up with Hong Kong-listed Hilong Holding Ltd to explore prospects for offshore transportation and installation projects for platform heavy lifts and pipelay, as well as full engineering, procurement, construction, installation and commissioning (EPCIC) for offshore oil and gas field development projects in Malaysia.
In a filing with Bursa Malaysia today, Barakah said its wholly-owned subsidiary, PBJV Group Sdn Bhd, has signed a memorandum of understanding (MoU) with Hilong Marine Engineering (Hong Kong) Ltd (HMEL), a subsidiary of Hilong Holding, for the team-up.
HMEL is the owner of a 3,000-tonne derrick pipe lay barge, called Hilong 106.
Anzo Holdings Bhd said it has to make a financial commitment of RM20 million for the Porto De Melaka project, which was recently awarded to its wholly-owned subsidiary, Harvest Court Construction Sdn Bhd (HCCSB).
In a filing with the bourse, it said it intends to raise the funds needed, via a rights issue.
The announcement was made in reply to a query by Bursa Malaysia, following the company's announcement relating to the RM153 million contract win on Oct 19.
The scope of works entail the cover design, approval, build and delivery for Phase 1 of the project, which includes piling and pile caps for the entire project, all building, architectural and mechanical and electrical works.
The works will be for 120 units of service suites, 24 units of SPA villas, a 670-bay basement carpark, 135 motorcycle parking bays, and ancillary services and associated external facilities and services, including roadways, sewerage, water reticulation, river embankment and river front broadway and landscape.
 
KNM Group Bhd is planning a private placement to raise up to RM106.64 million, which will be used to repay borrowings, for working capital and to defray expenses related to the exercise.
In its filing with Bursa today, KNM said the placement entails the issuance of up to 193.89 million shares, representing approximately 10% of the issued share capital of the group.
It added that the issue price of the placement shares will be determined and announced at a later date, after receiving the relevant approvals and having considered prevalent market conditions.
Still, the issue price should not be a discount of more than 10% to the five-day volume weighted average price (VWAP) of KNM's share price immediately prior to the price fixing date, and its par value of the shares of 50 sen.
Assuming KNM manages to raise RM106.64 million, the group would use RM51 million (47.82%) for repayment of borrowings, RM52.66 million (49.38%) for working capital, and the remaining for expenses related to the proposed placement.
"The group requires additional working capital to fund the newly-secured projects, and potential additional contracts to be secured in relation to the Pengerang Integrated Petroleum Complex Project in Johor," it said.
As at June 30, 2015 (2QFY15), KNM's total borrowings stood at RM676.38 million, of which RM392.4 million were short term loans and borrowings, with a gearing ratio of 0.29 times.
Subsequent to the shares placement, the group expects to lower the gearing ratio to 0.26 times. The corporate exercise is expected to be completed by the first quarter of 2016.
(Note: The Edge Research's fundamental score reflects a company's profitability and balance sheet strength, calculated based on historical numbers. The valuation score determines if a stock is attractively valued or not, also based on historical numbers. A score of 3 suggests strong fundamentals and attractive valuations.)