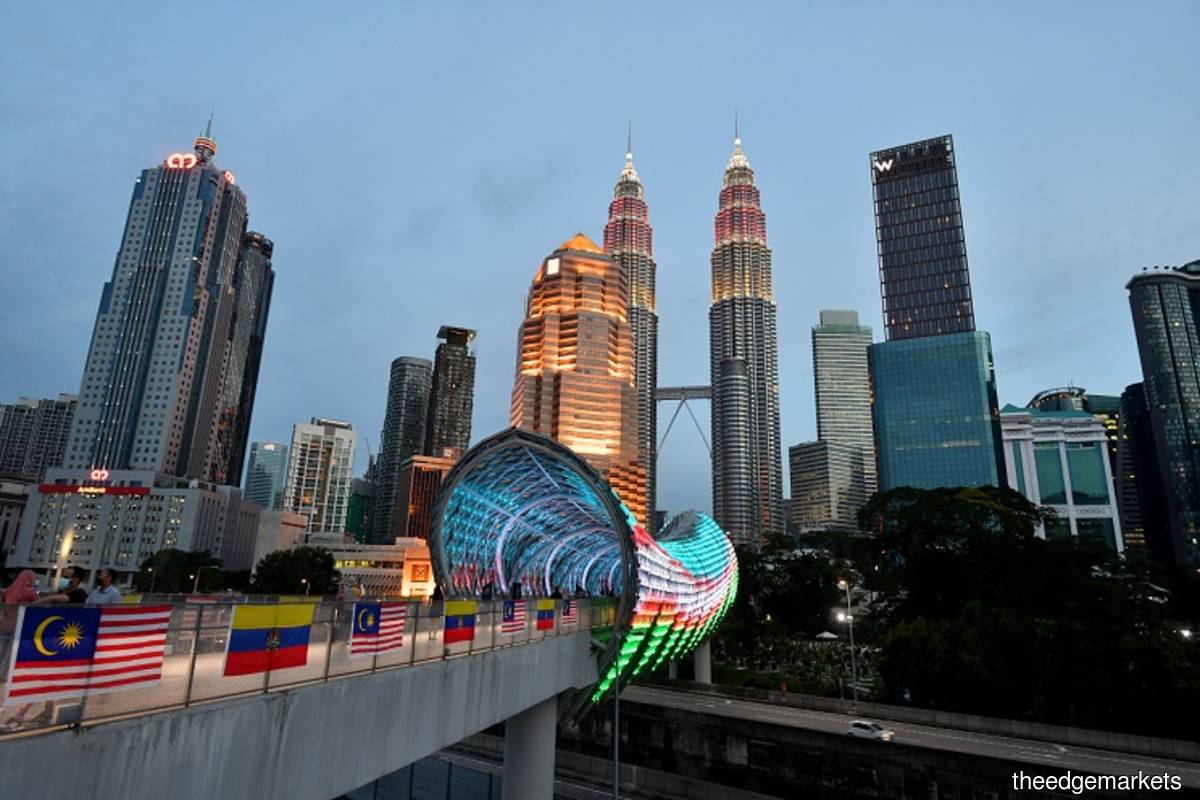 PETALING JAYA (Sept 28): A life-first, people-first approach is very much about the spatial and personal experiences, said Gehl Architects director and team lead Esben Neander Kristensen. "It has to do with looking at planning and design based on understanding things more in isolation — you do a landscape plan, a mobility plan, land use plan, a density and building plan and so on — and combining all these aspects with a strong element of sustainability to this holistic approach that is centred around life and people," he said during his presentation on "Sustainable Urban Mobility" at the 12th edition of World Class Sustainable Cities (WCSC) 2021 on Monday, Sept 27. The conference ends on Tuesday, Sept 28.
To design and sometimes redesign inviting, life-first cities, districts, spaces and mobility systems, Kristensen said it's about understanding the place, context and how we move through the cities. "It's about how we can use observation and analysis to understand public life, people moving to different spaces and what that means for this vision of integration.
"We don't necessarily have to spend as much time in public spaces as we used to. So urban life is very much about creating inviting high-quality spaces for those that have to go out into the public spaces. We need to create a nice, attractive and dignified experience for them as well," he added.
An example he gave is a street in Mexico City that has a higher number of pedestrians per hour than in Broadway, New York, but the former was not perceived as a nice place to walk. "So how can you work with that potential to create a new situation and a new way of looking at the street as a green, attractive place for pedestrians and for spending time in?"
Kristensen also suggested eye-level measuring or meeting people on the ground to know what is actually needed. "It's not always enough and there are so many ways to collect data but it is actually really important to get out and see what happens on the ground. We also use big data sets such as social demographics, online surveys, traffic data, data from social media, Google and so on."
He also looks at the ecology aspect — the water, landscape, environment, air quality, as well as how comfortable it is to walk, how a good micro-climate can be used to invite people to walk more and spend more time outside, how we shop and access food.
According to Kristensen, it is important for cities to have a strategic north star or an understanding that all the different projects lead in the same direction. "It's very easy to go down this tactical project-based approach, where you're looking at one project in isolation and not how it fits into the bigger picture. A lot of that also has to do with engaging with stakeholders and the communities to define collective vision, challenges and opportunities.
"We should always focus on all user groups and not just make assumptions. We should focus on mobility of people and not necessarily vehicles as a starting point, and we should also use and develop the link between public space and mobility," he said. 
To him, mobility works when it works for people. "It means people get a good daily experience out of it, and that's often the little things. For example, a reclining element that you can stand next to on your bike when waiting for the red light — a tiny detail that doesn't cost much but it makes a very big difference in terms of experience…makes it much nicer to be biking in that space." 
We naturally think about air conditioning in hot places but Kristensen suggested we should also think about planting trees and making sure that's a priority for all the different beneficial things that trees do. "I think if you can reduce the ambient temperature by five degrees in the space…that is a big difference…We need to think how to come up with solutions to solve these things that prevent people from biking, taking public transit and walking."
Walking in Malaysian streets can be quite challenging. "If you have a sidewalk that's dominated by parking, you might have to walk on the outside and be exposed to things like a motor vehicle passing by. So think a little bit about the street section and make sure that we allocate the right amount of meters to each use of the section."
With regards to the hot climate in the country, Kristensen suggested thinking systematically about it. "Can we make it easier? Maybe you will be exposed to a certain amount of heat but if you can save a lot of time from parking and sitting in traffic, then that might be worth it on its own. I think that's the rationale that a lot of people are making," he said.
A project Kristensen is working on in Copenhagen is about understanding the relationship between air quality and public space and mobility. "If you put yourself in the shoes of a three-year-old, your eye level is about one meter above ground and you're much closer to where fumes are coming out of cars and so on. Children breathe four times as fast as adults, so they take in much more polluted air. In this case, we looked at collecting air quality data and try to figure out where we can try to reduce pollution and air particles and where we can invite kids to spend more time in spaces that have less exposure to pollution."
"I think a really important thing is using mobility to create a new urban common ground for people to meet, especially in a world where we're drifting apart, in our bubbles and social media," he concluded.