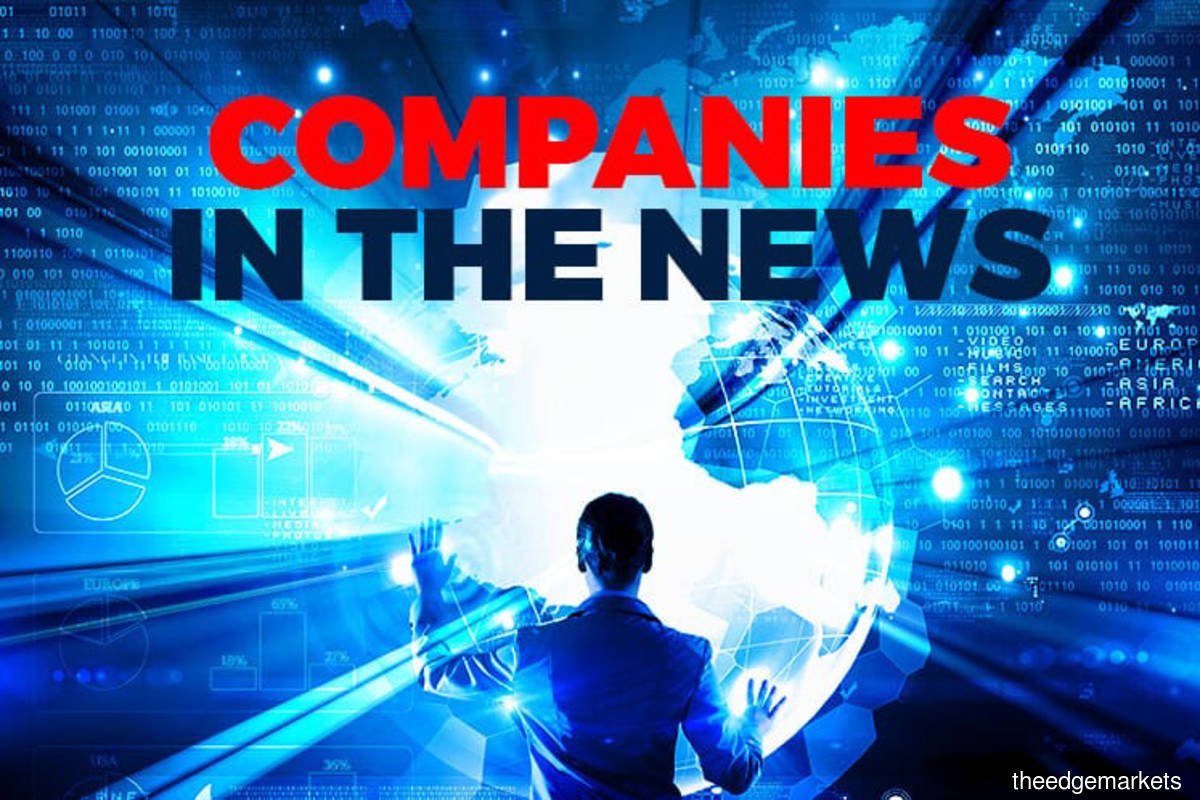 KUALA LUMPUR (Nov 22): Based on corporate announcements and news flow on Monday (Nov 22), companies in focus on Tuesday (Nov 23) may include Petronas Gas Bhd, Petronas Chemicals Group Bhd, Hextar Global Bhd, Advancecon Holdings Bhd, Pestech International Bhd, AirAsia Group Bhd, Lay Hong Bhd, Ta Ann Holdings Bhd, KNM Group Bhd, Guan Chong Bhd, Hong Leong Industries Bhd, Malaysian Bulk Carriers Bhd, BP Plastics Holding Bhd and Revenue Group Bhd.
Petronas Gas Bhd's (PetGas) net profit for the third quarter of financial year 2021 (3QFY21) ended Sept 30, 2021 slipped 1.72% to RM580.84 million from RM591.01 million due to unfavourable foreign exchange movements. Quarterly revenue rose 1.45% to RM1.43 billion from RM1.41 billion, mainly contributed by higher revenues from its utilities and regasification segments in line with higher sales volumes and a new revenue stream from liquefied natural gas ancillary services. Earnings per share dipped to 29.35 sen from 29.87 sen. A third interim dividend of 18 sen per share was declared to be paid on Dec 20, bringing its total dividend so far to 50 sen for FY21.
Petronas Chemicals Group Bhd's (PetChem) net profit for 3QFY21 ended Sept 30, 2021 jumped more than three-fold to RM1.96 billion from RM471 million a year earlier, driven by higher petrochemical product prices. Quarterly revenue rose 67% to RM5.8 billion from RM3.5 billion on the back of higher crude oil prices, improved global demand and a tight supply environment. It also declared a special dividend of 10 sen per share, amounting to RM800 million, to be paid on Dec 30.
Hextar Global Bhd's net profit for 3QFY21 ended Sept 30, 2021 fell 42% to RM7.21 million from RM12.47 million a year ago, mainly due to the global supply chain disruptions that had caused raw material shortages and price escalations across industries. Quarterly revenue grew marginally to RM112.55 million from RM111.56 million a year ago. No dividend was declared for the quarter.
Advancecon Holdings Bhd has secured a construction project worth RM23.47 million in Klang from Sime Darby Property (Bukit Raja) Sdn Bhd via its wholly-owned subsidiary Advancecon Infra Sdn Bhd (AISB) for the appointment of AISB as the contractor for the proposed construction and completion of earthworks and other related works for Development of Phase 1 at Bandar Bukit Raja 2, Kapar district. The contract period is from Dec 6, 2021 to Aug 5, 2023.
Pestech International Bhd said its unit has secured a contract from the National Grid Corp of the Philippines (NGCP) to upgrade the South Luzon substations worth around RM156.91 million which comprises an offshore portion worth US$23.46 million (RM98.18 million), while the onshore portion is valued at 710.76 million pesos (RM58.72 million). The contract underlines Pestech's full responsibilities to design and build according to contract requirements, involving seven independent substation components. The commencement date will be determined later, and will contribute to its financial years ending June 30, 2022 to 2023.
AirAsia Group Bhd's net loss for its 3QFY21 ended Sept 30, 2021 rose 4.1% to RM887 million from RM851.78 million in the corresponding quarter last year, due to continued travel restrictions in Malaysia and Indonesia amid Covid-19 containment efforts. The net loss was also due to investments in technology, talent and network as AirAsia continued to scale up its digital super app and its air cargo division Teleport, AirAsia's digital business was in the red in the quarter. Quarterly revenue fell 36.9% to RM295.89 million — with half of the latest quarter's revenue of RM157.76 million from Teleport — from RM468.94 million. Margins improved on the back of its cost containment measures, despite serving 82% less passengers year-on-year, at 351,971 versus 1.9 million a year ago. Similarly, its number of flights fell 82% to 2,876, from 16,305.
Lay Hong Bhd sank into the red in its 2QFY22 ended Sept 30, 2021, with a net loss of RM8.65 million compared with a net profit of RM1.16 million in the corresponding quarter a year ago, on lower contributions from its food manufacturing and retail business segments. A net loss per share of 1.31 sen was posted for 2QFY22, compared with earnings per share of 0.18 sen for 2QFY21. The decline in earnings — attributed to lower production of processed chicken products due to the 60% workforce limit imposed during the Movement Control Order period, lower retail sales and high commodity prices in its supply chain — came despite an increase in quarterly revenue to RM242.05 million from RM228.6 million that came from higher average selling prices of table eggs and higher quantity of table eggs sold.
Ta Ann Holdings Bhd's net profit for 3QFY21 ended Sept 30, 2021 surged 141.51% year-on-year to RM103.29 million compared with RM42.77 million, attributable to higher average selling prices of crude palm oil, fresh fruit bunch production and export logs. Earnings per share rose to 23.45 sen from 9.71 sen. Quarterly revenue expanded by 37.77% to RM486.86 million, from RM353.37 million. A second interim single-tier dividend of 20 sen per share was declared, payable on Jan 24, 2022, bringing the total dividend payout so far this year to 30 sen, versus 10 sen a year ago.
KNM Group Bhd has proposed a private placement of 10% of its share capital to raise up to RM53.46 million to pare its debt (RM30 million) and working capital (RM22.16 million), five months after its private placement of 30% share capital was rejected by shareholders in June. The company has proposed to place 334.13 million new shares at an indicative price of 16 sen apiece. It has an issued share capital of RM2.02 billion comprising 3.34 billion shares, as well as 149.63 million outstanding ESOS schemes.
Guan Chong Bhd's net profit fell 26.35% to RM34.46 million for 3QFY21 ended Sept 30, 2021, from RM46.78 million a year earlier, on higher freight costs and competitive margins committed last year. Quarterly revenue grew 18.6% to RM988.1 million from RM841.6 million, on the back of contributions from the group's newly acquired Schokinag Holding GmbH, and an increase in overall sales tonnage. It also plans to invest RM50 million in capital expenditure in the next two years for Schokinag to expand its capacity in anticipation of the recovery in Europe as borders open up in the continent, after a recent visit by the management to the German plant. Guan Chong also declared a second interim dividend of one sen per share, to be paid on Jan 20. This brings the total dividend payout so far in the current year to two sen or RM20.8 million in total.
Hong Leong Industries Bhd saw its net profit plunge 98.69% to RM662,000 for 1QFY22 ended Sept 30, 2021, from RM50.72 million a year earlier. Earnings per share plummeted to 0.21 sen from 16.14 sen, while quarterly revenue dropped 57.56% to RM276.99 million, from RM652.66 million in the same period last year. The group said the sharp fall in earnings was due to the curtailment of the group's production for two months that led to lower sales across product segments.
Malaysian Bulk Carriers Bhd (Maybulk) reported a net profit of RM113.58 million for 3QFY21 ended Sept 30, 2021, compared with a net loss of RM5.95 million a year prior, on higher charter rates, and lower operating expenses from a smaller fleet size and vessel disposal. The dry bulk carrier operator saw earnings per share of 11.36 sen, versus a loss per share of six sen in the same quarter last year. Quarterly revenue grew 37.55% to RM58.68 million, from RM42.66 million previously.
BP Plastics Holding Bhd posted a 30.5% jump in net profit for 3QFY21 ended Sept 30, 2021 to RM10.11 million from RM7.75 million in the corresponding period last year, thanks to strong revenue growth and a better product mix. The polyethylene plastics film and bag manufacturer's revenue for 3QFY21 improved 53.46% to a record high of RM113.31 million from RM73.83 million, amid stronger demand and higher selling prices, despite the strict movement restrictions imposed during the quarter. The group is planning a third interim dividend of two sen per share and a special dividend of one sen per share, for a total of three sen, to be paid on Jan 6, 2022.
Revenue Group Bhd booked a 64.11% increase in net profit to RM3.46 million for 1QFY22 ended Sept 30, 2021 from RM2.11 million last quarter, on higher revenue from the rental and maintenance of its electronic draft capture terminals, and income from electronic transaction processing due to wider adoption of e-commerce transactions. Quarterly revenue fell to RM18.84 million from RM19.56 million.