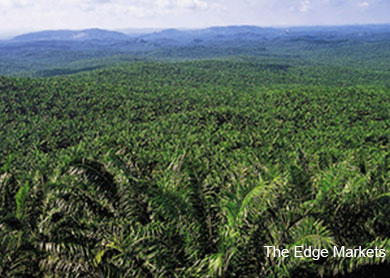 KUALA LUMPUR (Oct 29): Plantation stocks today showed a mostly positive reaction to news that Malaysia plans to implement the B7 biodiesel programme in November.
At 11.47 am, Batu Kawan Bhd was 32 sen up at RM18.32, Kuala Lumpur Kepong Bhd up 46 sen at RM22.92, Felda Global Ventures Bhd 7 sen higher at RM3.55 while Genting Plantations Bhd declined 7 sen to RM9.99.
Meanwhile, IOI Corp Bhd gained 5 sen at RM4.79, Sarawak Oil Palms Bhd lost one sen to RM5.54, IJM Plantations Bhd was 3 sen higher at RM3.40 and TH Plantations Bhd was down 3 sen at RM1.65.
In a note this morning, CIMB Research said it was positive on the news as it would boost the country's usage of palm oil.
"We estimate that the rollout could raise the country's palm oil demand by 263,000 - 390,000 tonnes per annum, or 1-2% of the total palm oil production in 2013.
"As this equates to an additional monthly crude palm oil (CPO) demand of only 22,000 - 33,000 tonnes, we keep our average CPO price forecast at RM2,390 and RM2,460 per tonne for 2014 and 2015, respectively," it said.
The research house said it was not surprised by the government pushing the implementation forward (from Jan 2015 previously) as it could possibly  help reduce palm oil stockpiles in the country and boost CPO prices.
"The estimate by the ministry that B7 would raise domestic biodiesel usage in the country to 575,000 tonnes, is slightly higher than our earlier estimates of 448,000 tonnes (for the subsidised diesel market). We view this as the second policy move to support CPO prices," it said in its note.
To recap, Malaysia plans to implement a biodiesel B7 programme (blending of 7% palm biodiesel with 93% petroleum diesel) for the subsidised sector in Peninsular Malaysia in stages from next month, and expand this to Sarawak, Sabah and Wilayah Persekutuan Labuan by December 2014.
The programme will contribute towards savings of 667.6 million litres of diesel a year.