This article first appeared in The Edge Financial Daily, on October 14, 2019.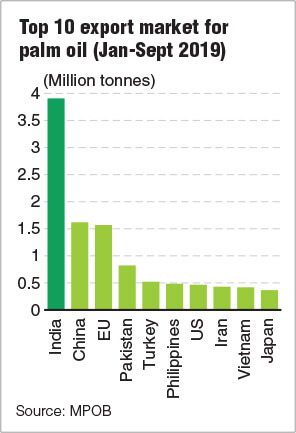 KUALA LUMPUR: Tun Dr Mahathir Mohamad said his remark Kashmir has been "invaded and occupied" should not be escalated and made a cause for trade war between Malaysia and India.
The prime minister was quoted by Bernama as saying that Malaysia and India must avoid making the issue a cause for a trade war which would only spell losses for both countries.
Dr Mahathir yesterday commented when asked about news report that India was in consideration of restricting imports from Malaysia, including palm oil, in reaction to his criticism of New Delhi for its action in Kashmir.
He said the government had no plan to give an immediate response to the news report claiming that India planned to ban palm oil imports from Malaysia.
For now, he said, Malaysia just needs to wait and see what action would be taken by India. "We will study the impact of the action taken by India. They are exporting goods to Malaysia too. It's not just one-way trade, it's two-way trade," the prime minister was quoted by Bernama as saying.
India is the largest importer of Malaysia's palm oil, followed by China and Pakistan. Any form of action by India to cut down on the purchase of edible oil from Malaysia is expected to result in significant impact on the local oil palm plantation industry.
For the period between January and September, Malaysia exported 3.91 million tonnes of palm oil to India, and 1.61 million tonnes to China and 821,591 tonnes to Pakistan. (see chart).
To recap, Dr Mahathir, in his speech at the United Nations  (UN) General Assembly in New York last month, touched on the protracted Rohingya crisis in Rakhine state, Myanmar, and the Palestinian crisis in Gaza before saying that Jammu and Kashmir had been "invaded and occupied" and the conflicts continued despite the UN resolutions for both countries (India and Pakistan) to resolve them by peaceful means.