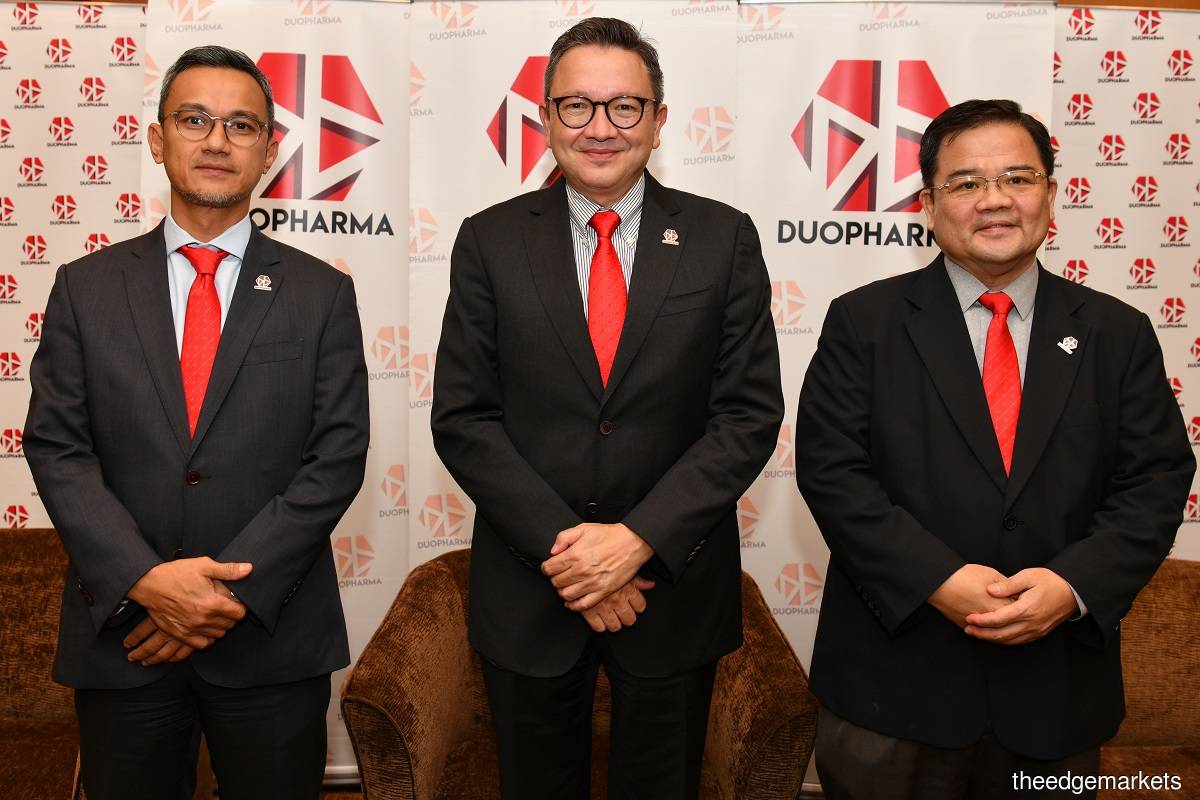 KUALA LUMPUR (June 21): Permodalan Nasional Bhd's (PNB) 42.642%-owned associate Duopharma Biotech Bhd has identified and evaluated a number of local and international companies to ascertain whether they meet Duopharma's criteria in line with its plan to expand via multiple avenues including mergers and acquisitions (M&As) within the Association of Southeast Asian Nations (ASEAN) region.
"The management will continue to evaluate some of these targets and will work towards finalising their plans in 2022," Duopharma group managing director Leonard Ariff Abdul Shatar said in a statement in conjunction with the company's annual general meeting (AGM) here on Tuesday (June 21).
Duopharma is looking for M&A opportunities within the ASEAN healthcare market to diversify the company's revenue stream from being over reliant on ringgit-denominated income sources.
Speaking during a media briefing after Duopharma's AGM, Leonard Ariff said although Duopharma prefers regional M&As, the company is open to domestic M&As too.
He however said there are presently no M&A candidates on the table for Duopharma.
"We are looking within the ASEAN market for a potential acquisition market because of the limitation of growth in the Malaysian market.
"Secondly, to balance our portfolio, we do want to have a higher percentage of our sales denominated outside of the Malaysian currency. At the moment, our export sales are only about 7% [of total] revenue. So, we do want to increase the international component of it," he said.
According to Leonard Ariff, Duopharma intends to have its export sales constitute a larger percentage of the company's overall portfolio to allow foreign currency-denominated sales to act as a natural hedge against the buying of raw materials in US dollar.
The company has kept a three- to six-month raw material stockpile due to worries about the supply chain impact due to the Covid-19 outbreak, which began in early 2020, according to him.
He said Duopharma also strives to remain relevant and grow domestically, but there is a limit to what the company can achieve in the Malaysian market.
"Duopharma has been relatively successful in penetration of the Malaysian market. Now, we have a market share of 7% even though we are the largest [pharmaceutical] manufacturer.
"The [pharmaceutical] market is highly fragmented in Malaysia. You have imported innovators, imported generics and you have multiple manufacturers," he said.
Leonard Ariff said Duopharma's M&A candidate search has been ongoing for the past three to four years.
In 2021, Duopharma evaluated and dropped two local companies according to him as he reminisced over the discomfort of virtually conducting due diligence on overseas companies during Malaysia's Movement Control Order (MCO) to curb the Covid-19 outbreak.
"So, for the two-year period during the MCO, we actually suspended looking at international companies and we focused on domestic [companies]. But this year, we are starting to look internationally.
"When we say internationally, we are talking about the ASEAN market," he said.
Leonard Ariff said the M&As Duopharma is eyeing will be within the same industry as the company is in.
"We are still looking for M&A opportunities and it would be in the healthcare space. I don't think we will go beyond the healthcare space but the healthcare space is actually quite broad.
"We have invested in a local start-up that is an application for wellness. So, that's in the digital healthcare space," he said.
Duopharma's financials have improved. For the first quarter ended March 31, 2022, the company's net profit rose to RM20.29 million from RM17.61 million a year earlier while revenue was higher at RM185.94 million versus RM166.45 milion, according to Duopharma's Bursa filing on May 17, 2022.
Duopharma's latest-reported net assets per share stood at 67 sen.
At 5pm on Tuesday, Duopharma's share price fell three sen or 2.54% to RM1.15, which gives the company a market capitalisation of about RM1.08 billion.
Duopharma has 941.77 million outstanding shares, according to the company's latest annual report.
Read also:
Duopharma MD: Govt may provide slight extension to APPL contract