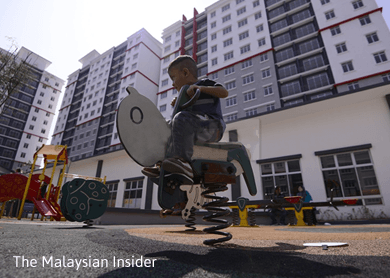 (April 20): PR1MA Corporation Malaysia (PR1MA) has strayed from its objective of building affordable homes in urban localities and instead has become profit-oriented, going into joint ventures with private developers, the National House Buyers Association (HBA) said.
Its secretary-general, Chang Kim Loong, said the corporation under the Prime Minister's Office has relaxed many of its housing requirements and allowed private developers to come in as joint venture partners.
"We know these private developers are profit-oriented and they are not there to do charity. Therefore, why should PR1MA share their cake with them?"
Chang said it has increased the ceiling price of a house from RM350,000 to RM450,000 last year and allowed second-time buyers to purchase PR1MA units.
"The aim is to construct affordable houses but now the ceiling price has shot up to RM450,000.
"Why open it up for second-time house buyers when there are insufficient houses for first-time house buyers in the market?" he told the Malaysian Insider.
Chang said PR1MA's goals had gone awry because it had been hijacked by politicians.
He was responding to a statement by Selangor Menteri Besar Mohamed Azmin Ali that the state was amenable to giving land to Putrajaya for construction of houses under PR1MA only if the federal government met its conditions.
Azmin said Selangor had never rejected the housing scheme as alleged by certain quarters but had reservations about it.
"The issue is PR1MA was developing homes that were too costly for the people, RM400,000 is not affordable," he said on Saturday.
Chang said Selangor had its own housing scheme which was "very affordable".
Last December, Azmin said Selangor was planning to build affordable homes priced between RM100,000 and RM220,000 for the people and called the federal government's PR1MA project a failure.
He said until now, not even one home under PR1MA had materialised, prices were pegged beyond RM400,000 per unit and the project was good for show only.
Azmin said the federal government could not ask Selangor for its land and then proceed with polices that went against the state government's position on affordable housing.
Chang said when HBA first mooted the idea of having an affordable housing scheme six years ago, it was for the government to utilise its land bank to build houses at construction costs.
"However, profiteering has since set in and now PR1MA has even allowed to form joint ventures with private developers.
"The excuse is that they do not have the technical know-how. If that is the case, why not just employ professional consultants?"
Chang said in developing government land banks, it would only incur minimum cost to engage professionals as the land was obtained at nominal value.
He said PR1MA had a list of developers and HBA wanted the corporation to verify whether some of their joint venture partners were blacklisted.
Chang added that from information received, PR1MA only wanted to build 40% affordable homes and the balance would go to high-end luxury houses.
"Should not the bulk of the land be set aside for affordable homes?"
PR1MA was set up in late 2012 to provide affordable housing for middle-income urban residents.
It received 500,000 applications for 80,000 houses as the end of last month.
A press statement last month by PR1MA chairman, the late Tan Sri Jamaluddin Jarjis, said the corporation had approved 111,933 units, of which 37,063 units were under construction.
He had said 10 more projects would be launched in the second quarter of this year.
The homes are offered to Malaysians with an average monthly household income of RM2,500 to RM10,000. – The Malaysian Insider