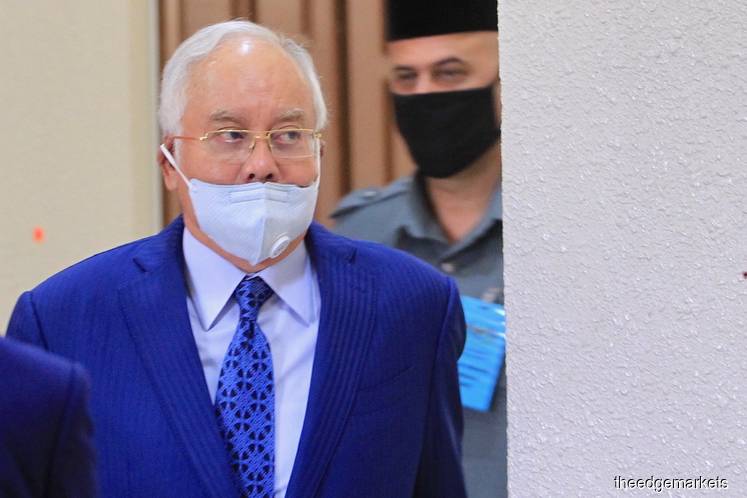 KUALA LUMPUR (June 2): Former prime minister Datuk Seri Najib Razak's lawyers submitted in court today that the prosecution has left a big gap in their case by not putting on the stand SRC International Sdn Bhd chief financial officer (CFO) See Yoke Peng as a witness to verify that she had approved the transfer of hundreds of millions of ringgit out of the company.
Making his oral submissions before Justice Nazlan Mohd Ghazali, lawyer Harvinderjit Singh surmised that the prosecution had the chance to call on See as a witness as it was her who verified all the signatures of the signatories before the funds were transferred out of SRC.
Harvinderjit told the High Court that because See was not called, it left a big hole in the prosecution's case as to how the money from SRC was transferred out and eventually ended up in the personal accounts of Najib.
"This has left a hole in the prosecution's case as SRC International Sdn Bhd director Datuk Suboh Md Yassin had said that his signatures for the documents to let the money go out of SRC International were forged," he said.
Harvinderjit added that the prosecution should have called See to verify testimony from Ambank relationship liaison manager Joanna Yu Ging Ping, who had alleged that fugitive financier Jho Low and former SRC chief executive officer Nik Faisal Ariff Kamil were the masterminds behind these transactions.
"All these things she said Jho Low and Nik Faisal had done, it is all inconclusive unless they have primary evidence, they could have called See for this," he said.
Suboh previously testified that the CFO had verified all the signatures before they were confirmed by the bank and the money transferred out.
A source from the prosecution told The Edge that Suboh testifying that See had verified all the signatures was enough, which was why they did not need to call See to verify this fact.
The money was then transferred out to three other companies — Gandingan Mentari Sdn Bhd, Ihsan Perdana Sdn Bhd and Putra Perdana Construction Sdn Bhd.
Former AmBank relationship manager Krystle Yap Wy-Sze, who was a subpoenaed witness for the defence, testified in February that she also dealt with 1Malaysia Development Bhd executive director of finance Terence Geh and See in matters relating to SRC and its subsidiary Gandingan Mentari, as both were her corporate clients, and she had acted on their instructions.
Najib is facing criminal breach of trust and money-laundering charges involving the transfers of the RM42 million SRC funds into his accounts.
He has also been charged with abusing his power by approving government guarantees on loans worth RM4 billion from KWAP to SRC.
The defence's submissions on the case will continue tomorrow morning.
They are expected to wrap up their submissions by then, after which the prosecution, led by appointed prosecutor Datuk V Sithambaram, will begin their submissions.
The Edge is covering the trial live here.
Users of The Edge Markets app may tap here to access the live report.