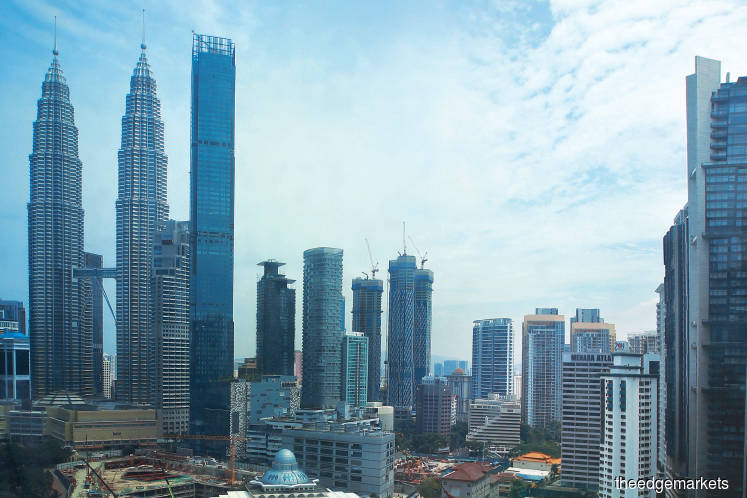 KUALA LUMPUR (Aug 13): UOB expects Malaysia to report a higher economic growth of 5% year-on-year for the second quarter of this year, compared with 4.5% in the first quarter.
In a research note today, UOB said it is predicting the "decent rebound" in the real gross domestic product (GDP) growth based on the April-June indicators.
"This bucks the regional down trend in growth and ahead of Bloomberg consensus poll which estimates 4.6%," said Senior Economist Julia Goh from UOB Global Markets and Economics Research.
"However, we doubt that this growth rebound is sustainable, in view of intensifying global downside risks tied to trade tensions between major countries, slower China economy, the possibility of a no-deal Brexit, potential credit default in Argentina, among others," Goh added. 
Bank Negara Malaysia will be announcing the second quarter GDP growth rate on Friday (Aug 16).
UOB maintains its 2019 full-year GDP growth forecast for Malaysia at 4.6% (BNM forecast: 4.3%-4.8%), with domestic-oriented sectors as key anchors for growth.
"We think BNM is less likely to pursue another rate cut in the upcoming Monetary Policy Committee meeting on Sept 12, despite the synchronized rate reductions by four central banks last week.
"BNM has already made one preemptive 25bps cut in May and is likely to wait for the outcome of US Fed rate decision (on Sept 18), US-China trade talks, and Malaysia's budget announcement (on Oct 11)," Goh said.
On the ringgit, Goh said the key anchor in the near term is the yuan, which she noted is prone to further weakness if the US-led tariffs on the remaining US$300 billion of imports from China is implemented, amid a lack of progress in negotiations.
UOB sees stable foreign direct investment inflows and sustained current account surplus, as providing some underlying support for the ringgit.
It maintains its US dollar/ringgit forecast at 4.18 by end-2019, and 4.22 by the first quarter of 2020.