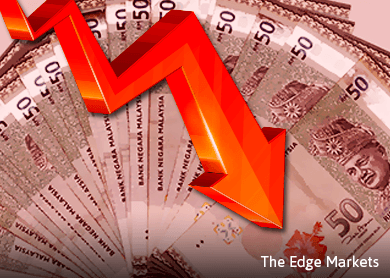 (Jan 5): Malaysia's ringgit fell to a five-year low as a gauge of the dollar climbed to a record amid diverging monetary policies in the U.S. and Europe.
The Bloomberg Dollar Spot Index, which tracks the greenback against 10 major counterparts, rose to the highest level since its inception in 2004 after European Central Bank President Mario Draghi last week signaled the prospect of government bond purchases. The Federal Reserve halted its debt-buying program last year and is likely to raise interest rates in 2015. Malaysia reports export data this week and a second straight monthly contraction is forecast.
"Asian currencies, including the ringgit, are weaker because of the dollar's strength," said Saktiandi Supaat, head of foreign-exchange research at Malayan Banking Bhd. in Singapore. "Falling exports will also weigh on the ringgit."
The ringgit depreciated 0.5 percent to 3.5338 a dollar in Kuala Lumpur after last week's 0.7 percent loss, according to data compiled by Bloomberg. It touched 3.5452, the lowest level since September 2009. Local stocks tracked losses across the region, with the FTSE Bursa Malaysia KLCI Index falling 0.9 percent and the MSCI Asia Pacific Index retreating 0.7 percent.
Exports from the Southeast Asian nation declined 0.9 percent in November from a year earlier, after dropping 3.1 percent in October, according to the median forecast of economists surveyed by Bloomberg before the Jan. 7 data.
Government bonds retreated. The five-year yield climbed three basis points to 3.89 percent, the highest since Dec. 17, data compiled by Bloomberg show. The yield on 10-year securities rose four basis points, or 0.04 percentage point, to 4.2 percent.
Global funds reduced holdings of Malaysian debt by 5.8 percent, the most since September 2011, to 236.5 billion ringgit ($66.9 billion) in November, central bank data showed Dec. 31.