This article first appeared in City & Country, The Edge Malaysia Weekly, on April 18, 2022 - April 24, 2022.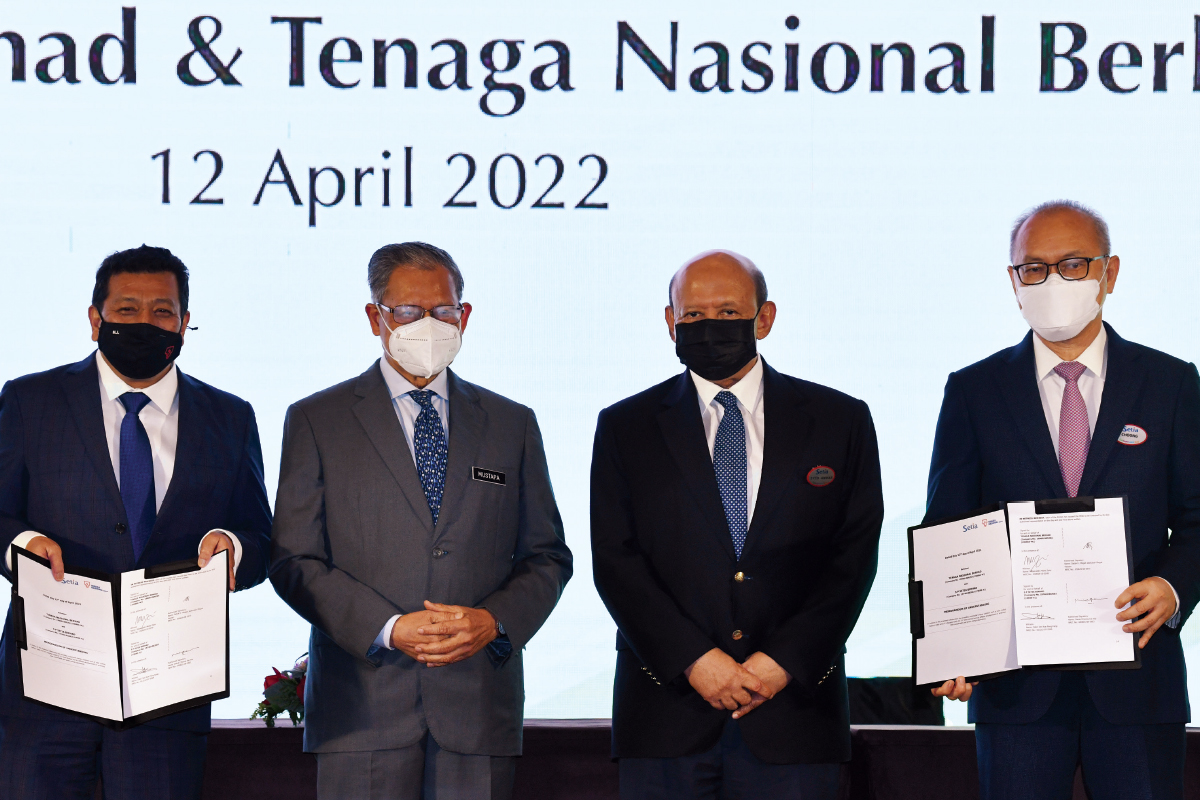 Last Tuesday, S P Setia Bhd signed a memorandum of understanding with Tenaga Nasional Bhd to show its support and commitment towards the national agenda of becoming a carbon-neutral country by 2050.
During the signing ceremony, S P Setia president and CEO Datuk Choong Kai Wai said the property developer was thrilled to work with Tenaga to drive change and deliver value beyond housing. It also aimed to encourage sustainable living and make a positive impact on the communities in its developments.
The partnership will see S P Setia's property developments provided with infrastructure and support for rooftop solar panels, electric vehicle (EV) charging and battery storage solutions. 
Solar power is a renewable energy that reduces consumption of electricity from the national grid, with the savings passed on to the consumer. EV charging infrastructure is built to support residents' green mobility choices. Batteries are used to store energy from solar-power generation for the needs of the household as well as the township. 
This venture marks a great step forward in the sustainability imperative for S P Setia and Tenaga, as they will work together to make the impact needed to propel Malaysia towards its environmental commitments.
Adopting a greener lifestyle will be made easier and more affordable for consumers. Choong said the homes in S P Setia's developments will incorporate a green master switch that will allow residents to turn off all power points, except the 
refrigerator and alarm system. The green master switch, which will require simple wiring work to install, will be easy to use and ultimately eliminate the need to connect with any mobile applications.
"Supply and demand — not construction cost — will dictate the price of the properties. Tenaga will provide the infrastructure at a competitive price and, as such, it will make up only about 2% of the total construction cost. We will set a new benchmark for homes in Malaysia with these actions, cultivating green lifestyles across the country," said Choong.
S P Setia's developments have always been designed to coexist with nature in a way that supports connection and growth. Parks, gardens and bodies of water are seamlessly integrated with the built environment to form healthy ecosystems.
The collaboration between the property developer and Tenaga is the next step in the group's 
ever-evolving concept of sustainability. For Malaysians, S P Setia's commitment will translate into an increased awareness of the green agenda and numerous savings, thanks to the ready infrastructure and more efficient energy billings, as well as an easy transition to environmentally conscious living.
"Sustainability is our collective responsibility. For S P Setia, it is embedded in our culture and expressed through our developments. We embrace our duty to adopt, adapt and uphold the environmental agenda in meaningful ways that transfer savings, ease of living and innovative lifestyles to our customers," said Choong.