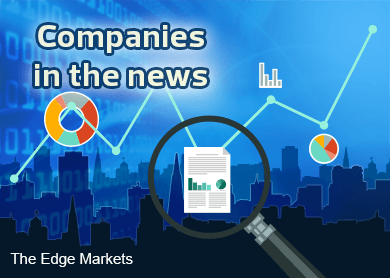 KUALA LUMPUR (Dec 4): Based on news flow and corporate announcements today, companies that may be in focus tomorrow (Friday, Dec 5) could include the following: Sarawak Cable Bhd, Bumi Armada Bhd, Genting Malaysia Bhd, Axiata Group Bhd, Sime Darby Bhd, and Yong Tai Bhd.
 
Sarawak Cable Bhd has been awarded a RM257 million contract from Petroliam Nasional Bhd (Petronas) for the construction of an overhead transmission line and a substation in Pengerang, Johor.
 
In a filing with Bursa Malaysia this evening, Sarawak Cable's wholly owned subsidiary Trenergy Infrastructure Sdn Bhd was awarded the contract for the engineering, procurement, construction and commissioning for the development of Pengerang 275kV overhead transmission line from Pengerang Cogeneration Plant to Peninsular Malaysia grid and a 275kV/132kV Pengerang substation.
 
Both the overhead transmission line and substation are expected to be completed on July 21, 2016.
 
The company's share price closed unchanged at RM1.43 today, giving it a market capitalisation of RM394.02 million.
Tan Sri Mokhzani Mahathir, the vice chairman of SapuraKencana Petroleum Bhd vice chairman, has bought an additional two million shares, taking advantage of the sharp fall on the company's share price.
Mokhzani, who has earlier trimmed his stake in the oil & gas group, bought back some shares today, through his private investment vehicle Kencana Capital Sdn Bhd. With the latest share purchase, Mokhzani's shareholding increased to 607 million or 10.13%, while his direct interest stood at 9.49 million shares or 0.16%.
It is learnt that Mokhzani intends to continue accumulating shares, given the attractive valuation after the recent meltdown on most O&G stocks.
His move to raise stake in SapuraKencana is as surprised as when he sold part of his stake and relinquished his executive role in the group in February. The share purchase has made some quarters puzzled, as Mokhzani's share sale earlier, has reinforced the belief he would concentrate his investment in Yinson Holdings Bhd.
SapuraKencana share price has fallen off the cliff, plunging from RM4.40 in mid-July to two-year low of RM2.44. Market capitalisation of RM11.7 billion has evaporated in slightly more than four months. The stock was up five sen to close at RM2.49 yesterday (Dec 3), bringing its market capitalisation to RM15.04 billion.
Mokhzani is the third largest shareholder of SapuraKencana, after Sapura Holdings Sdn Bhd which holds a 16.71% stake, and Employees Provident Fund (13.07%). Other substantial shareholders are Seadrill Ltd (8.18%) and Skim Amanah Saham Bumiputra (6.23%).
Bumi Armada Bhd has failed to sign a US$1.18 billion charter contract with Indonesian-based Husky-CNOOC Madura Ltd (HCML) for the supply of one floating production, storage and offloading (FPSO) by its Nov 27 deadline. This is fourth delay in the execution of the agreement.
 
In an announcement to Bursa, Bumi Armada said HCML and the consortium of Bumi Armada Offshore Holdings Ltd and its joint-venture company PT Armada Gema Nusantara "have mutually agreed to extend the period for the signing of the contract to next Wednesday.
 
"The extension is to enable parties to procure relevant internal approvals to execute the contract," said Bumi Armada.
 
The signing of the FPSO contract has been the subject of several delays since Bumi Armada first announced that HCML had issued a letter of intent for the deal in August.
 
The market was left to guess the fate of the contract after no announcement was made last Thursday, the day when the contract was supposed to be signed or terminated, unless a further extension was agreed upon. 
Bumi Armada has had a dismal year so far with its share price plunging 58% since the beginning of the year. While Bumi Armada's share price is going downhill, the company's chief executive officer Hassan Assad Basma has been reducing his stake in the company. As at Nov 28, Hassan only has a 0.05% stake in the company, having last disposed 260,000 shares in the open market on Nov 26 and Nov 28.
 
Bumi Armada closed 2 sen higher to RM1.04 today, giving it a market capitalisation of RM6.1 billion.
 
Genting Malaysia Bhd expects to complete by 2016 the world's first Twentieth Century Fox World theme park which will costs about RM1 billion to build. Along with it, the public will also see the completion of a new hotel and cable car station within the next two years.
 
"One of the projects that will see completion in the first half of next year is an additional 1,268 rooms at the First World Hotel," said Genting Malaysia president and CEO Datuk Seri Lee Choong Yan.
 
"Other projects that will be opened by 2016 are The Sky Avenue and Sky Plaza shopping malls, a new cable car station and the Twentieth Century Fox World Theme Park," he said at the introduction of Resort World Genting's brand ambassador and official launch of Horizon 50.
 
Genting Malaysia is currently embarking on its RM5 billion Genting Integrated Tourism Plan (GITP) to strengthen its position as a major tourism hub regionally and globally. 
 
Shares in Genting Malaysia closed 3 sen higher to RM4.10 today, giving it a market capitalisation of RM23.25 billion.
 
Axiata Group Bhd said it will acquire an 80% stake in a Singapore-based digital marketing company for US$9 million (RM31.01 million).
 
According to the telecommunication conglomerate's filing to Bursa Malaysia this evening, its wholly owned subsidiary Axiata Digital Advertising Sdn Bhd (ADA) has entered into a subscription and shareholders' agreement with Adknowledge International Inc (ADK) and Adknowledge Asia Pacific Pte Ltd (AAP) for the stake acquisition in AAP, a wholly owned subsidiary of US-based ADK.
 
AAP's principal activities are digital advertising in the Asia-Pacific region (APAC).
 
Axiata said the acquisition will enable it to capture the fast-growing digital marketing space through a synergistic combination of its core strengths, competencies and market assets.
 
Its counter shed 15 sen or 2.16% to close at RM6.79 today, giving it a market capitalisation of RM58.27 billion.
 
Sime Darby Bhd plans to extend the offer period for the take-over of New Britain Palm Oil Ltd (NBPOL).
 
In a statement to Bursa today, Sime Darby said it intends to extend the offer duration from Dec 18, 2014 to Jan 20, 2015.
 
Last October, Sime Darby said the group, via wholly owned unit Sime Darby Plantation Sdn Bhd (SD Plantation), planned to buy the entire stake in NBPOL for GBP7.15 a share or GBP1.07 billion (RM5.62 billion) cash.
 
The privatisation of UK and Papua New Guinea-listed NBPOL will see Sime Darby delisting NBPOL from the UK bourse.
The acquisition of NBPOL includes Kulim (M) Bhd's 48.97% stake in NBPOL.
 
Sime Darby closed 13 sen higher to RM9.64 today, giving it a market capitalisation of RM58.46 billion.
 
Garments manufacturer and retailer Yong Tai Bhd plans to raise RM63.315 million by rights issue with free warrants as well as a special issuance of 40 million shares, in a move to partly finance its joint-venture (JV) mixed development project in Malacca.
 
In a filing with Bursa Malaysia this evening, Yong Tai said the company also proposed par value reduction from RM1 to 50 sen, bringing its paid up capital from RM40.115 million to RM20.057 million.
 
Yong Tai will then make the cash call to raise RM40.115 million, with the renounceable rights issue of 80.23 million shares, together with 40.115 million free detachable warrants.
 
After the par value reduction, the rights share has an indicative issue price of 50 sen apiece, and it will be issued on the basis of two rights shares for every one share held.
 
Subsequently, shareholders will get one free warrant for every two rights shares subscribed.
Meanwhile, Yong Tai will raise RM23.2 million from the special issuance of up to 40 million new shares to independent third party investors to be identified, based on an indicative issue price of 58 sen each
 
Yong Tai closed 2 sen lower to 83 sen, giving it a market capitalisation of RM33.33 million.