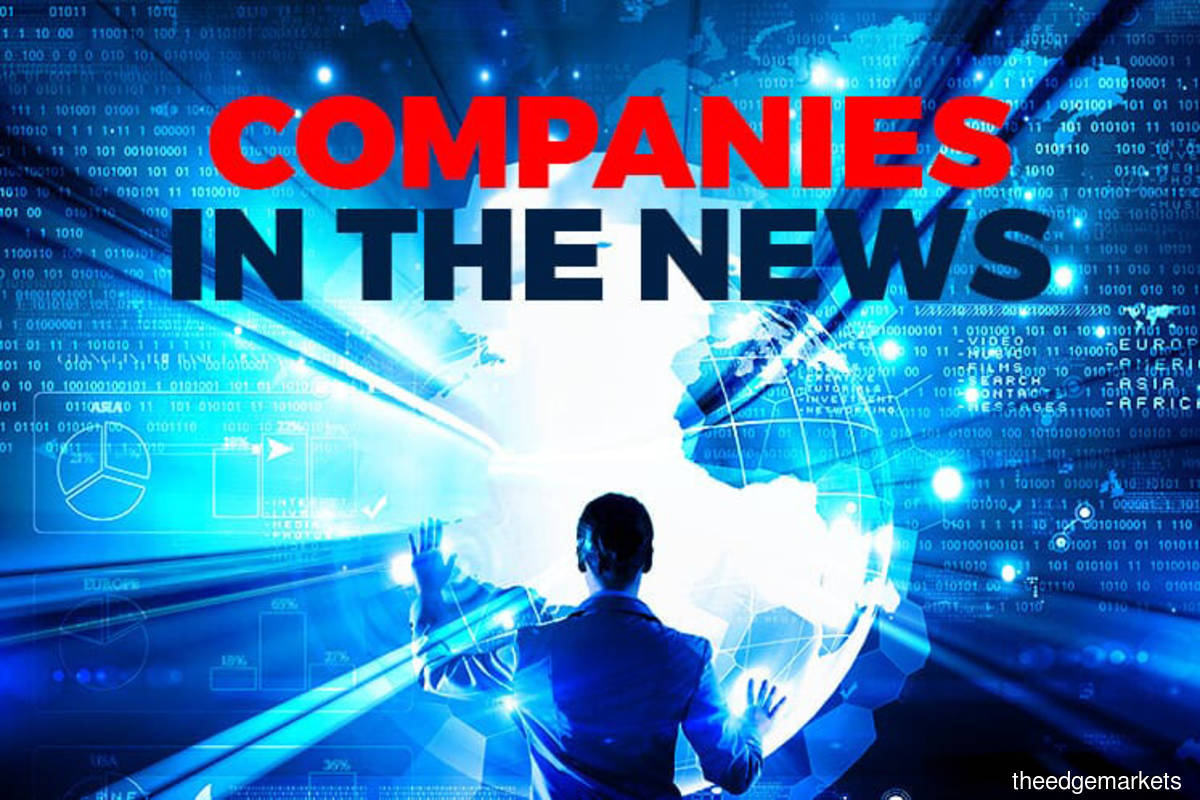 KUALA LUMPUR (Oct 14): Based on corporate announcements and news flow on Thursday, companies in focus on Friday (Oct 15) may include Sedania Innovator Bhd, IGB Bhd, LPI Capital Bhd, Kerjaya Prospek Group Bhd, AirAsia Group Bhd, Telekom Malaysia Bhd, Genting Malaysia Bhd, Advancecon Holdings Bhd, Malaysia Airports Holdings Bhd (MAHB), Binasat Communications Bhd and MISC Bhd.
Sedania Innovator Bhd unit Sedania As Salam Capital Sdn Bhd has inked a Memorandum of Understanding with FCA Capital Sdn Bhd in its bid for a digital Islamic bank licence from Bank Negara Malaysia. Sedania said FCA acted as the financial advisor for a consortium that submitted a bid for approval of a digital Islamic bank licence from the central bank. It said the decision for the digital Islamic bank licence is expected to be announced by the first quarter of 2022.
Tan & Tan Developments Bhd, a wholly-owned subsidiary of IGB Bhd, has signed an agreement with Meaningfull Life Sdn Bhd to set up a joint venture  company called ReU Living Sdn Bhd, which will focus on operating convalescent/post-hospitalisation facilities and senior living facilities.
LPI Capital Bhd saw its net profit for the third quarter ended Sept 30, 2021 rise by 22.29% to RM105.38 million, from RM86.18 million in the same period last year, due to higher profit contributed by the strong underwriting result of its wholly-owned insurance subsidiary Lonpac Insurance Bhd. Revenue rose 8.13% to RM427.91 million from RM395.76 million, driven by an increase in its investment income and growth in gross earned premium of 4.9% or RM18.5 million from its general insurance segment.
Kerjaya Prospek Group Bhd announced that its wholly-owned subsidiary Kerjaya Prospek (M) Sdn Bhd has secured an RM258 million contract for the construction of main building works in Johor. The construction company said it secured the project from Teguh Harian Build-Tech Sdn Bhd and the construction works are expected to commence on Nov 1 and will take three years to complete. The project covers the construction of main building works
for three blocks of apartments with common area and mechanical and electrical facilities, and a 12-storey podium car park.
AirAsia Group Bhd said the company has renamed its 100%-owned subsidiary AirAsia Investment Ltd to AirAsia Aviation Ltd in a corporate reorganisation to create a clear distinction between AirAsia Group's airline and digital businesses. AirAsia Group said Bo Lingam, formerly president (airlines) for AirAsia Group, takes over as group CEO of AirAsia Aviation to oversee the group's four airlines, namely AirAsia Malaysia, AirAsia Philippines, AirAsia Thailand and AirAsia Indonesia.
The Malaysian Maritime Enforcement Agency (MMEA) has signed the Aeronautical Message Handling Services (AMHS) communication line lease agreement with Telekom Malaysia Bhd for Cospas-Sarsat, a satellite-aided search and rescue initiative. The Cospas-Sarsat system AMHS communication line rental contract worth RM515,160 is for a period of three years from Aug 1 to July 31, 2024.
Fitch Ratings has upgraded the Issuer Default Rating (IDR) of Genting Malaysia Bhd's unit Empire Resorts, Inc to "B+(EXP)" from "B(EXP)". It has also assigned a "BB+(EXP)"/"RR1" rating to Empire's announced senior secured notes. The rating outlook is revised to Stable from Negative. According to Fitch, the one-notch upgrade reflects an improved stand-alone credit profile pro forma for the announced recapitalisation.
Meanwhile, Genting group-backed Sightline Payments, a digital payment solution provider for the sports betting and casino markets, is eyeing global expansion after achieving unicorn status just two months ago. In an email response to a query by theedgemarkets.com on whether the group has plans to introduce its expertise and products to Genting's global casinos and hotels outside the US, the company's spokesperson replied: "Sightline is currently evaluating a number of legal jurisdictions outside of North America, including some in Asia and Europe." Early this month, Sightline launched its first branded Play+ Mastercard with Genting's US$4.3 billion (RM17.8 billion) Resort World Las Vegas, which opened on June 24.
Advancecon Holdings Bhd said it has been appointed a subcontractor for the proposed construction and completion of ground treatment work of Section 4 of the East Coast Rail Link (ECRL) project for RM16.97 million. Advancecon said its wholly-owned Advancecon Infra Sdn Bhd has accepted the letter of  acceptance from China Communications Construction (ECRL) Sdn Bhd for the appointment. The contract period will be from Oct 15, 2021 until March 25, 2022.
Malaysia Airports Holdings Bhd (MAHB) will heighten all standard operating procedures (SOPs) for a continuous and sustainable recovery in the aviation industry, in anticipation of a surge in passenger movements in the coming months. Group CEO Datuk Mohd Shukrie Mohd Salleh said all 39 airports under MAHB's network across the country continued to practise Covid-19 safety measures and remain guided by the government and relevant authorities on the latest SOPs to protect both passengers and the airport community while curbing the pandemic.
Binasat Communications Bhd has proposed a private placement to raise as much as RM23.3 million to fund its working capital, mainly for the group's fibre optic telecommunications network supporting services.
AET, the petroleum arm of MISC Bhd, has completed its first-ever liquefied natural gas (LNG) bunkering in the US, working in coordination with Shell to refuel the LNG dual-fuel Aframax tanker Pacific Ruby outside Port Canaveral in Florida. AET said the transfer of 600 tonnes of marine LNG onto the 113,305 DWT petroleum tanker from the Q-LNG 4000 bunker barge was safely completed within three hours, while the entire bunkering operations took nine hours.