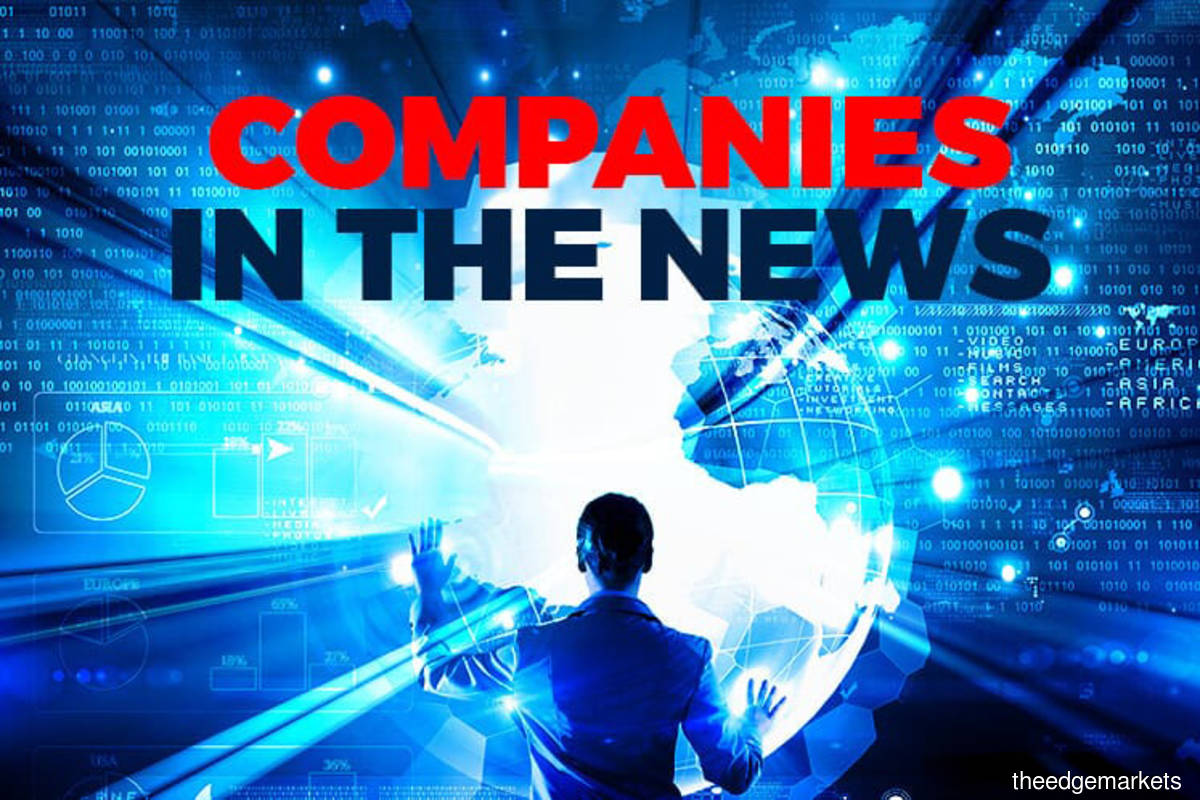 KUALA LUMPUR (Nov 10): Based on corporate announcements and news flow on Wednesday, companies in focus on Thursday (Nov 11) may include: Sentral REIT, EP Manufacturing Bhd (EPMB), Hup Seng Industries Bhd, Transocean Holdings Bhd, TAFI Industries Bhd, Hibiscus Petroleum Bhd, Omesti Bhd, Celcom Axiata Bhd, Digi.Com Bhd, Maxis Bhd, Telekom Malaysia Bhd, AirAsia Group Bhd, Iconic Worldwide Bhd, Pimpinan Ehsan Bhd (PEB) and AwanBiru Technology Bhd.
Sentral REIT's net property income rose by a marginal 0.2% to RM32.47 million for the third quarter ended Sept 30, 2021, from RM32.4 million a year earlier. Earnings per unit rose 3% to 2.06 sen, from two sen for 3QFY20, the commercial real estate investment trust's bourse filing showed. No income distribution was declared for the third quarter. Year to date, the REIT has distributed 3.43 sen per unit or a total of RM36.76 million.
EP Manufacturing Bhd (EPMB) has entered into a two-year memorandum of understanding (MOU) with the Ministry of International Trade and Industry (MITI) agency Malaysia Automotive Robotics and IoT Institute (MARii) to explore areas of collaboration in the production of two- and four-wheel electric vehicles and establishment of an electronic payment system, which will be part of a "super delivery ecosystem". The car parts manufacturer also said it is not aware of the reason for the unusual market activity in its securities, except for the MOU it had just signed.
Hup Seng Industries Bhd's net profit for the third quarter ended Sept 30, 2021 (3QFY21) shrank by 65.94% to RM4.08 million against RM11.99 million last year, on lower biscuit sales, as well as increase in costs of main raw materials. The group noted sales orders for its products were not able to be fulfilled. mainly due to the temporary two weeks' suspension of operations in September for disinfection, as well as the mandatory compliance of operating with a 60% workforce. Consequently, earnings per share fell to 0.51 sen, compared with 1.5 sen a year earlier.
Transocean Holdings Bhd named Billionaire Tan Sri Surin Upatkoon as the second largest shareholder with an 18.43% stake in the company on Wednesday (Nov 10). The group did not disclose the price at which Surin purchased the stake comprising 12 million Transocean shares. It is not immediately clear what Surin plans to do with Transocean, after emerging as a substantial shareholder.
TAFI Industries Bhd, responding to an UMA query from Bursa Malaysia, said it was in the midst of deliberating on a corporate transaction to enhance the tradeability of its shares. A follow-up query was issued by Bursa Malaysia later in the day, seeking details of the corporate transaction, and the company replied that it involved a potential bonus issue.
Hibiscus Petroleum Bhd's net profit fell 16.28% quarter-on-quarter in the three months ended Sept 30, 2021 (1QFY22) to RM41.52 million, from RM49.6 million in 4QFY21, as it sold fewer barrels of oil despite higher realised oil price. Revenue fell 3% to RM246.69 million from RM253.02 million, while earnings per share fell to 2.07 sen from 2.49 sen, its latest results filings showed. No dividend was announced.
Omesti Bhd has increased its investment in the Bemed Group of companies with the acquisition of a 70% shareholding in each of nine other Bemed pharmaceutical businesses for a total cash consideration of RM15.8 million. The nine companies  are engaged in various activities, including trading and retail sale of pharmaceutical products, orthopaedic and medical goods, perfumery products, cosmetics and toiletries.
Celcom Axiata Bhd, Digi.Com Bhd, Maxis Bhd, Telekom Malaysia Bhd, and U Mobile Sdn Bhd were integrated into the national 5G wholesale service operator Digital Nasional Bhd's (DNB) 5G network on Wednesday (Nov 10), in a special demonstration that day. However, Reuters reported that none of the major mobile carriers have agreed to use the government's 5G network yet, due to transparency and pricing issues ahead of a planned rollout in December.
AirAsia Group Bhd expects its earnings to return to pre-pandemic levels as early as six months, in view of Malaysia's gradual border reopening. Group CEO Tan Sri Tony Fernandes said the outlook is getting better with the vaccination rates, the Covid-19 pill, herd-immunity and border reopenings of both Singapore and Thailand. He added that he hopes to see easier and simpler Vaccinated Travel Lane protocols between Malaysia and Singapore, as both countries have done well in their vaccination programmes. The low-cost carrier also announced that it has appointed former Adidas Asia Pacific MD Colin Currie as its new chief commercial officer, to develop a consumer-centric strategy using data to optimise growth and meet the financial objectives across AirAsia's airlines and digital units.
Iconic Worldwide Bhd is planning to raise RM38.25 million from a private placement to fund the working capital of its glove and medical face mask venture, according to a bourse filing on Wednesday (Nov 10). The company on Wednesday unveiled its newly completed RM200 million personal protective equipment (PPE) manufacturing facility for gloves and medical face masks in the Batu Kawan Industrial Park, Penang.
Pimpinan Ehsan Bhd will see Thai-listed B.Grimm Power Public Co Ltd emerge as a 40.6% shareholder, after renewable energy (RE) firm reNIKOLA Holdings Sdn Bhd was slated to emerge as the largest shareholder in Pimpinan Ehsan in May earlier this year. On Wednesday (Nov 10), B.Grimm via its Malaysian unit inked an agreement to subscribe to new shares in reNIKOLA, amounting to 45% of the latter's enlarged share capital for RM367 million cash. This would result in Pimpinan Ehsan remaining as the sole shareholder of reNIKOLA. Meanwhile, B.Grimm will become the largest shareholder in Pimpinan Ehsan with a 40.6% stake, followed by reNIKOLA Sdn Bhd (RSB) with a diluted 36.5%, from 61.5% initially.
AwanBiru Technology Bhd (formerly known as Prestariang Bhd) said Serba Dinamik Holdings Bhd is unable to complete the purchase of an eight-storey office building in Cyberjaya from the group for RM24.2 million. In accordance with the terms of the sale and purchase agreement inked in February,  the deposit of RM2.42 million paid by Serba Dinamik is forfeited.