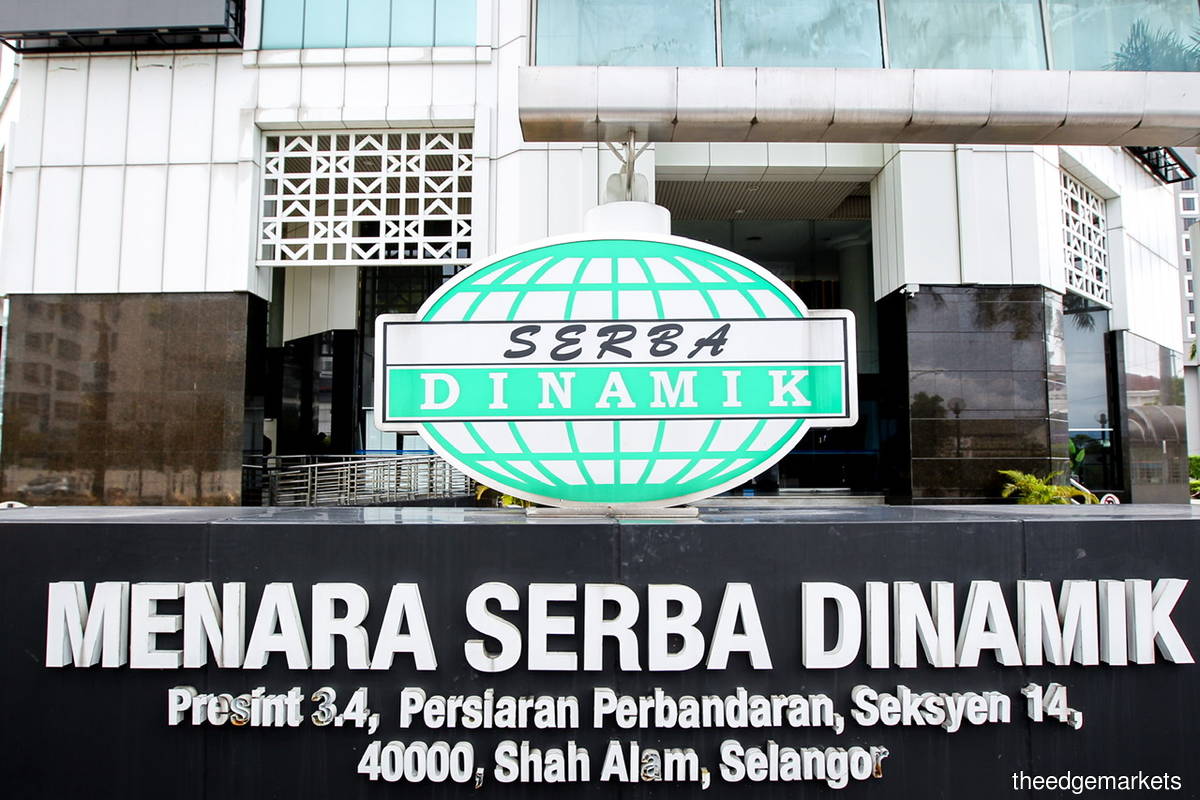 KUALA LUMPUR (May 17): Financially troubled Serba Dinamik Holdings Bhd gained investors' interest and emerged as the top actively traded counter on the local bourse on Tuesday (May 17).
The stock opened one sen or 8.33% higher at 13 sen and surged further to hit an intraday high of 22 sen. 
It ended the trading day 4.5 sen or 37.5% higher at 16.5 sen, giving it a market capitalisation of RM614.99 million. 
A total of 1.05 billion shares changed hands, representing 28.15% of its share issuance capital.
Notably, shares in the oil and gas service provider resumed trading on May 9 after a six-month long suspension since October last year. 
The stock sank to a new low of six sen on May 11, which was the third day of resumption of trading.
However, despite the flak and troubles the group faced in the recent months, investors' interest in the Practice Note 17 (PN17) company still appeared strong. 
In late April, the group and its three subsidiaries were served with winding-up petitions from six financial institutions that were involved in providing RM1.2 billion in syndicated term financing.
The subsidiaries are Serba Dinamik International Ltd (SDIL), Serba Dinamik Sdn Bhd (SDSB) and Serba Dinamik Group Bhd (SDGB).
The creditors appointed Victor Saw Seng Kee, a licenced liquidator of PricewaterhouseCoopers Advisory Services Sdn Bhd, to act as the liquidator of Serba Dinamik, SDGB, SDSB and SDIL.
The group in its recently announced financial results posted a net loss of RM290.33 million for the second quarter ended Dec 31, 2021 (2QFY22) as revenue further plummeted across key operating segments. 
Serba Dinamik, which last year changed its financial year end to June 30 from Dec 31, saw its net loss for 2QFY22 widen from RM42.11 million for 1QFY22.
Revenue, on the other hand, for 2QFY22 fell 77.8% quarter-on-quarter to RM177.14 million from RM799.35 million for 1QFY22, with an 80.9% decline in contribution from its operations and maintenance division, while the engineering, procurement, construction and commissioning division's contribution fell 41.9%. 
As at the end of Dec 31, 2021, Serba Dinamik had short-term borrowings of RM1.45 billion plus long-term debts of RM2.27 billion, whereas cash and cash equivalents amounted to RM218.95 million.
Current trade payables stood at RM778.29 million, up RM284.09 million from RM494.19 million at end-1QFY22. 
Retained earnings stood at RM724.82 million at end-December, down RM332.44 million from RM1.06 billion at end-June last year.
To recap, the company and four of its senior officials including group managing director and controlling shareholder Datuk Dr Mohd Abdul Karim Abdullah were charged for furnishing false statements.
The Attorney-General's Chambers (AGC) later decided to withdraw the charges following a letter of representation by the accused. 
Subsequently, the AGC explained that its decision for the compound was grounded on its stance that the evidence against the accused parties was "circumstantial in nature".
In a three-page statement on May 13, Attorney General Tan Sri Idrus Harun said that the AGC was of the view that "public interest would be better served" by compounding the offences allegedly committed.
This, he said, was "in light of the evidence in support of the charges and to avoid a long and protracted trial". However, the statement did not elaborate on the acquittal.
Later, the group announced that its four top executives involved in the submission of false information have paid a total of RM16 million in compounds issued by the Securities Commission Malaysia (SC).
Read also:
Serba Dinamik and executive officers' representation conditionally accepted by AG's Chambers
AGC opted for Serba Dinamik compound as SC evidence 'circumstantial', compound means public interest 'better served'
Serba Dinamik executives given discharge and acquittal