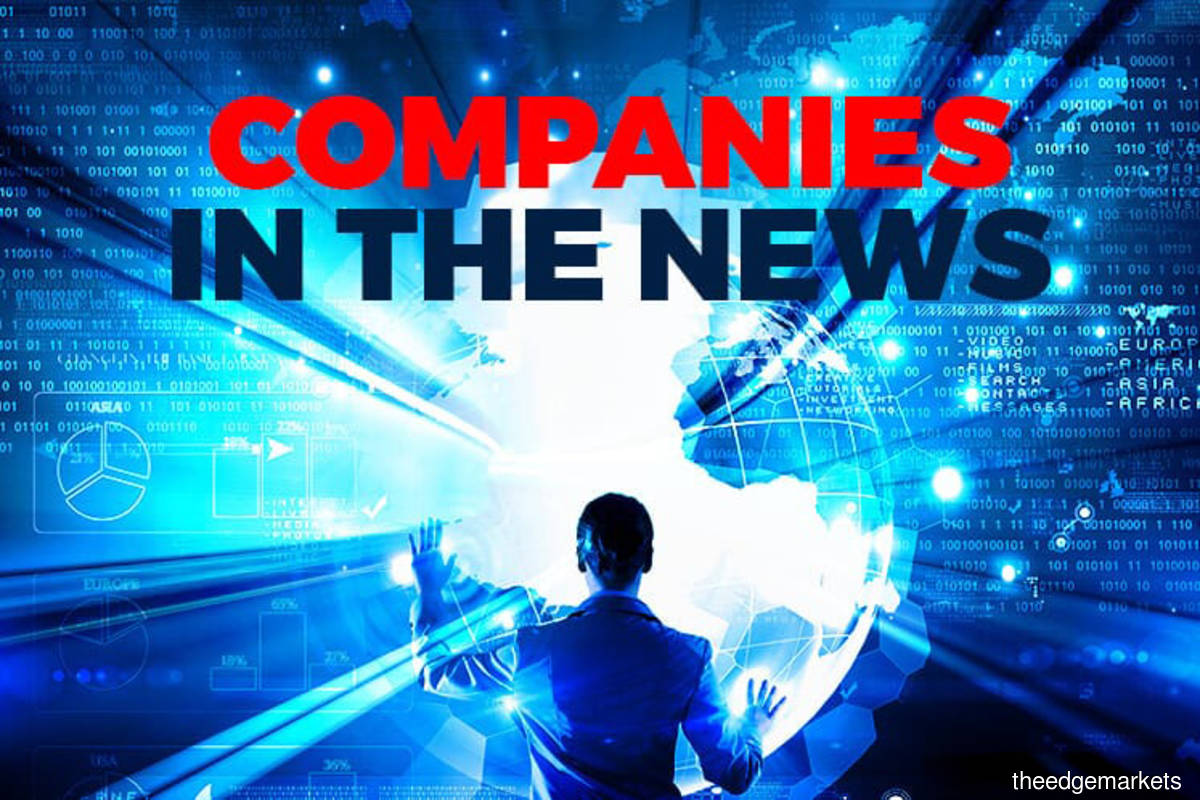 KUALA LUMPUR (Oct 25): Based on corporate announcements and news flow on Monday, companies in focus on Tuesday (Oct 26) may include: Serba Dinamik Holdings Bhd, Yinson Holdings Bhd, Petronas Gas Bhd (PetGas), Affin Bank Bhd, Cepatwawasan Group Bhd, Genetec Technology Bhd, Supermax Corp Bhd, Telekom Malaysia Bhd (TM), Genting Malaysia Bhd, Annum Bhd, Southern Cable Group Bhd, Cabnet Holdings Bhd, Theta Edge Bhd, JAKS Resources Bhd, Kenanga Investment Bank Bhd, Oriental Interest Bhd, Hup Seng Industries Bhd, Axis Real Estate Investment Trust (Axis REIT), Samaiden Group Bhd, TDM Bhd and Straits Energy Resources Bhd.
Serba Dinamik Holdings Bhd, whose securities have been suspended from trading by Bursa Malaysia as it failed to provide timely update on the findings of the special audit, said Bursa has allowed it to postpone the submission to Nov 30 from Oct 31. Serba Dinamik has also denied that its directors had been given a "factual findings update" by Ernst & Young (EY), which is undertaking the special independent review of the group's financial accounts. Serba Dinamik said EY was still in the midst of performing the review.
Yinson Holdings Bhd has made a lodgement with the Securities Commission Malaysia (SC) for the establishment of the Sukuk Wakalah Programme of up to RM1 billion. Yinson said the first issuance under the programme will be made within 60 business days from the lodgement date of Oct 22. It said the programme has been assigned ratings of A+IS and A1 by Malaysian Rating Corp Bhd (MARC) and RAM Rating Services Bhd respectively.
Petronas Gas Bhd's 65%-owned subsidiary Pengerang LNG (Two) Sdn Bhd (PLNG2SB) has announced a non-binding expression of interest (EOI) for a proposed liquefied natural gas (LNG) storage tank in Pengerang, Johor, to be used for LNG storage and reloading activities. The company said the EOI, which was published on Oct 1, and scheduled to end on Nov 30, aims to support growth of the LNG emerging market across Asia.
Singapore-listed Raffles Education Corp Ltd said it has received an order jointly issued by the Monetary Authority of Singapore and the Commercial Affairs Department, requiring the group to provide certain documents relating to loan facilities extended by Affin Bank Bhd to the group's subsidiaries Raffles K12 Sdn Bhd and Raffles Iskandar Sdn Bhd. This order is in connection with an investigation into a potential offence under Chapter 289 of Singapore's Securities and Futures Act.
Cepatwawasan Group Bhd's net profit for the third quarter ended Sept 30, 2021 more than doubled to RM11.62 million from RM5.35 million a year ago, underpinned by higher palm oil prices. Its quarterly revenue also rose 64.61% to RM103.88 million, from RM63.11 million a year ago. The group said the higher revenue and net profit were mainly due to higher average selling price of crude palm oil, palm kernel, fresh fruit bunches and empty fruit bunch oil by 61%, 75%, 72% and 75% respectively.
Genetec Technology Bhd's net profit for the second quarter ended Sept 30, 2021 jumped more than sixfold year-on-year to RM16.31 million from RM2.64 million, due mainly to higher sales volume and improved operational efficiency. Revenue rose to RM59.31 million from RM38.67 million. Genetec also proposed to undertake a bonus issue of 661.56 million new shares on the basis of 12 bonus shares for every one share held.
Supermax Corp Bhd warned that there will be "material effect" on its financial performance, should the glove maker's efforts to divert sales to other markets be less than successful after the US Customs and Border Protection issued a Withhold Release Order (WRO) against the company and its subsidiaries' products on forced labour allegations. The duration of the WRO will also determine the extent of the adverse impact on Supermax's financial performance.
Telekom Malaysia Bhd (TM), via its wholesale domestic and international business arm TM Wholesale, has collaborated with nine tower providers, enabling it access to the companies' tower site facilities. TM said the collaboration will allow the high-speed fibre optic network to connect to the towers, enabling high quality network performance and capability.
Genting Malaysia Bhd's operating unit Resorts World Genting (RWG) said US fast-food chain Five Guys Enterprises LLC had opened its doors at RWG. According to online reports, the Five Guys outlet at RWG is the burger joint's first outlet in Malaysia. Five Guys has expanded to more than 1,700 locations across the US, Canada, the UK, Europe, Asia and the Middle East.
Annum Bhd (formerly known as Cymao Holdings Bhd) has teamed up with Greentech IOT Technology Sdn Bhd to undertake a RM62.25 million subcontract under the Sarawak Water Supply Grid Programme. The job involves the supply, laying and commissioning of pipelines from the Salim Water Treatment Plant, Sibu Water Board to Kanowit Sibu Division, as well as piling works and mechanical and electrical works. Annum said the group will be entitled to 50% of net profit in relation to the project.
Cable and wire manufacturer Southern Cable Group Bhd is slated to transfer its listing to the Main Market of Bursa Malaysia on Thursday (Oct 28). The group said its entire share capital of 800 million shares will be transferred to the Main Market from the ACE Market. The group is classified under the industrial products and services sector and traded under the stock name SCGBHD and stock code 0225.
Cabnet Holdings Bhd said its wholly-owned subsidiary CEE M&E Engineering Sdn Bhd has been appointed as a works package contractor for the electrical work package for a factory in Kedah for a contract sum of RM22.62 million. CEE accepted the letter of award from Kinetics Systems Malaysia Sdn Bhd.
Newly-appointed Malaysia Airports Holdings Bhd (MAHB) managing director Datuk Iskandar Mizal Mahmood has resigned as Theta Edge Bhd's independent non-executive director. Theta Edge said the resignation was "due to other work commitment".
Bursa Malaysia Securities has publicly reprimanded JAKS Resources Bhd and its principal adviser Kenanga Investment Bank Bhd for breaches of the Main Market listing requirements. The regulator said JAKS and Kenanga Investment Bank had failed to ensure that there were at least 10 market days' notice from the date the books closing date (BCD) was announced, to the actual BCD, for the adjustment to the exercise price or additional number of JAKS warrants (JAKS-WB) arising from the proposed rights issue with warrants announced on May 22, 2020. On Oct 13, 2020, JAKS announced that the entitlement/BCD for the proposed rights issue was fixed on Oct 27, 2020 but did not announce the BCD for the adjustments. JAKS had only on Oct 26, 2020 announced that the BCD for the adjustments was fixed on Oct 27, 2020, and stated the delay in the announcement was due to an oversight.
Oriental Interest Bhd posted a net profit of RM6.58 million on the back of revenue of RM60.74 million for the fourth quarter ended Aug 31, 2021. The group said the results were driven largely by the property development segment, which contributed a revenue of RM52.49 million and profit before tax (PBT) of RM8.56 million. It recorded a PBT of RM9.14 million for the quarter under review.
Hup Seng Industries Bhd has announced the demise of its managing director Kuo Choo Song. The biscuit maker said Kuo, 89, was one of the founders of Hup Seng Co, which was established in 1958 and subsequently became Hup Seng Perusahaan Makanan (M) Sdn Bhd in 1974. Kuo was the elder brother of Datuk Keh (Kerk) Chu Koh (Hup Seng chairman) and Kerk Chiew Siong (vice chairman), and uncle of Kerk Chian Tung (executive director), Teo Lee Teck (non-executive director) and Kerk Kar Han (non-executive director).
Axis Real Estate Investment Trust (Axis REIT) has acquired a warehouse logistics facility built on leasehold land in Pasir Gudang, Johor for RM32 million. The property, with a net lettable area of 276,000 sq ft, comprises one block of single-storey warehouse, together with another three blocks of single-storey warehouse. Axis REIT said the proposed acquisition of the property from Venice Tulip Sdn Bhd would enable the REIT to strengthen its portfolio of industrial properties.
Samaiden Group Bhd plans to raise up to RM34.02 million via a private placement to fund its investment in renewable energy assets. The private placement will involve 31.5 million shares or 10% of Samaiden's total number of issued shares, which will be issued to third-party investors to be identified later. The solar power specialist also said the issue price of the private placement will be fixed at a later date.
TDM Bhd's healthcare arm Kumpulan Medic Iman Sdn Bhd (KMI Healthcare) is set to develop the first private specialist hospital in Terengganu's Kemaman district. TDM said KMI Healthcare signed a memorandum of understanding (MoU) with the Kemaman Municipal Council to facilitate the construction of the hospital on 5.4 acres of land owned by the council. The 100-bed hospital is capable of being expanded to 200 beds in the near future.
Straits Energy Resources Bhd (formerly known as Straits Inter Logistics Bhd) has proposed a private placement to raise up to RM33.63 million, over half of which it plans to use to acquire a shipping agency service provider to expand its port operation and facility management services. The group plans to issue up to 186.81 million shares for the placement at an indicative price of 18 sen per share. Some RM18.20 million of the proceeds will fund the group's proposed acquisition of Sinar Maju Logistik Sdn Bhd from Straits Energy's non-independent non-executive director Tan Sri Mohd Bakri Mohd Zinin.