This article first appeared in City & Country, The Edge Malaysia Weekly, on April 25, 2022 - May 01, 2022.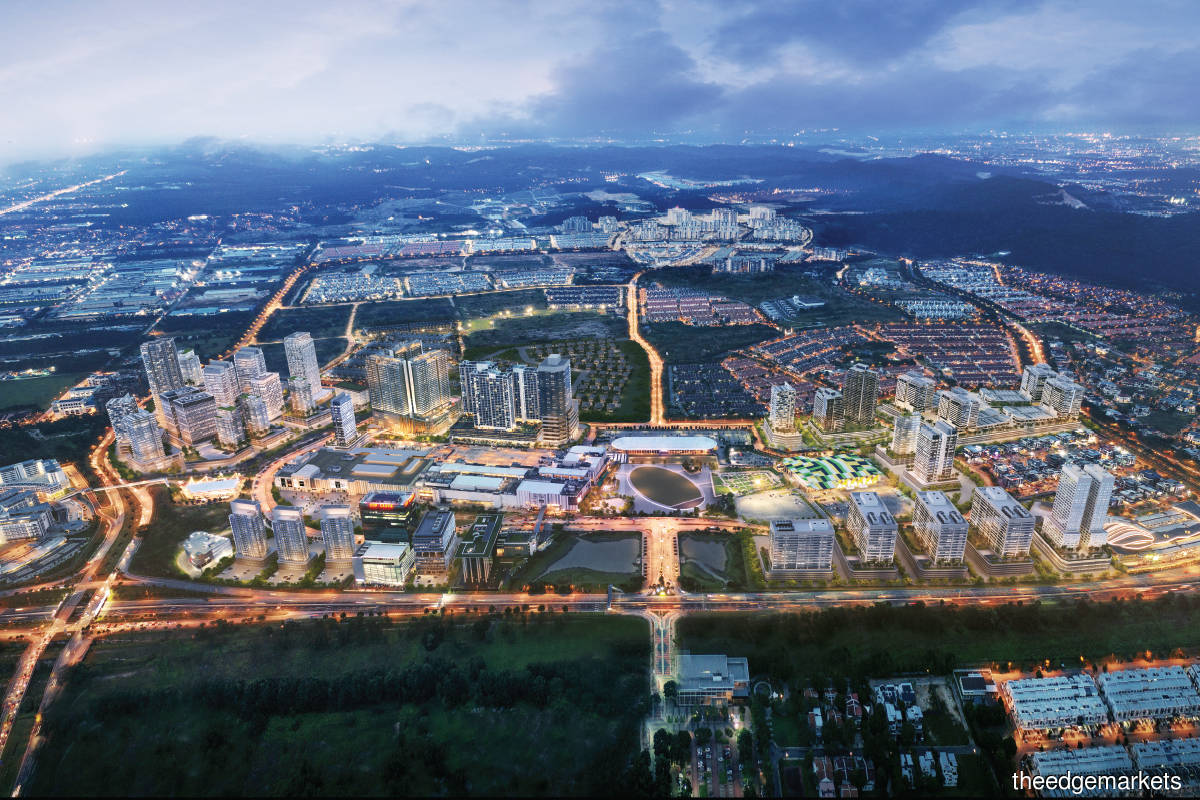 The drive to Setia Alam via the New Klang Valley Expressway is a pleasant one, as the traffic is smooth. As we approach the township, it is obvious that it has matured since its launch in 2004.
According to Tan Siow Chung, S P Setia Bhd's divisional general manager, nearly all the space for landed properties in the 2,525-acre township has been used up and what remains are pockets of development land ideal for high-rises.
Tan has been working on the RM20 billion project since it started and has seen it grow to meet the developer's expectations. Moreover, products sold in the early days have enjoyed an average capital appreciation of 200% while the newer units have appreciated in the double figures.
To ensure that Setia Alam continues to grow positively, S P Setia has invested millions to maintain its landscape and to upgrade and upkeep the infrastructure.
Tan provides updates on some of the developments in the township, particularly the Bywater Homes precinct, Setia City Mall extension and its first high-rise development, Setia City Residences.
Bywater Homes sold out
With a total gross development value of RM833 million, Bywater Homes sits on 80 acres and will have 929 units of terraced and linked semi-detached houses once completed. Tan says the development is sold out.
Its latest product launches were done online owing to the pandemic. The first type of home sold online was Plenum. The 22ft by 70ft two-storey terraced houses were launched in April last year and sold out in a short time. There are 62 units with built-ups from 2,080 sq ft and a starting price of RM778,000.
The latest online launch, held late last year, was for Validum. The 93 units of the 22ft by 70ft two-storey terraced houses were fully booked in 30 minutes. The built-up area for the homes is from 2,104 sq ft while the starting price is RM790,000.
"Even though [the homes] were booked online, we had a very good conversion rate of above 70%. While some dropped out due to not being able to get a loan or other issues like changing their mind, there were instant replacements," says Tan.
Other online launches have also sold out. These include the launch of the RM92 million Croceus, which comprises 2-storey 20ft by 70ft terraced houses with built-ups from 1,910 sq ft and starting at RM733,000; and the RM55 million Garciae, which comprises 2-storey 32ft by 75ft linked semi-detached  homes with built-ups from 2,514 sq ft, and going for RM1.096 million.
Bywater Homes is unique as it is sandwiched between two parks. The first is the Gardens of the World park, which is inspired by international gardens. The waterways within this park were designed to handle the water flow in the township.
The other is Active Park, which will have outdoor facilities to encourage residents to enjoy the outdoors. "The elderly will be able to have a leisurely stroll in the more passive part of the park; for the teenagers, they will have spaces for skateboarding and dirt bikes," says Tan, adding that there will also be a track for those who prefer track and field activities such as competitive running.
Meanwhile, a short distance from Bywater Homes will be the township's first medical centre, operated by Selgate Corp Sdn Bhd, a subsidiary of Perbadanan Kemajuan Negeri Selangor (PKNS).
Tan says that the construction of Bywater Homes is going smoothly. "We are targeting to hand over the earlier parcels, our homes called Costalis, [next month]." Costalis comprises 48 units of 2-storey linked semi-detached homes with built-ups from 2,440 sq ft and prices starting at RM1.038 million. It has a GDV of RM51 million and is 100% taken up.
Regional mall
Phase 2 of Setia City Mall is fully operational, bringing the combined net lettable area (NLA) of the mall to one million sq ft. Phase 2 has three levels and over 300,000 sq ft of NLA. Its anchor tenant is hypermarket Lulu, which is a popular brand in the Middle East.
The other major tenant is Parkson while mini anchors include Kaison, FOS, Harvey Norman and Zara. Entertainment and fitness tenants include Golden Screen Cinemas, Diva Karaoke and Fitness First. The mall also has many F&B offerings such as Dotty's Pastries & Coffee, Black Canyon and Mee Hiris China Muslim restaurant.
The mall development was undertaken by a 50:50 joint venture between S P Setia and Asian Retail Investment Fund (ARIF).
Tan says that it is positioned as a mid- to high-level mall. He adds that it will be connected to the township's first high-rise, Setia City Residences, via a bridge.
First high-rise sells well
The first high-rise in Setia Alam is Setia City Residences, which has three 34-storey towers named Adora, Bella and Carra. The project sits on 5.7 freehold acres and has a GDV of RM533 million.
Phase 1 comprising Adora and Bella was launched in August 2016, with all units taken up. The two towers were completed in November 2020 and have been handed over to residents.
Phase 2 comprises Carra, which was launched in December 2020. Its take-up is 76% and the tower is targeted for completion this June.
Each tower has 260 units, bringing the total to 780. The layouts are 2-bedroom, 2+1-bedroom, 3-bedroom and 3+1-bedroom. Built-ups range from 858 to 1,221 sq ft while selling prices are between RM615,000 and RM823,000. The 2-bedroom, 858 sq ft units are dual-key homes.
The project has 444 parking bays over five levels. The maintenance fee inclusive of sinking fund is 32 sen psf.
"This is our first high-rise project, so we wanted to make it more luxurious with a resort-like feel. We were generous with the facilities — the gym is big, we have a yoga room and a library. Once we completed the first phase and we showed it to people, they were impressed with the amenities. They like the pool, which has three tiers. And they were converted to buyers," says Tan.
He adds that investors have found that rentals are quite good, with the smallest fully furnished units of 858 sq ft going for about RM2,500 per month.
Recently, S P Setia signed an agreement with Qualitas Medical Health Group to operate an ambulatory care centre within Setia City Residences. The centre will provide outpatient treatment and check-ups without hospital stays, Tan elaborates.
Future projects
Tan highlights that the developer is looking to launch Musika Homes, with the first phase targeted for launch this month. Musika Homes sits on 35.7 acres and will comprise 114 two-storey terraced houses measuring 22ft by 75ft. Built-ups are from 2,127 sq ft while the indicative selling price is from RM968,000. The estimated GDV is RM115 million.
Tan says it will take approximately eight more years to completely develop Setia Alam. The township has grown to be a catalyst in the area, a testament to S P Setia's belief and drive to create places that fulfil its core development values of live, learn, work and play.