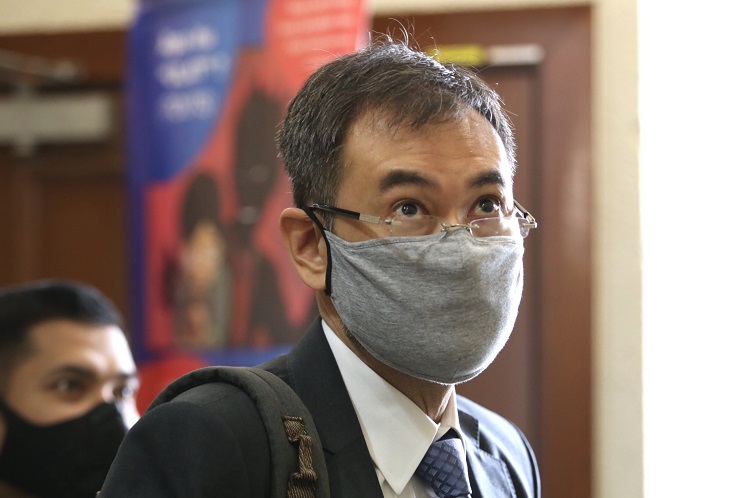 KUALA LUMPUR (July 1): Former 1Malaysia Development Bhd (1MDB) chief executive officer (CEO) Datuk Shahrol Azral Ibrahim Halmi said today he had never read Billion Dollar Whale, the bestseller which documents the financial exploits of fugitive businessman Low Taek Jho (Jho Low) and how he made off with billions of ringgit from 1MDB.
Testifying against former premier Datuk Seri Najib Razak in the 1MDB-Tanore trial, Shahrol said not only had he not read the book written by Tom Wright and Bradley Hope, he had turned down numerous requests from the authors for an interview for the book.
"I have not read it," Shahrol said in the High Court when asked by Najib's lawyer Tan Sri Muhammad Shafee Abdullah if he had read the bestseller.
Muhammad Shafee: Was it because you knew the contents of the book already?
Shahrol: It was not something I wanted to read. The authors actually contacted me to ask what I thought about it and asked for some comments.
Muhammad Shafee: Did you give any comments?
Shahrol: No.
Muhammad Shafee then went on to say that Yak Yew Chee, a senior relationship manager at BSI Singapore, was listed in the book as also being a private banker for Jho Low's father, Tan Sri Larry Low Hock Peng.
Muhammad Shafee: In Billion Dollar Whale, it was said that Yak was a private banker for Jho Low's father. Did you know about this?
Shahrol: No.
Last year, Muhammad Shafee said readers cannot expect to get the truth from the book and that it was written for the purpose of a movie and "without the purpose of legality".
"You can't expect the truth [from something] that is intended to be a movie," Muhammad Shafee had said. "These authors are not lawyers ... they wrote the book without the purpose of legality."
The lawyer had also commented on a section of the book which stated that Najib was aware of money being deposited into his accounts.
"Of course that's the case. [But] that was not the issue ... [the authors] didn't understand that Najib was saying he didn't know [if] the money was from illegal proceeds — and [there is] a world of difference [between the two].
"If the authors chose to be naive or uneducated, they will remain so," Muhammad Shafee had said.
The lawyer went on to recommend that readers of the book comb through all three volumes of the US Department of Justice reports on 1MDB as they were "more clinical".
Najib, 67, faces four charges of using his position to obtain bribes totalling RM2.3 billion from 1MDB funds and 21 charges of money laundering involving the same amount.  
The trial will resume on July 15 before Justice Collin Lawrence Sequerah.
The Edge is covering the trial live here.
Users of The Edge Markets app may tap here to access the live report.