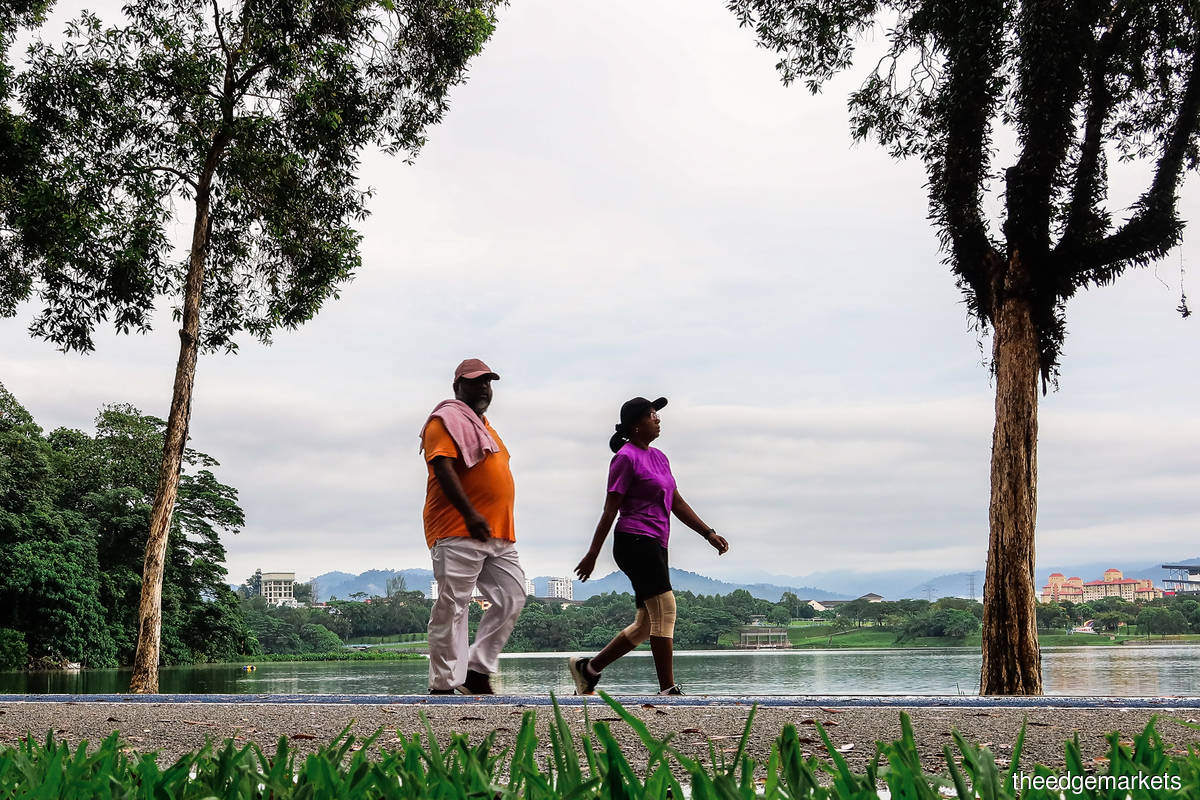 PETALING JAYA (Sept 28): Walking and cycling as a near-zero emission mode of transport moves six to eight times more people per hour in the same space as a car and is looking at the least noise and air pollution, requiring no use of fossil fuels and has health benefits. "It's what we call a win-win of transport," said United Nations Environment Programme team leader of active mobility, digitalisation and mode integration Carly Gilbert-Patrick during her presentation of "Share the Road Programme — Why Does Sharing the Road Matter" at the 12th International Conference on World Class Sustainable Cities (WCSC 2021) on Monday (Sept 27).
Gilbert-Patrick reminded us that our planet is in the midst of a triple planetary crisis, affecting nature, climate, biodiversity loss and air pollution, and that transport has a role to play in it. "A thread that is running through this crisis is unsustainable production and consumption. The international resource panel has consistently reminded us that our relentless and unlimited extraction of resources from the earth is having a devastating impact on the natural world and it is that real critical juncture that we're at where we have to be thinking about how we can do things differently rather than taking and taking resources."
According to her, car growth is at an all-time high and is forecast to continue to grow. "By 2050, we're looking at almost 2.5 billion light duty vehicles on our roads. Transport is one of the six largest emitting sectors, so it is really one of the areas we need to address. Transport is contributing 22% of global emissions and within that, 73% is coming from cars and trucks.
"You can see pretty scary statistics that 80% of people in cities are breathing outside of the WHO (World Health Organization) guidelines," she said, adding that road safety in Asia-Pacific is at epidemic proportions of 2,000 daily fatalities.
"It's all about human design and focusing on needs of people. For many people around the world, walking and cycling are free and quite often their only option for getting around," she said.
A starting point is to look at designing our cities and spaces to reduce the need to travel. "I think Covid-19 has shone the light on the fact that we don't all need to be moving around every day."
Secondly, it is shifting people to more sustainable modes and maintaining those modes. "Where I live in Nairobi, 70% of people are already walking and cycling, so the work we're doing here is not so much about shifting people to walking and cycling, it's about keeping it safe and comfortable for all those who are already walking and cycling to continue to do so."
Gilbert-Patrick cited a case study of Indonesia, which demonstrated a change in approach to transport planning, thinking and policy. There are 125 million vehicles on Indonesian roads, according to the latest data, and that's an increase of 300% from the 30 million registered vehicles in 2004, she noted, and with the car-centric congestion, more roads were built.
"I think this is an issue that many cities find themselves in — so much congestion, so they keep building more roads to help with that congestion, and I can safely say that so far, there is no one city that has dealt with its congestion problems successfully by building more roads for cars," she said.
To tackle this challenge in Indonesia, Gilbert-Patrick said that the United Nations Environment Programme (UNEP), along with the institute for transportation development policy, worked with the ministry of public work and housing to develop a national vision for non-motorised transport. The strategy aims to create a safe and comfortable and inclusive and comprehensive walking and cycling space. 
"It's not a final product necessarily but it is going through that thought process, the arguments and debates on how to prioritise and what to put down in the policies. It is that process which is important," she said.
With the policies in place, Gilbert-Patrick observed an increased investment, a new greenway, a public bike project where they are improving all of the walking and cycling space linked to the bus rapid transit, and Jakarta at a city level has also developed its own design guidelines underneath this national policy with a five-year implementation plan. "Indonesia is a really good example of a very complex situation where there was a very car-focused planning approach, and through good leadership and support, they're now taking steps to really rethink how they design their cities and how they plan for transport."
Some of the things she noted that made a difference in terms of implementation is having good champions and leadership, having a policy and a budget set aside, having government and civil society holding account the global development world, and listening to citizens. 
During the panel discussion, Gilbert-Patrick said that although a lot of pushback for investing in walking and cycling infrastructure is due to a lack of budget, it is not really about whether the money is there but whether the governments are prioritising spending on the people who need it the most. "You're spending billions of dollars building roads, highways and flyovers, so quite often the question is not actually whether the budget is there or not. Even if you look at the UK with a huge transport budget and lots of money being spent on walking and cycling, when you look at the percentage being spent on walking and cycling, it's still tiny compared to the overall amount.
"The other thing about the budget is that walking and cycling are completely directly linked to public transport. And if you're going to spend millions on a public transport system and buses, you need to just spend those extra dollars to make sure that people can walk or cycle safely to get to the bus and when they get off the bus. What we're trying to do is make other forms of transport as convenient as the car and the only way that happens is if the whole journey from A to Z is convenient and comfortable," she added.
Meanwhile, Gilbert-Patrick believes we are in a transport disruption and pointed out that back in the 1900s, there were mostly horses and carriages but fast forward 13 years later, there were more cars than horses. "It's completely flipped in just over 10 years. I don't necessary think that was a positive disruption, but I do think that we may be at the cusp of a new transport, new mobility disruption, but this time a positive one. If you can get an electric car from a vending machine, you can have your parcels delivered by drone, and we've seen increased investment in public bike share schemes, cycling infrastructure, public space and pedestrian infrastructure."