This article first appeared in City & Country, The Edge Malaysia Weekly, on February 3, 2020 - February 09, 2020.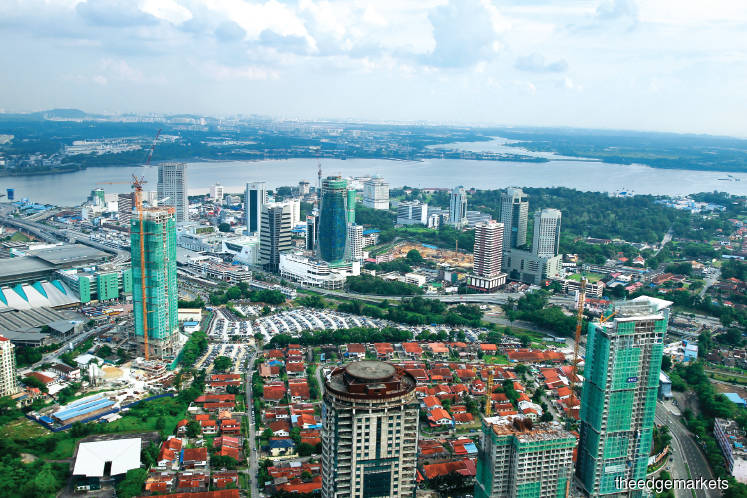 Developers in Johor Baru continued to concentrate on clearing existing stock, particularly high-rises, during the quarter in review. Photo by Mohd Shahrin Yahya/The Edge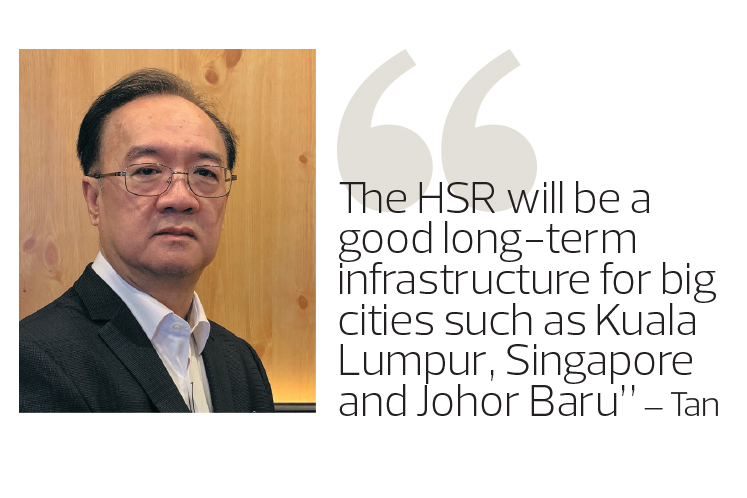 The Johor Baru market appeared to be slow but steady in 4Q2019. "The last quarter of 2019 was relatively quiet and uneventful. The period of November and December was a typical holiday season," says Samuel Tan, executive director of KGV International Property Consultants (Johor) Sdn Bhd, in presenting The Edge — KGV International Property Consultants Johor Baru Property Monitor 4Q2019.
"Coupled with the early arrival of Chinese New Year in January this year and weak sentiment in general, house-buying activities were predictably lacklustre. Prices and rents remained unchanged in 4Q2019."
Despite the slowdown, developers are acquiring land in Johor Baru. "There were several large land acquisitions by local developers in 4Q2019: 12.59ha (31.1 acres) of freehold land in Iskandar Puteri for RM60.96 mil (RM45 psf) by Paragon Globe Bhd (previously Joland); 80.9ha (200 acres) of freehold land opposite Eco Botanic for RM304.92 mil (RM35 psf); 30.49ha (75.3 acres) for RM869.69 mil (RM265 psf) by Eco World," says Tan.
"We must remember the golden rule, that is, what comes down will move up and vice versa. The property market has been on a downward trend since 2015. No one knows for sure when the market trend will start reversing. Still, [based on] the relatively large-scale land acquisitions by developers, it would be advisable for genuine buyers who have longed for a house to start to monitor the market closely.
"The Johor Baru residential property market appears to have stabilised, with healthy demand for landed houses, while the high-rise apartments will gradually be absorbed."
Meanwhile, the overall economic landscape continues to pressure the local market. "The US-China trade war continued. A temporary ceasefire is expected, as both countries had been working towards a Phase One agreement to stall some trade sanctions by early 2020. After Prime Minister Boris Johnson won the recent UK elections, Brexit inched closer to becoming a reality since the June 2016 referendum, after more than three years of haggling," says Tan.
"The world will be different after the unprecedented scale of the trade war between the two largest economies. The worst to come would be that all the economic powerhouses start weaponising trade sanction as a means to force things to be done their way."
Tan acknowledges other economic determinants. "The effects of Brexit on the inter-EU countries and globally are not fully understood at this juncture. Nevertheless, it is safe to say that, as nationalism and populism become increasingly dominant, the world trade dynamic will make economic blocs become increasingly isolated. This invariably and drastically affects the supply chain, flow of goods and cost of doing business across the world.
"Malaysia, being an export economy that depends heavily on trade, will be hit, as a result of these two major trends. In short, the macro picture appears bleak across most sectors, at least in the short term.
"The main wild cards for our economy and property market appear to be two-pronged. Internationally, the [leadership] of the US president remains unpredictable; thus, it could create unprecedented surprises and unintended consequences.
"Locally, our political landscape has become the stumbling block for most activities, owing to uncertainty in succession, a lack of clear policy direction and uncoordinated implementation of inter-ministry policies. Companies and investors are holding back major capital expenditure and investment decisions in view of the uncertainties.
"For the property market, are we going to see the light at the end of the tunnel soon? Nobody can answer this question with certainty, but the recent develop­ments do appear positive, with the revival of the rapid transit system (RTS) and high-speed rail (HSR) as well as government efforts in helping to clear unsold high-rise apartments."
RTS and HSR
Commenting on the transport projects in Johor Baru, Tan says: "After several delays, the RTS is poised to proceed after Malaysia managed to cut the cost for the proposed station at Bukit Chagar by RM1.77 billion, or 36%. Nevertheless, we understand that the eventual system adopted could be a less costly and scaled-down version compared with the one used by Singapore, for instance, the mass rapid transit (MRT) system," says Tan.
"The HSR is also poised to proceed, with the revival of the Bandar Malaysia project. For the RTS, the perennial question to ask is: Will the scaled-down RTS system be effective and sustainable in resolving the congestion issue across the Causeway?
"There are about 254,000 people crossing the Causeway daily. If the light rail transit (LRT) system is adopted for the RTS, with reduced passenger capacity and frequency, the congestion problem could be reduced in the short term; but, we should perhaps plan long term in a sustainable manner, especially for such cross-border infrastructure projects. The ridership will just keep escalating over the years. It is therefore worthwhile investing  a higher initial cost to pre-empt underprovision and avoid the need to spend much more for a subsequent system upgrade.
"The HSR was finally awarded to Iskandar Waterfront Holdings and China Railway Engineering Corp officially. Despite the delay, we stand by our view that the HSR will be a good long-term infrastructure for big cities such as Kuala Lumpur, Singapore and Johor Baru as well as small towns such as Batu Pahat and Muar along the west coast of Johor. The only concern is the need for judicial cost management. This is to avoid cost-overruns and cost-pilferage, which has plagued Malaysia's public projects for years."
"In line with the federal policy, the Johor state government also adopted a minimum price for foreign purchases at RM600,000 for completed high-rise residential properties. The measure is for only one year.
"Lowering the price threshold for foreign purchases will help clear unsold stock, especially high-rise properties. However, we do not expect a substantial increase in the take-up rate as a result of this policy tweak, as market sentiment is weak. Nevertheless, this is a minor calibrated measure to help reduce the number of unsold high-rise properties."
New launches in 4Q2019
According to Tan, there were five new launches in 4Q2019, comprising four landed and one high-rise projects.
"Central Park at Tampoi and Ponderosa Vista are schemes for double-storey terraced houses. A total of 216 units was launched for Central Park. We were told 70% have been sold since the launch date. The price on the sale and purchase agreement starts from RM880,000. There are only 36 double-storey terraced houses for Ponderosa Vista in Taman Ponderosa. The sales rate is less than 10%, [attributable] to the higher sale price of RM1.1 million. The land size ranges from 1,920 to 3,727 sq ft for corner units," says Tan.
He adds that there are 48 three-storey semi-detached houses in Heritage Collection in Taman Nusa Sentral. City & Country understands that about half were sold. Prices start from RM1.5 million and RM1.655 million for a land size of 3,200 sq ft and 3,400 sq ft respectively.
"The Maris, located in Desaru, was also launched in November 2019. There is a total of 260 units, 244 of which are cluster houses and 16 are semi-detached. We were given to understand that of the 66 units launched, 44 have been sold, [equivalent to] a sales rate of 67%. The cluster house was priced from RM748,000 and the semi-detached, from RM1.14 million," says Tan.
The only high-rise apartment launched in the quarter was Amber Heights in Bandar Seri Alam. "Of the 120 units (Block A) launched, about 50% have been sold. The price ranges from RM300 to RM350 psf. The developer launched only high-rise apartments at affordable prices over the past two years. In view of the oversupply of high-rise properties, especially mid-range to high-end ones, most developers are still concentrating on clearing existing stock," says Tan.