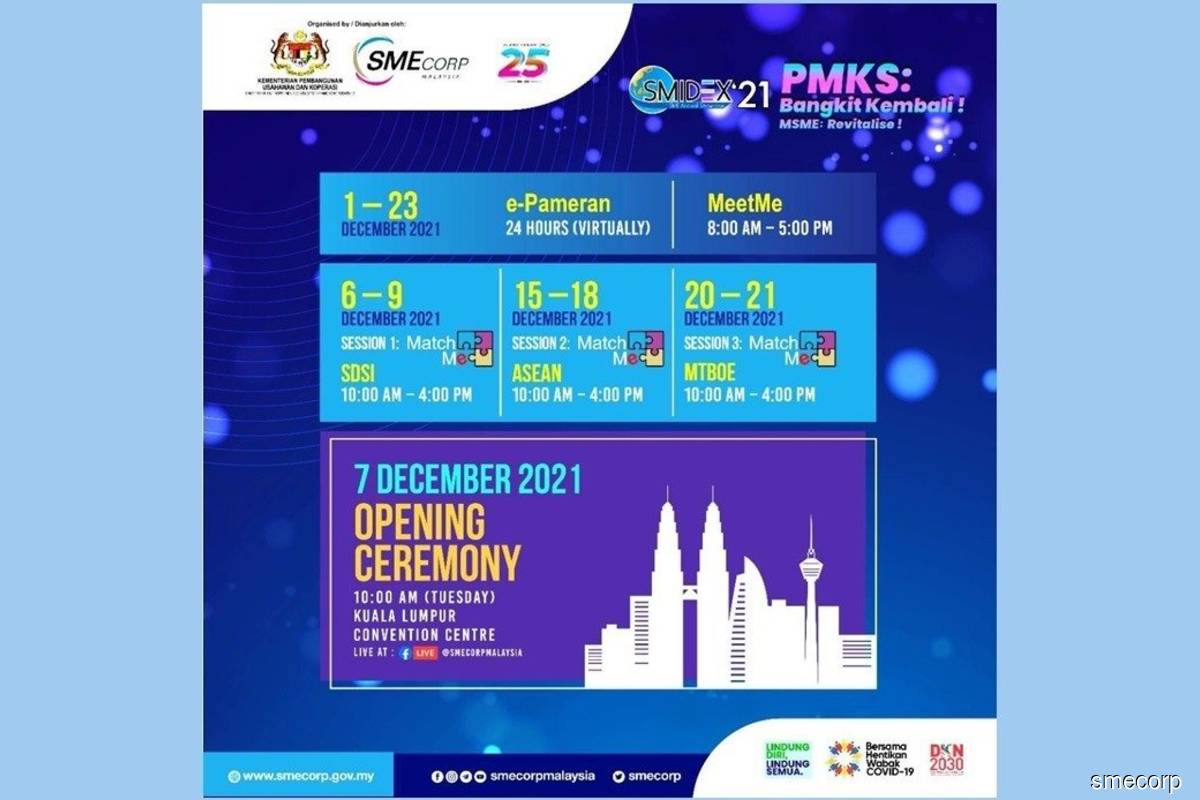 KUALA LUMPUR (Dec 6): The Small and Medium Industries Development Expo (SMIDEX 2021) was held for the first time online through the MyAssist MSME portal after 20 years.
SME Corporation Malaysia (SME Corp) said in a statement that the 21st SMIDEX event from Dec 1 to 23, with the theme "MSME: Revitalise!" was carried out entirely in a new atmosphere through the website www.myassist-msme.gov.my following the outbreak of Covid-19.
"The main objective of organising SMIDEX 2021 which has been held since 1996 is to appreciate the contribution of small and medium enterprises (SMEs) as the backbone of the country's economy.
"Besides that, it is also organised to raise awareness and promote the products and services of local SMEs, foster an entrepreneurial culture and also as a platform to disseminate the latest information to SMEs," according to the statement.
According to SME Corp, the opening ceremony will be held at the KL Convention Centre (KLCC) on Dec 7 at 10am.
As in previous years, SMIDEX 2021, organised by SME Corp which is an agency under the Ministry of Entrepreneur Development and Cooperatives  (MEDAC) has received the cooperation of various ministries, agencies and stakeholders from the private sector.
SME Corp said the organisation of SMIDEX 2021 is aimed at providing strong support to entrepreneurs and SMEs across the country to bounce back in restarting and continuing their businesses post-Covid-19.
According to SME Corp, there are various interesting activities available for SMEs such as e-exhibition which involves the participation of 150 virtual exhibitors countrywide as well as biz-talk sessions which are information sharing sessions by strategic partners, panel members on various topics. businesses such as financial management, digitisation, branding and business management.
Among the topics that will be discussed at the biz-talk session are Exploring New Business Horizon Via Digitalisation by HP and Microsoft, Get The Right Shot For A Better Financial Health by Malaysian Industrial Development Finance Bhd (MIDF), SME Bank and Maybank and Inclusive Business: Farm Fresh Success Story.
SMIDEX 2021 also provides online advisory services and business matching sessions involving anchor companies such as multinational companies, government-owned companies, hypermarkets and large companies.
SMIDEX 2021 had successfully completed the 'technology need pitching' programme, which is a pitching session for SMEs interested in expanding their business with potential technology providers such as universities, research institutes and strategic partners such as Oracle NetSuite, Telekom Malaysia (TM), Huawei and the Selangor Human Resource Development Centre (SHRDC).
A total of 112 trained business counsellors will assist as well as provide free online advisory services to entrepreneurs and SMEs provided under MeetMe, according to the statement.
More information on SMIDEX 2021 can be browsed through the website www.smidex.my or follow the official social media of SME Corp Malaysia on Facebook and Instagram.