This article first appeared in The Edge Malaysia Weekly, on July 1, 2019 - July 07, 2019.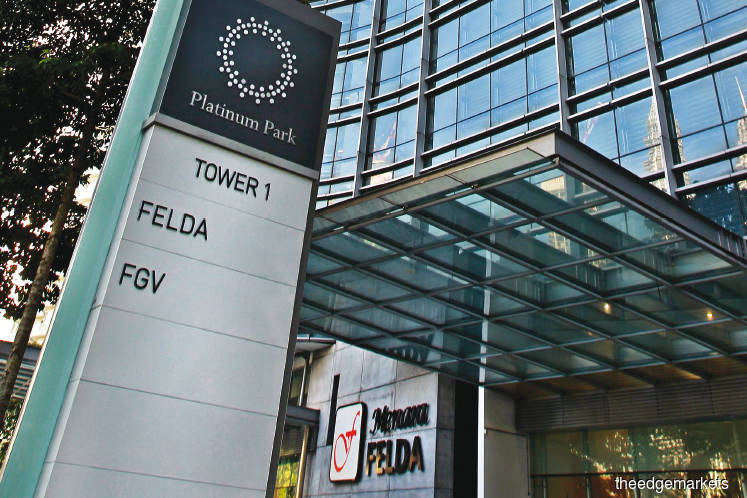 Photo by Shahrin Yahya/The Edge
IT was an unprecedented twist after a five-hour annual general meeting. In the aftermath, the directors of FGV Holdings Bhd gathered in a private meeting to discuss what to do next.
The unfolding drama has gripped corporate Malaysia. FGV's major shareholders voted yes to re-electing its directors but not to paying them for work done in 2018.
One big question hung in the air: Should they work without pay?
"It was collectively and very quickly decided that the only responsible thing to do, for the sake of FGV and all its shareholders, was for the board to continue to serve FGV and drive the transformation programme which was implemented last year," FGV confirms to The Edge in an emailed response.
Despite much attention on the sums voted down by shareholders, it is apparent to corporate observers that money is not the real issue.
Rather, it is symptomatic of the dysfunctional relationship between FGV and its biggest shareholder, the Federal Land Development Authority (FELDA), likely exacerbated by the shifting political dynamics since last year (see accompanying story).
"Let's just say the relationship hasn't been great. It has not helped that FGV wants to distance itself from FELDA. So, all these things add up and probably resulted in what happened [at the AGM]," says one person familiar with the situation.
Note that amid its turnaround programme, FGV relocated its office in Menara Felda in Platinum Park, Kuala Lumpur to Wisma FGV in Jalan Raja Laut.
FGV CEO Haris Fadzilah Hassan says the decision was "purely commercial" as the rent at Wisma FGV was RM3.50 psf, compared with RM7.70 psf at Menara Felda.
The shareholders who voted against paying the directors were FELDA, Koperasi Permodalan Felda Malaysia Bhd (KPF) and the Armed Forces Fund Board (LTAT).
FELDA is FGV's largest shareholder with a 33.66% stake while KPF has 5.25% and LTAT, 1.25%. To date, FELDA and KPF have remained publicly silent on the rationale behind its decision.
It may seem to be a case of shareholder activism. LTAT said last Thursday that directors' fees should reflect the current state of affairs.
However, it does not seem to be a fully thought-out plan. Had FGV's board members resigned en masse, the company would have had to reboot its turnaround after just 18 months and look for a new set of board members.
The way the current board has been treated would give pause to any candidate tapped for a board role.
From a corporate lens, the sums involved are unremarkable compared with other listed companies of similar scale.
Not even an offer by chairman Datuk Wira Azhar Abdul Hamid to waive a major portion of his directors' fees, which totals RM1.95 million, defused the situation.
To be fair, it is likely that the FELDA representatives at the AGM were unable to obtain immediate instructions regarding the waiver offer.
"It is stupid and irresponsible because the only way to correct this is via another general meeting, which would cost half-a-million ringgit at least," says one insider.
It is learnt that post-AGM, Azhar gave up his perks, including his driver, security detail and other benefits. FGV confirms that at the time of writing, his waiver offer still stands as Azhar would like to see the issue resolved as quickly as possible.
Responding to queries, FGV says the fees were "reasonable" and set after considering, among others, the calibre and capacity of the board members and the harder and more complex task of overseeing a turnaround at FGV, compared with supervising an already well-run corporation.
"The relationship between FGV and FELDA is a professional one, guided by good governance standards," FGV tells The Edge, adding that it is "conscious of its responsibility as a listed company to treat all its shareholders equally".
 
Growing rift
It says much that the FGV board members were visibly surprised by the way FELDA and the other shareholders voted, especially as there was a FELDA representative on the board.
Underlying the shocking turn of events is, among other things, the land lease agreement (LLA) between FGV and FELDA.
When FGV was listed in 2012, FELDA gave it 355,000ha to manage for 99 years under the LLA. In return, FELDA would receive RM248 million yearly as lease payment on top of a 15% profit share annually.
But there has been talk of FELDA seeking to take back its plantations, or at least reviewing the terms. On average, FELDA has been receiving RM400 million a year from FGV under the LLA, well short of the RM800 million annual expenditure it requires to manage and ensure the well-being of settlers.
However, sources familiar with the matter indicate that FELDA and FGV have not formally discussed the LLA to date.
"There is a lot of speculation out there, but there has been no discussion. That doesn't mean it will not be brought up in the future," says one source.
FELDA also came under the spotlight recently when the government tabled a White Paper on it in April, which revealed plans to pour RM6.23 billion to rescue the agency.
The irony of it is that the White Paper stated that the bulk of the RM6 billion FELDA received from the listing of FGV in 2012 had been wasted, with only 24% spent on expansion.
In comparison, FGV received RM4.5 billion from the listing, and its misadventures with the funds have been widely documented.
"Maybe they want to redeem themselves, because FELDA has been embarrassed big time, so maybe [the vote was] a way of showing, 'Hey, I'm still your boss, don't forget it'," remarks one person familiar with the FGV board.
According to FGV, FELDA had informally indicated that it had questions regarding the fees but never expressed what its concerns were or that it would vote against the resolutions.
LTAT and KPF did not give advance warning of how they would vote. The Employees Provident Fund (EPF), which has 1.85% equity interest, wrote to FGV on June 20 to voice its concerns but ultimately abstained from voting on the resolutions.
"Since the AGM, we have seen the public statements. There has been no direct and formal communication yet with FGV on their concerns," says FGV.
When asked if there are other matters influencing how the shareholders voted, FGV says, "If there are any other reasons for the vote, we are not aware of it."
When contacted, a KPF representative who declined to be identified insists it is unhappy with the company's performance in the light of major losses in 2018.
"They should buck up and give us dividends, or give way to other people to manage the company," he says. "We represent 240,000 settlers, many of whom are struggling to get a few hundred ringgit a month."
It is worth noting that at the AGM, KPF was represented by former FGV CEO Datuk Zakaria Arshad, who had been elected to the KPF board just the week before. He had helmed FGV from April 2016 to September 2018, when he resigned.
According to FGV, Zakaria asked five questions but none of them were related to directors' remuneration.
FGV reported a net loss of RM1.08 billion — of which RM1.04 billion was provisions and impairments — on RM13.47 billion in revenue in the financial year ended Dec 31, 2018 (FY2018).
According to FGV, some RM949 million of the impairments was related to investments made between 2013 and 2015.
"FGV's abysmal financial performance in 2018 was the culmination of several years of poor choices and decisions that this board was not responsible for but has been forced to address. The board undertook its responsibilities in a responsible and transparent manner," says the company.
"It would be unfair and unrealistic to expect a new board that is undertaking a group-wide transformation exercise to undertake their responsibilities without appropriate compensation."
For now, FGV's board members remain committed to the task at hand despite what has happened, according to FGV's Azhar.
"We made a commitment to shareholders, employees and to each other when we took on this challenge. Unless our positions become untenable, we intend to continue to serve FGV.
"We all knew our responsibilities would be onerous and some of our decisions would be unpopular. We stand by what we have done so far, and we will continue to act in the best interests of FGV," says Azhar via email.
'Ball is not in FGV board's court'
With directors elected but unpaid, FGV Holdings Bhd is making history of sorts, of the wrong kind in corporate Malaysia. Not too long ago, it would have been logical to expect the government to step in and resolve the impasse.
However, that is a difficult proposition in the new political landscape of the country. In a nutshell, FGV and its largest shareholder, the Federal Land Development Authority (FELDA), no longer reside in the same ministry's sphere of influence.
Prior to the 14th general election (GE14) in May last year, FGV and FELDA were linked to the Ministry of Finance (MOF).
The ministry's vehicle, the Minister of Finance Inc, holds a golden share in FGV and retains the right to appoint the chairman. The current chairman, Datuk Wira Azhar Abdul Hamid, was appointed by the previous government in September 2017.
While that has not changed post-GE14, FELDA — which used to report to MOF — is now parked under the newly created Ministry of Economic Affairs.
Hence, for either ministry to step in now would carry political risks amid an already shaky political alliance among the ruling parties.
Sans government intervention, it is clear that FELDA and FGV should take the lead in sorting out the issues in dispute.
"There's probably pockets of unhappiness here and there, and I don't think FELDA has made all these things clear. It looks like there needs to be a sit-down meeting to clear the air," says one person familiar with the thinking of the FGV management.
It is worth noting that FELDA is undergoing an imminent leadership change. On July 1, Tan Sri Mohd Bakke Salleh will assume the role of chairman, taking over from Tan Sri Megat Zaharuddin Megat Mohd Nor, who left after 11 months.
Repairing relations with FGV will be high on Mohd Bakke's to-do list, on top of managing the agency's RM8 billion debt and the planned turnaround that will ride on the government's gradual RM6.23 billion injection.
Recall that Mohd Bakke was appointed group managing director of Felda Holdings Bhd in December 2005 and CEO of Felda Global Ventures Holdings Bhd — which is now FGV — in January 2009.
Interestingly, Mohd Bakke and FGV's current chairman, Azhar, can trace their relationship back to Sime Darby Bhd.
In July 2010, Mohd Bakke assumed the role of acting president and group chief executive at Sime Darby before being appointed on a permanent basis in November the same year.
Prior to Mohd Bakke's appointment, Azhar had held the acting role at Sime Darby for two months in the aftermath of massive losses that forced the then chief Datuk Seri Ahmad Zubir Murshid to take a leave of absence beginning May 2010.
Azhar was then re-designated special adviser to Mohd Bakke in July 2010 and subsequently left in September 2010, saying he decided to go to make it easier for Mohd Bakke to restructure Sime Darby.
So, what now for FGV? It is understood that the FGV board will not make the first move. Instead, more clarity may come as FELDA welcomes its new chairman this week.
"Really, the ball is not in [the board's] court. They are not going to go to FELDA and ask for a deal. That is not the FGV board of today," says an insider.