This article first appeared in The Edge Malaysia Weekly, on June 13, 2022 - June 19, 2022.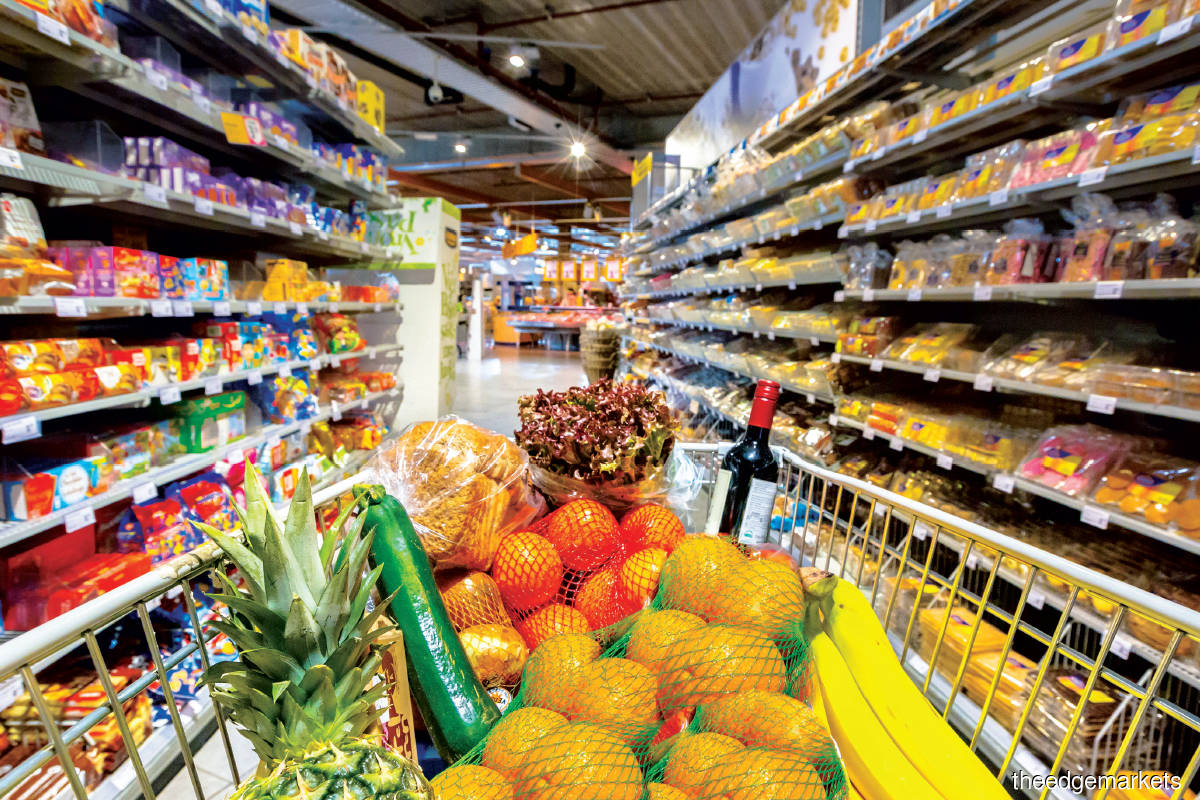 AT the cost of a burgeoning subsidies bill that looks poised to exceed this year's development expenditure, Malaysian consumers are paying among the cheapest prices globally for RON95 petrol at the pumps even as concerns over rising prices of fuel and food fuel protests in many parts of the world.
Protests have already led to a regime change in Sri Lanka and pressures are reportedly mounting elsewhere, including in Iran and Pakistan. A number of developed countries have rolled out special aid to protect the most vulnerable in society even as inflation surged to new record highs in the post-Covid-19 world on broken supply chains — worsened by the Russia-Ukraine conflict.
Looking purely at headline statistics, Malaysia's Consumer Price Index (CPI) reading of 2.3% in April is also among the lowest in the region and globally, a shade below Japan's 2.4%, and on a par with oil-rich Saudi Arabia (2.3%), where consumers pay higher prices for RON95 fuel than consumers in Malaysia.
Malaysia is not the only country with relatively low headline inflation, yet politicians-cum-policymakers are clearly feeling the heat from grouses on the ground over rising food prices — food inflation was 4.1% in April, double the headline CPI of 2.3% and core inflation of 2.1%.
In Hong Kong, where the CPI basket puts a higher weightage on housing and rental costs versus food, consumers are also complaining of a higher cost of living, with food inflation at 4% versus a headline CPI reading of only 1.3% in April (China: 2.1%).
In Malaysia, food and non-alcoholic beverages have a 29.5% weight in the CPI currently (down from 30.2% in 2015, 30.3% in 2010 and 31.4% in 2005). Of this, food away from home had an 11.5% weight (above 11.09% in 2015, 10% in 2010 and 10.4% in 2005).
Chicken — for which Malaysia made global headlines recently because of a ban on exports to Singapore that came in force on June 1 — probably makes up a significant portion of fresh meat, which has a 1.9% weight in the CPI versus the "meat" sub-group, which includes frozen and processed meats. This is comparable to 1.8% for fresh vegetables. Meanwhile, eggs have a 0.4% weight and fresh fruits, 0.9%, according to data appended in the Department of Statistics Malaysia's (DoSM) CPI monthly reports.
Despite a subdued headline CPI, a quick check by The Edge on data appended in DoSM's monthly CPI reports does show the price pressures that consumers complain about.
Of the vegetables that DoSM notes are the most popular among Malaysian consumers, the price of choy sum (sawi) had increased 18.7% to RM8.50 per kg in April 2022 from RM7.16 per kg in April 2018; and the price of tomatoes had risen 45% to RM5.98 per kg in April 2022 from RM4.12 per kg in April 2018 (see Table 1).
Chief statistician Datuk Seri Mohd Uzir Mahidin tells The Edge that DoSM analysis shows that household purchasing power had decreased 20.1% between 2010 and April 2022, owing to inflationary pressures, and he adds that a basket of groceries that cost RM100 in April 2022 would have been only RM79.90 in 2010.
Over the same period, the decrease in purchasing power among households was 32.1% for vegetables (fresh and tubers) and 27.2% for meats (fresh, frozen and processed). The fall in purchasing power for meat is even more pronounced when looked at separately. According to Mohd Uzir, household purchasing power for chicken shrank 43.7% (as prices rose from RM6.61 per kg in April 2010 to RM9.50 per kg in April 2022), 43% for pork (as prices rose from RM17.44 per kg in April 2010 to RM24.94 per kg in April 2022) and a whopping 98.5% for beef (as prices rose from RM18.27 per kg in April 2010 to RM36.26 per kg in April 2022).
Consumers are not wrong about outside food being more expensive. DoSM data shows the decline in purchasing power was 33.5% for food away from home between April 2010 and 2022, Mohd Uzir adds.
Prices within a five-year period are already significantly higher. A packet of nasi lemak that cost an average of RM3.07 in April 2022 is up 16.3% from RM2.64 in April 2018, DoSM data shows. Over the same period, the price of a plate of chicken rice has increased from RM5.17 in April 2018 to RM5.96 in April 2022, on average, in Malaysia — prices are even higher in Kuala Lumpur with DoSM data showing the bill increasing from RM6.96 in April 2021 to RM7.22 in April 2022 (see Table 1).
And that is just the price tag, says a consumer Mr Lee, complaining of shrinkflation for his plate of char kuey teow and chicken rice. "I wonder how much thinner chicken and roast meat can be sliced," Lee laments, noting how the price of a plate of chicken rice has risen from RM4.50 to RM5.50 in the past two years. "The amount of rice has not been reduced, but you see how one chicken thigh can [be flattened and] spread over two plates now. You want extra chicken and half rice for the same price? That means you're paying RM11 for something that should have been RM4.50 two years ago and missing 1½ bowls of rice. You count the inflation, give me the rice."
According to Mohd Uzir, the people's perception of rising prices may differ from headline CPI because of comparisons they make with prices paid some time ago.
"Prices may not have increased at one go. It may have been over different periods and consumers would see the accumulated increase. This may not be captured completely by the [CPI] for a particular period," Mohd Uzir says, noting that the index is a year-on-year comparison and price changes for certain products may not necessarily be enough to influence the overall CPI.
There is no doubt, however, that policy action is necessary — especially given that food inflation affects the bottom 40% (B40, whose monthly income is below RM4,850) and middle 40% (M40) households more than the top 20% (T20, whose monthly income is above RM10,960) households. The B40 spends 24.2% of their income on food and non-alcoholic beverages compared with 18% for M40 and 12.6% for T20, according to data from the Household Expenditure Survey 2019 report. Households with a monthly income of less than RM2,000 could spend close to 40% of their income on food, including food eaten outside, according to our back-of-the-envelope calculations based on DoSM data appended with the HES 2019 report (see chart).
Bank Negara Malaysia, which had since at least 2015 attempted to explain the "disconnect" between the headline CPI reading and the pressures of a rise in the cost of living causing discontent among the people, recently saw the need to revisit the question of why your "recent shopping experience left the impression that prices have been higher" in a boxed article appended in its 2021 annual report.
In short, the central bank explains that the CPI "tracks the price changes for a fixed basket of items that represent the average spending pattern among households" while "cost of living" refers to the "amount of household spending, including financial obligations (such as car and housing loans), to maintain a certain standard of living", which may differ from one household to another.
Whether or not the CPI basket needs to be updated to better reflect sentiment on the ground, policymakers may well benefit from data collected for the CPI basket.
Mohd Uzir says prices are collected for "more than 1,000 products" monitored nationwide for the CPI basket. It is understood that these products are then categorised under 552 items, which, according to technical notes to the CPI report, are collated weekly, monthly and quarterly (depending on the item) over 97 locations from about 21,800 retail outlets (17,000 in Peninsular Malaysia, 2,500 in Sabah and 2,300 in Sarawak).
Indeed, according to DoSM's CPI report, just over 75%, or 417, of the 552 items recorded an increase in price in April 2022, up from 408 in March. Among the highest increases is for RON97 fuel, which retails at RM4.72 per litre through June 15 this month, up 78% from the average of RM2.65 per litre in June 2021 and significantly above the RM3.84 per litre in April 2022, according to DoSM data. Meanwhile, RON95 has been sold at its ceiling price of RM2.05 per litre since March 2021.
With the subsidies bill poised to reach RM71 billion this year — about RM30 billion of which is for fuel subsidies alone — a multibillion-ringgit question right now is whether targeted subsidies will kick in on July 1, starting with chicken, given that the current price ceiling for whole broiler chicken is capped at RM8.90 per kg until June 30.
Targeted subsidies would also affect the CPI's "Transport" group, which has a 14.6% weightage, where fuel and lubricants for personal transportation have an 8.5% weight and public transportation services have a 0.8% weight.
Electricity and gas, which are also subsidised, have a 3.2% weightage in the CPI, versus rent paid by tenants at 18.1%, both of which come under the "housing, water, electricity, gas and other fuels" group, which has a 23.8% weightage in the CPI.
Consultations have already begun for Budget 2023, which is slated to be tabled on Oct 28, according to the parliament calendar.