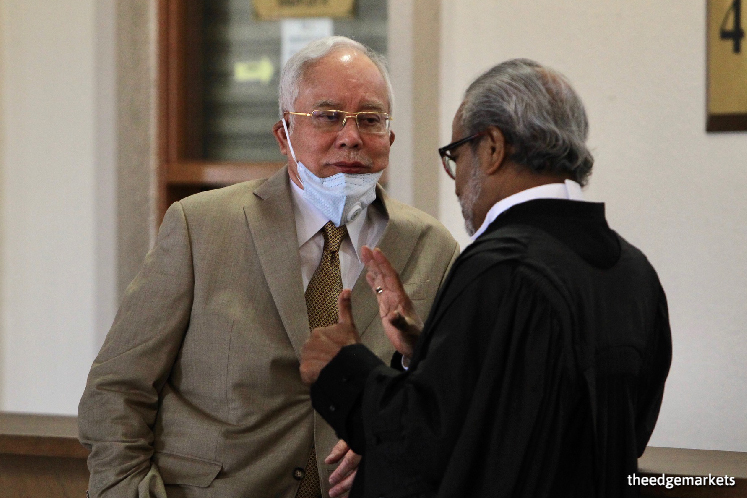 KUALA LUMPUR (June 2): The final phase of former Prime Minister Datuk Seri Najib Razak's SRC International Sdn Bhd trial continues today with his lawyers making oral submissions before Justice Nazlan Mohd Ghazali.
At the beginning of the oral submissions yesterday,  lawyer Harvinderjit Singh claimed the prosecution had been pivoting its case since the start of the trial, and that its latest pivot was that fugitive businessman Low Taek Jho (Jho Low), Najib's former private secretary Datuk Azlin Alias and former SRC managing director and CEO Nik Faisal Ariff Kamil, were tasked with putting money into the former premier's account.
He claimed that the prosecution had shifted their entire case around this fact, the lawyer said, adding this is a departure from the three CBT charges levelled against Najib.
While the prosecution had put forward the idea that Jho Low was involved and was in contact with the accused, the lawyer said this was in fact the defence's case.
He submitted that it could be inferred that the transactions amounting to RM42 million were part of other transactions involving a total of RM293 million of funds in SRC's account that were carried out at the behest of Jho Low, for his own benefit.
He further said the prosecution did not ask AmBank former relationship manager Joanna Yu Ging Ping whether Jho Low was working with the former premier to put cash in Najib's account.
He further argued that there was no evidence suggesting that Najib ever sanctioned the RM42 million transactions into his private accounts, and therefore does not prove any misappropriation by the former premier.
Harvinderjit also submitted that an affidavit by Najib in 2016 for another case was not an admission of guilt on Najib's part.
This was for a defamation suit he filed against Tun Dr Ling Liong Sik in 2016 where he had admitted that the RM42 million came from SRC, following an exposé made by news portal Sarawak Report.
"DSN (Najib) should not be faulted for the actions of others like Azlin, Jho Low and Nik Faisal (for CBT)," the lawyer said.
Najib filed the suit against the former transport minister and ex-MCA president in 2015, when Ling called him a thief for stealing the people's money. Ling's lawyer Ranjit Singh, who was called in as the prosecution's 55th witness earlier, had produced court documents in relation to the suit and Najib's affidavit.
The submissions continue later this morning with Harvinderjit and Farhan Read expected to continue their submissions for the defence together with lead counsel Tan Sri Shafee Abdullah.
The Edge is covering the trial live here.
Users of The Edge Markets app may tap here to access the live report.