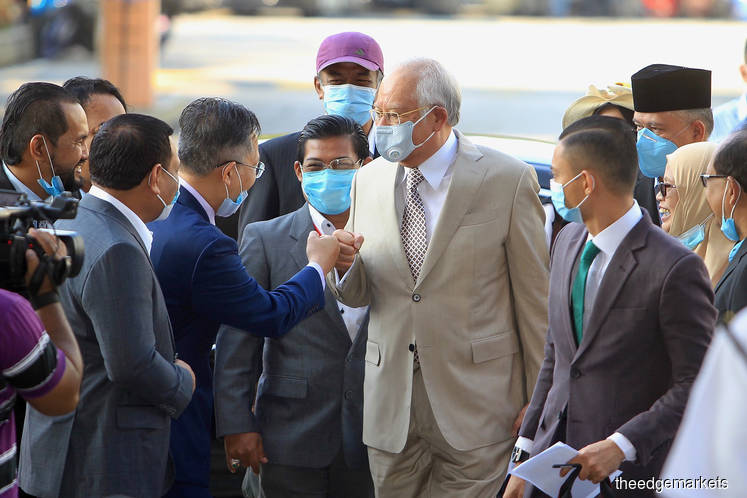 KUALA LUMPUR (June 4): It was exactly a year, two months and a day since Former Prime Minister Datuk Seri Najib Razak began his SRC International Sdn Bhd trial where he faced several charges for Criminal Breach of Trust, Money Laundering and Abuse of power.
Today lawyers from the prosecution and defence will possibly rest their respective cases after a long, hard fought trial.
Najib's defence lawyer Tan Sri Shafee Abdullah told the High Court yesterday that he intends to wrap up his submissions today as the prosecution, led by appointed prosecutor Datuk V Sithambaram had concluded his submissions yesterday.
Once this is done Judge Nazlan Mohd Ghazali will review all arguments, submissions, witness testimonies and documents put forth to him during this past year and will set a date in the near future to deliver his verdict.
Yesterday, after two and a half days of submissions by the defence, Sithambaram began his submissions before the court.
He had surmised that Najib had absolute knowledge of the RM42 million which went from SRC accounts into his personal AmBank account.
Sithambaram said that when Najib removed Nik Faisal Ariff Kamil as the chief executive officer (CEO) of SRC amid complaints about financial misconduct, he still kept the latter as the mandate holder.
Another oddity was that although Nik Faisal was removed from the CEO role, he still remained as a company director and signatory to SRC's accounts.
Sithambaram said in his submissions that this was a scheme devised by Najib to facilitate monies from SRC through Gandingan Mentari Sdn Bhd and Ihsan Perdana Sdn Bhd into his accounts.
As for Najib's abuse of power charge, Sithambaram said that the hastiness in the issuance of the government guarantee (GG), and disbursement of funds, with regards to the RM4 billion loan taken by SRC International Sdn Bhd from the Retirement Fund Inc (KWAP) raises suspicions and points to power abuse on Najib's part as he was prime minister and Finance minister then.
Former Finance Ministry secretary Datuk Maliami Hamad had testified that such hastiness "was not normal practice and had not happened before" Sithambaram said.
Former Finance Ministry Treasury secretary-general Tan Sri Wan Abdul Aziz Wan Abdullah, who was also KWAP chairman, testified that it was an 'amalan luarbiasa' (unusual practice) when Najib had asked KWAP to disperse its funds first without the GG being obtained, it was added.
All this indicates that Najib, as the then Prime Minister and Finance Minister, had abused his power to ensure that the funds were disbursed quickly, said Sithambaram.
The ad-hoc prosecutor was replying to the defence's submission over the former premier's abuse of power charge in relation to the approval of the KWAP loan totalling RM4 billion.
Addressing the defence's assertion that Najib had no knowledge of the going-ons in his AmBank accounts, Sithambaram said that they evidence stated otherwise.
Sithambaram also made the point in response to the defence's assertion that Jho Low was mostly reactionary in funding the accounts saying that: "Based on the BlackBerry Messenger transcripts adduced as evidence, Jho Low had full knowledge of Najib's spending pattern and the amounts that the then prime minister was about to spend," he said.
Sithambaram had began his submissions yesterday morning and had finished at about 5pm. 
The Edge is covering the trial live here.
Users of The Edge Markets app may tap here to access the live report.