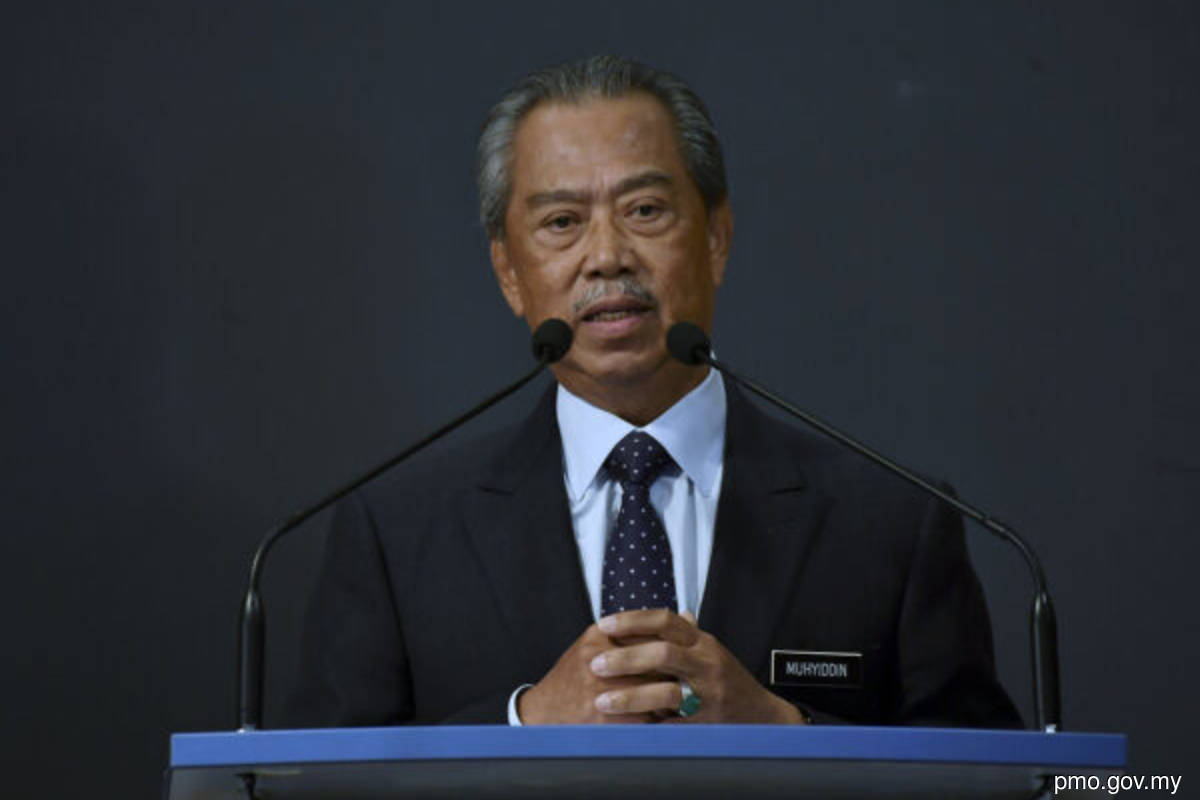 KUALA LUMPUR (Nov 20): Prime Minister Tan Sri Muhyiddin Yassin today called on Asia-Pacific leaders to work constructively towards navigating the region along a path of robust, inclusive and sustainable economic recovery and growth.
He said Asia-Pacific Economic Cooperation (APEC), whose economies constitute about 60% of global gross domestic product, assumes a central role in spearheading post-pandemic economic recovery.
"We need to trade and invest our way out of the current economic downturn," he said in his opening remarks at the first-ever fully virtual APEC Economic Leaders' Meeting.
While highlighting the importance of unity, Muhyiddin also urged leaders to fend off distractions and concentrate on pursuing regional solutions to address the Covid-19 pandemic.
"Today, as we work together as a region to mitigate the impact of Covid-19, the relevance of APEC has become even more pronounced.  
"We have to stand united in combating Covid-19, and it is therefore of utmost importance that people around the world have access to the vaccines and health technologies in an affordable, accessible and equitable basis," he said.
Muhyiddin, who is the chair of this year's meeting, views APEC as an incubator-cum-enabler that provides the right framework for implementing economic ideas on a voluntary, non-binding and consensus basis.
The Prime Minister noticed that member economies have often pursued new and novel concepts within this platform, even when there was reluctance and hesitation to do the same at other multilateral fora.
He also acknowledged that total trade between APEC member economies and the rest of the world had increased by more than four-fold since the adoption of the Bogor Goals.
The APEC region now represents almost 50% of total world trade, Muhyiddin said, adding Malaysia's trade with APEC member economies had increased by more than seven-fold in the past decade.
In 2019, APEC economies had collectively contributed 78% of Malaysia's total trade and brought substantial progress to its economy.
The grouping is the largest source of foreign direct investment (FDI) into Malaysia, and it represented 91% of Malaysia's total FDI flows last year. 
"Through the expansion of trade, Malaysians are able to experience positive spillover effects in the form of job creation, knowledge transfer and the strategic placement of micro, small and medium-sized enterprises in the global value chain," he said.
Moving forward, Muhyiddin outlined three areas that APEC economies could embrace, one of which is to reaffirm support and commitment for the rules-based multilateral trading system.
"This is essential for our businesses, as market stability and predictability are the central pillars which ensure that trade and investment continue to flow, even during times of crisis," he said.
The others are bolstering the digital economy and inclusive economic growth.
Malaysia has long insisted on the need to involve society to participate effectively in economic activities, and benefit from the resulting growth through shared prosperity.
Muhyiddin believes shared prosperity will also underscore APEC's focus on raising the living standards of the people.
Read also:
Asia Pacific leaders come together with free and fair trade call 
Muhyiddin: APEC to ensure smooth cross-border movement of essential goods 
APEC aims for open, dynamic, resilient and peaceful Asia Pacific community by 2040 
APEC leaders agree to cooperate constructively on Covid-19