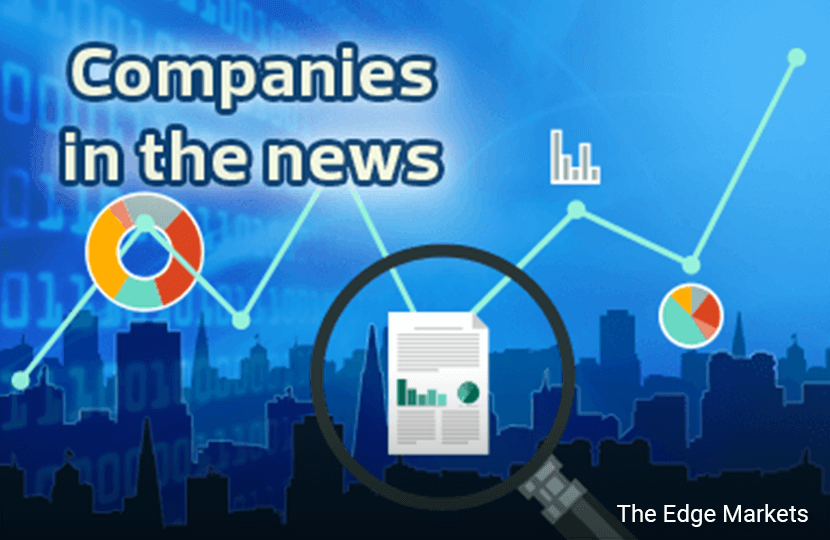 KUALA LUMPUR (Oct 30): Based on corporate announcements and news flow today, companies that may be in focus next week (Mon, Nov 2) could be the following: SunCon, FGV, CIMB Group, Titijaya Land, O&C, EcoFirst, Luxchem, Caring Pharmacy and TRIplc.
Sunway Construction Group Bhd (SunCon) said its senior managing director (MD) Kwan Foh Kwai will retire at year end and will not be extending his contract past Dec 31.
Its current deputy MD Chung Soo Kiong, 48, will succeed Kwan, 63, in his post effective Nov 1.
In a filing with Bursa Malaysia today, SunCon said Kwan will remain on the board as a non-independent non-executive director from Jan 1, 2016 and will continue to contribute to the group.
Felda Global Ventures Holdings Bhd's (FGV) wholly-owned subsidiary, Felda Global Ventures Kalimantan Sdn Bhd (FGV Kalimantan), is expected to complete the equity acquisition of four Indonesian companies by Nov 30, said its note to Bursa Malaysia today.
The note referred to an announcement dated June 12, 2015 where FGV Kalimantan entered into a heads of agreement with PT Rajawali Capital International (Rajawali Capital) and PT Rajawali Corpora (Rajawali Corpora) to purchase equities in four companies owned by the two entities.
Once the deal has been inked between Rajawali Capital and FGV Kalimantan, the latter will own 11.66 billion shares, representing 37% equity interest in PT Eagle High Plantations Tbk (previously known as PT BW Plantations Tbk) — an Indonesian public listed company, from Rajawali Capital.
The deal between FGV Kalimantan and Rajawali Corpora will see the former owning 2,375 shares, representing 95% equity interest in PT Cendrawasih Jaya Mandiri; 2,375 shares, representing 95% equity interest in PT Karya Bumi Papua; and 14 shares, representing 93.3% equity interest in PT Rizki Kemilau Berjaya.
Currently, the entities involved in the deal are still in the midst of negotiating the terms of the definitive documents.
CIMB Group Holdings Bhd's 97.94%-owned Indonesian unit, PT Bank CIMB Niaga Tbk, saw its net profit for the nine months ended Sept 30, 2015 (9MFY15) fall 88.45% to 265 billion rupiah, from 2.3 trillion rupiah a year ago, due to higher provision expenses.
Its earnings per share fell to 10.56, compared with 91.36 a year ago.
In a statement today, CIMB Niaga said the 9MFY15 net profit was lower year-on-year (y-o-y) due to a 163.6% y-o-y increase in the provision expenses, on the back of weaker economic conditions and an increasingly challenging operating environment.
However, it pointed out that the provisions for the third quarter ended Sept 30, 2015 (3QFY15) have improved gradually, over the past two quarters.
The bank reported a consolidated business as usual net profit of 442 billion rupiah in the third quarter of 2015, excluding the exceptional expense of 471 billion rupiah from the mutual separation scheme in the current quarter under review.
CIMB Group Holdings Bhd and CIMB Niaga had completed their individual MSS exercise in July. The exercise involved 3,599 applications (1,891 from Malaysia and 1,708 from Indonesia).
Meanwhile, CIMB Niaga's 9MFY15 operating income grew 4.8%, underpinned by a 9.5% y-o-y growth in net interest income, but partially offset by a 13.3% y-o-y decline in non-interest income.
Its gross non-performing loan ratio improved to 3.17% as at 30 Sept, 2015, compared with 3.35% as at the same period a year ago, as a result of sales of asset to an affiliated company of CIMB Group.
CIMB Niaga's loan loss coverage increased to 120.96% as at Sept 30, 2015, from 82.89% a year ago.
Titijaya Land Bhd's wholly-owned subsidiary, Titijaya Resources Sdn Bhd (TRSB), has entered into a shareholders' agreement (SA) with Amona Development Sdn Bhd (ADSB) and Metrogale Development Sdn Bhd (MDSB), to form a strategic collaboration for the construction of school facilities.
According to Titijaya's filing with the bourse, ADSB will hold 60% in MDSB, the joint venture (JV) company, while TRSB holds the balance 40% stake. The JV company will be used to undertake potential property development opportunities within Kuala Lumpur.
"ADSB had made a proposal to the government to construct school facilities in exchange for a government land situated at Bukit Bintang, Kuala Lumpur, measuring approximately 2.7 acres.
"The proposal is in advanced stage and the company will make further announcement, after definitive and conclusive terms have been agreed upon, and the proposed privatisation agreement has been agreed and signed," said Titijaya.
It added that the JV company has applied to the Companies Commission of Malaysia for its name to be changed to Amona Titijaya Sdn Bhd, pending approval.
The company said the proposed JV is in line with the expansion of its property development business; it won't impact its earnings for the year ending June 30, 2016, but is expected to contribute positively to the future earnings of Titijaya.
O&C Resources Bhd has acquired a substantial stake in Masbe Coffee Sdn Bhd (MCSB) for RM5 million, paving the way for the company to develop a piece of land on Jalan Yap Kwan Seng into a project with a gross development value (GDV) of RM204.94 million.
In a statement today, O&C Resources said it has inked a share sale agreement (SSA) with Makok Intl Sdn Bhd (MISB) to acquire 51% of MCSB for RM5 million, providing O&C Resources the rights to develop the 0.15ha freehold tract at Jalan Yan Kwan Seng.
"As the subsidiary of MISB, MCSB is principally engaged in the business of real property and housing development and will be developing the piece of freehold land at Jalan Yap Kwan Seng, Kuala Lumpur, measuring 0.15ha," the statement read.
The approved development on the land was a block of service apartments, with 145 units with estimated gross development cost at RM94.49 million, which the company intends to raise through a combination of fund raising, internally-generated funds and bank borrowings.
O&C Resources' executive director Billy Ong Kah Hoe said the proposed development is expected to commence within one year from the execution date of the JV and the development period will be over three years.
Recurring mall income and its 'Upper East @ Tiger Lane' condominium development in Ipoh, Perak has doubled EcoFirst Consolidated Bhd's net profit for its first quarter ended Aug 31, 2016 (1QFY16) to RM2.34 million, from RM716,000 previously.
In a Bursa announcement today, the property developer and manager said its Upper East project is 50% completed, with more than half of the 529 luxury units sold at the end of the quarter under review.
This saw the group's revenue quadrupling to RM23.33 million, from 1QFY15's revenue of RM5.13 million.
In a separate statement, EcoFirst's group chief executive officer Datuk Tiong Kwing Hee said FY16 will see stronger contributions from the Upper East due to its rapid progress.
"...the development is now 50% completed and expected to be fully completed by end of year. This project will soon be our core contributor for FY16," he added.
Meanwhile, rental income from its property investment division derived from its two malls — 1Segamat Mall in Segamat, Johor and the South City Plaza in Sri Kembangan, Selangor — will continue to provide a substantial source of recurring income for the group.
Chemical distributor Luxchem Corp Bhd saw its net profit double (117.76%) to RM13 million or 4.95 sen per share in the third quarter ended Sept 30, 2015 (3QFY15), from RM5.97 million or 4.59 sen per share a year ago.
In its quarterly report to Bursa, it attributed the jump in net profit to increased revenue from the trading and manufacturing segments, as well as realised foreign exchange (forex) gain.
Its revenue came in 6.1% higher at RM169.17 million in 3QFY15, from RM159.44 million in 3QFY14, due to higher contributions from both its trading and manufacturing segments.
As for its cumulative nine months (9MFY15), net profit increased 55.46% to RM24.36 million, from RM15.67 million in the previous corresponding period — primarily because of the same reason, for its better quarterly earnings; while 9MFY15 revenue was up 10.15% to RM502.74 million, from RM456.4 million in 9MFY14.
The company recorded a forex gain of RM3.06 million in 3QFY15 and RM5.64 million for 9MFY15.
On prospects, Luxchem said fluctuations in exchange rates and raw material prices will continue to be a challenge, but it remains positive over its prospects.
Perbadanan Nasional Bhd (PNB) has emerged as a substantial shareholder in Caring Pharmacy Group Bhd, with a 12.76% stakeholding.
In a filing with Bursa today, the pharmacy operator said PNB acquired 27.78 million of its shares yesterday (Oct 29), without disclosing the price transacted.
In another filing, Caring said Datuk Zurainah Musa has emerged as its substantial shareholder, as she is deemed interested in the company's put and call option agreements dated Oct 26, 2015, with PNB.
Zurainah, 53, is one of four executive directors in Berjaya Corp Bhd. She was appointed to the board on Jan 13, 2012; she is also a director of Berjaya Food, Uzma Bhd, Tioman Island Resort Bhd and several other private limited companies.
TRIplc Bhd has appointed Yusof Badawi as its new managing director (MD), replacing Zainal Abidin Ismail who has retired.
Zainal Abidin's retirement and Yusof's redesignation from deputy MD to MD, takes effect on Nov 1.
Prior to his appointment, Yusof was the chief executive officer/executive director of Merge Energy Bhd, from year 2003 to year 2011. He was also the executive director of Syarikat Bekalan Air Selangor Sdn Bhd, from year 2011 to year 2015.
(Note: The Edge Research's fundamental score reflects a company's profitability and balance sheet strength, calculated based on historical numbers. The valuation score determines if a stock is attractively valued or not, also based on historical numbers. A score of 3 suggests strong fundamentals and attractive valuations.)