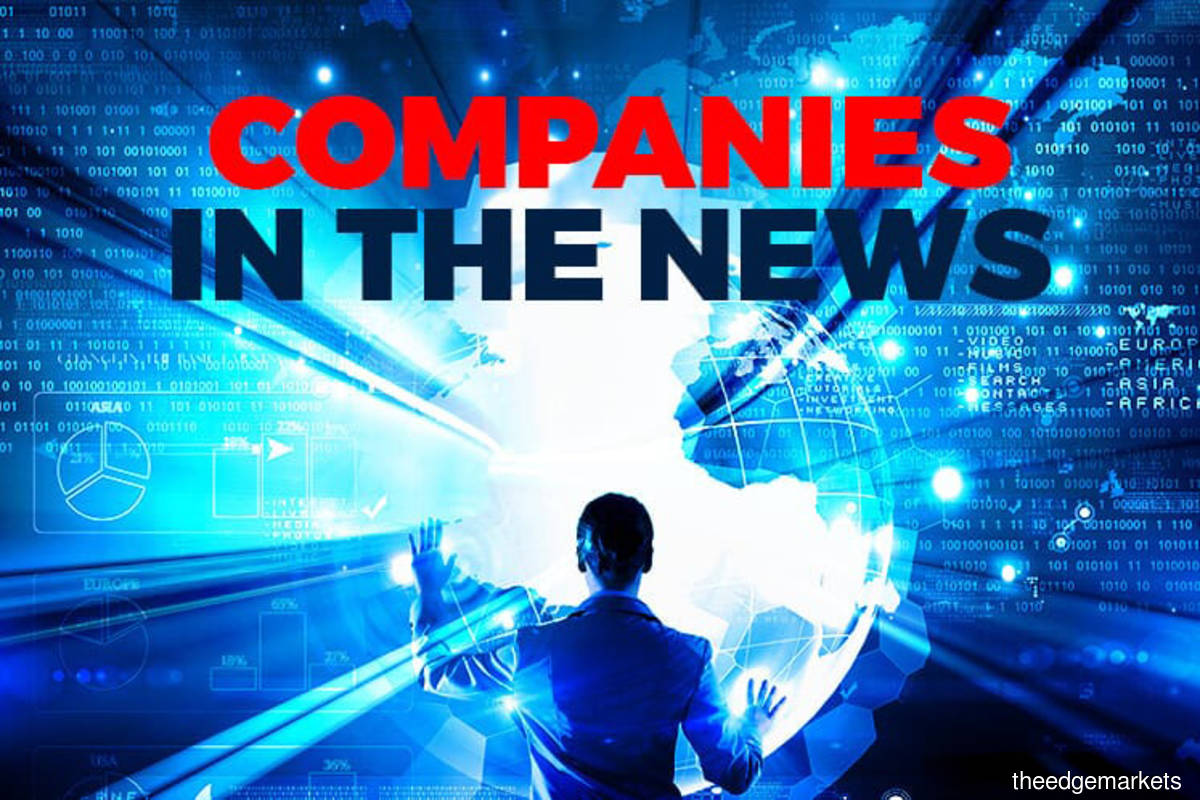 KUALA LUMPUR (Dec 2): Based on corporate announcements and news flow today, stocks in focus for Thursday (Dec 3) may include Sunsuria Bhd, Yi-Lai Bhd, Ranhill Utilities Bhd, Bioalpha Holdings Bhd, Chin Hin Group Property Bhd, S P Setia Bhd, AWC Bhd, UEM Sunrise Bhd, Eco World Development Group Bhd, QL Resources Bhd, Boilermech Holdings Bhd, Top Glove Corp Bhd, and AirAsia X Bhd.
Sunsuria Bhd's net profit for the fourth quarter ended Sept 30, 2020 (4QFY20) surged 227.62% to RM9.21 million or 1.03 sen per share, from RM2.81 million or 0.31 sen per share in the preceding quarter, due to the almost twofold increase in percentage of work done and the group's various cost-cutting measures implemented on non-critical expense items.
The group said its revenue jumped 203.43% quarter-on-quarter to RM61.3 million from RM20.2 million in 3QFY20, underpinned by higher sales recorded in the current quarter.
On an annual basis, however, the group's net profit fell 52.33% from RM19.72 million or 2.34 sen per share a year ago, while its revenue decreased 41.51% from RM104.81 million.
For the full year ended Sept 30, 2020, net profit slumped 77.73% to RM30.17 million or 3.37 sen per share, from RM135.47 million or 16.08 sen per share a year earlier, while revenue dropped 63.11% to RM197.08 million from RM534.26 million.
Datuk Wong Gian Kui has resigned as Yi-Lai Bhd's independent non-executive chairman, due to personal commitment.
According to Yi-Lai's 2019 annual report, Wong was appointed independent non-executive chairman on Feb 24, 2016.
Ranhill Utilities Bhd has been invited by the Minister of Finance Inc (MoF Inc) to undertake a due diligence exercise on Indah Water Konsortium Sdn Bhd (IWK) in relation to a proposed disposal of MoF Inc's interest in IWK.
Ranhill said it on June 26 submitted a proposal for a restructuring of IWK that would involve the disposal of MoF Inc's interest in IWK to Ranhill.
The invitation from Prokhas — a wholly-owned private limited company under MoF Inc — to undertake the due diligence will enable the company to access information necessary for it to finalise the proposal to MoF Inc, said Ranhill.
Bioalpha Holdings Bhd has been appointed by Hong Kong-listed Ritamix Global Ltd as a contract manufacturer to make and supply a longevity dietary supplement.
"We are expecting multi-millions of orders from Ritamix for the Malaysia and China markets," Bioalpha managing director William Hon said at a virtual press conference today.
The supplement product contains the nicotinamide mononucleotide (NMN) compound that can help restore energy and reduce typical signs of ageing such as gradual weight gain.
Hon said he expects NMN products to deliver a gross profit margin of 50% based on the selling price to Ritamix.
Chin Hin Group Property Bhd plans to purchase a 1.38ha piece of land in Bandar Kinrara, Puchong for RM59.8 million from Perumahan Kinrara Bhd (PKB). PKB is a unit of I&P Group Sdn Bhd, which in turn is a wholly-owned subsidiary of S P Setia Bhd.
Chin Hin Group Property said it will seek the approval of the Economic Planning Unit to purchase the land within 60 days from the date of signing of the sale and purchase agreement.
AWC Bhd and its partners have bagged a RM20.87 million subcontract relating to a water treatment plant in Jasin, Melaka.
The group said its unit DD Techniche Sdn Bhd and joint venture partners Techkem Utilities Sdn Bhd and Techkem Resources Sdn Bhd were awarded the job by Aliran Intelek Sdn Bhd.
The subcontract entails engineering, supply, construction and all related works for the implementation of the water treatment plant using the gravity sand filter system.
The proposed merger of UEM Sunrise Bhd and Eco World Development Group Bhd (EcoWorld), which was put forth by UEM Group, does not require the approval of the Cabinet, said Minister of Finance Tengku Datuk Seri Zafrul Abdul Aziz.
Tengku Zafrul said the proposal was mooted based on the potential commercial benefit the merger could bring, and that it only requires the approval of the respective companies' boards of directors, as it is a matter relating to the operation of companies.
QL Resources Bhd and Boilermech Holdings Bhd have requested for the trading of their shares to be suspended tomorrow pending an announcement.
The shares in both counters will be suspended with effect from 9am.
Top Glove Corp Bhd is continuing with its share buy-back spree from last month, spending RM69.94 million today to buy 10.35 million shares, priced at between RM6.70 and RM6.86 per share.
The group has spent RM1.28 billion on share buy-backs since September, with RM802.55 million spent in November and RM354.74 million spent in September.
AirAsia X Bhd expects the outcome of its ongoing scheme of arrangement under its debt restructuring exercise to inject fresh equity to be known by the end of June next year. The long-haul budget airline said this when announcing to Bursa Malaysia today that it was changing its financial year end to June 30, 2021, from Dec 31, 2020.