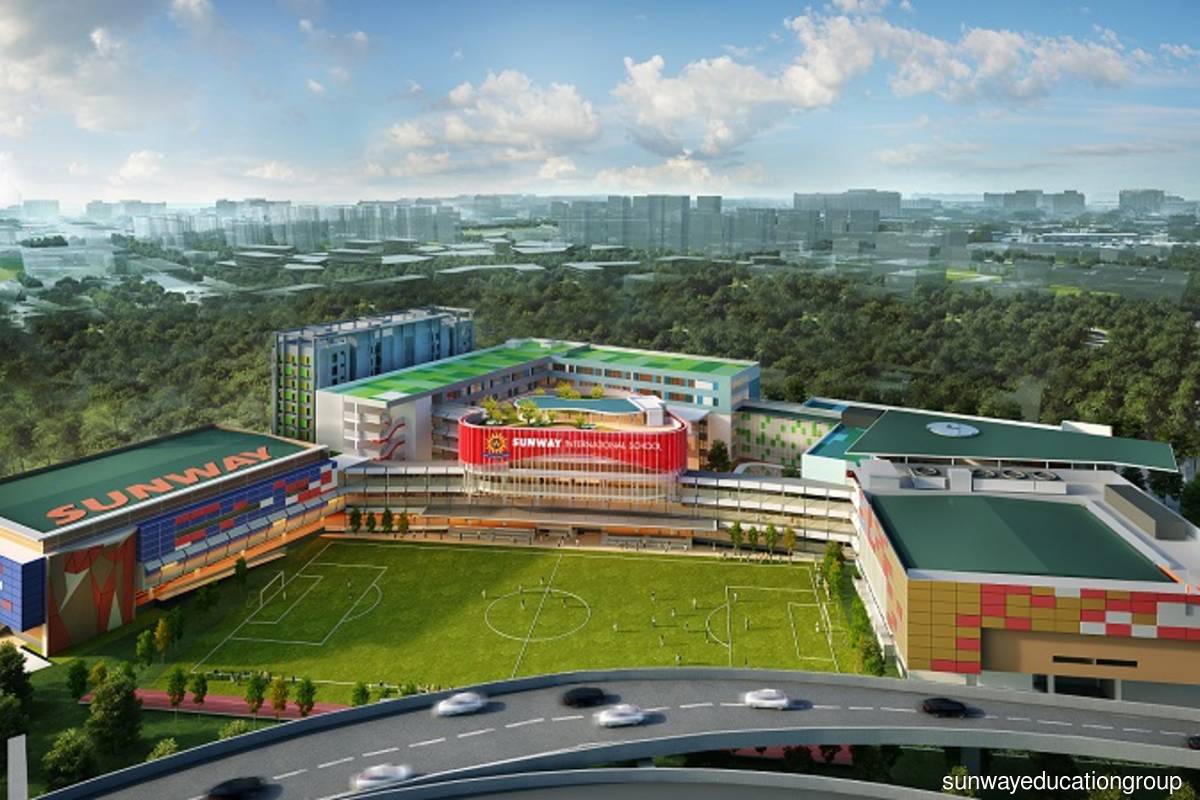 KUALA LUMPUR (July 9): As the nation labours to move forward in fighting the coronavirus pandemic, Sunway Education Group announces exciting news for students with the opening of its Sunway International School's new campus in January 2023.
The new seven-acre GreenRE Platinum-certified Sunway International School (SIS) Sunway City KL campus, which is worth RM300 million including land and development costs, will accommodate up to 3000 students.
In a virtual preview, Sunway Education Group chief executive officer Professor Elizabeth Lee said the new campus will be able to accommodate growing interest in the Canadian syllabus offered by SIS.
"From a total of 25 students when we first started out in 2008, we now have over 1,000 students in our two campuses in Sunway City Kuala Lumpur and Sunway Iskandar Johor. The new campus, outfitted with the best facilities, is fully optimised for student performance and well-being, and will provide more students with opportunity to develop holistically, with one of the best curricula in the world," she said.
Now open for enrolment, the new campus will deliver programmes for Primary School (Grades one to five), Middle School (Grades six to eight), as well as High School (Grades 9-11) and Pre-University (Grades 11 & 12), according to the Canadian (Ontario) curriculum and International Baccalaureate Diploma Programme (IBDP), respectively, in 2023.
Currently, SIS is the only Canadian and International Baccalaureate School in Malaysia. It was founded in 2008 with its first campus in Sunway City Kuala Lumpur, and second in Sunway Iskandar Johor. With the new campus, SIS will now be able to take in younger students with the opening of its Primary levels.
When asked about the foreseen impact of the Covid-19 pandemic and lockdowns on enrolment and classes, Lee said: "Covid-19 is here to stay but the vaccination will provide us with a good level of protection. The idea is to not catch it at all. It is like living with dengue, there is no cure and it kills, but it doesn't prevent us from going to school. This is what we are doing in the secondary education group, in ensuring that we protect the environment as much as possible. Because we realise that even when we relegate students to study online, some of them may not have good internet access from their homes."
Sunway International School Executive Director and Director of Pre-U Studies Dr Cheng Mien Wee said the exponential growth of parental interest in the Canadian syllabus was due to its ability to deliver results for young children.
"Canadian education is consistently ranked top in PISA for more than 10 years, making it one of the best in the world. The International Baccalaureate is touted as the fastest-growing pre-university programme in the world. In SIS, students are provided with over 40 extra-curricular activities that enrich their understanding of teamwork and friendship. School events such as Sunway National Poetry SlamTM (SNaPSTM) and Model United Nations have allowed students to showcase their talents and abilities," she explained.
Optimised facilities
The new campus will be Malaysia's first GreenRE Platinum certified school to optimise student performance and well-being. According to the World Green Building Council, studies showed that well-ventilated buildings with good indoor air quality, acoustics and enhanced levels of thermal comfort, led to better cognitive performance, sleep quality, and a host of other health and tangible productivity benefits that improve student outcomes.
Surrounded by healthcare, leisure, residential and retail developments in Sunway City Kuala Lumpur, the new campus' facilities include 74 classrooms, a drama and theatre room, three art rooms, two music rooms, seven science labs, a technology lab fitted with the latest equipment, a language lab, as well as a cafeteria each for the primary and secondary schools.
There will also be a playground over 400 square metres in size, an eight-lane and 25-metre swimming pool, and a 615-pax capacity library. A standard-sized football field (45m x 90m) and a 2,000-pax multipurpose hall will be available for students' activities and events. The campus will also be equipped with a sick bay, which will be manned by trained healthcare professionals during school hours. Campus security is reinforced by Sunway City Kuala Lumpur's very own auxiliary police team, who are trained by the Royal Malaysian Police.
"SIS has been voted Reader's Digest's most trusted brand in 2015, 2016, 2018, 2020 and 2021. The institution was also rated a 5-star private education institution by the Ministry of Education Malaysia's SKIPS (Quality Standard of Private Education Institutions)," Cheng said.
Leading education system
The Programme for International Student Assessment (PISA), a global study conducted by the Organisation for Economic Cooperation and Development (OECD) to evaluate the quality, equity and efficiency of school systems, has consistently ranked the Canadian education system as higher than those of other native English-speaking nations in the world, such as the UK, US, Australia and New Zealand.
The curriculum in SIS is taught by teachers licensed by the Ontario College of Teachers (OCT), a professional body that governs and regulates the Ontario teaching profession. Teachers who are licensed by the OCT hold two bachelor's degrees – one of which must be in education – and are trained by Canadian universities for effectiveness and have undergone regular continuous professional development.
Student-centric education for future-ready children
SIS prioritises the holistic development holistic of students with the "6C" key qualities – Character Education, Citizenship, Communication, Critical Thinking, Collaboration and Creativity – to prepare them to be future leaders. Students are also encouraged to discover and explore through technologies available in the school.
Beyond academic excellence, students are also taught to be caring individuals with responsibility for their society, as Grades 9-12 students are required to complete 40 hours of community service. Students at SIS are taught through semester-based programmes, which help them transition into tertiary education. They focus on four subjects per semester, allowing for longer contact hours between teachers and students for more depth into the studies.
Unlike other curriculums, the Ontario curriculum focuses on continuous individual development throughout the semester, as opposed to a standardised final exam for assessment. This allows every student to fulfil their full potential and to demonstrate what they have learnt.
In celebration of its inaugural intake, Sunway Education Group will also be presenting RM15,000 bursaries for enrolments of Primary School by June 2022 and RM10,000 bursaries by December 2022. Middle School, High School and Pre-University enrolments by December 2022, will enjoy RM 3,000 bursaries.