This article first appeared in The Edge Financial Daily, on August 13, 2019.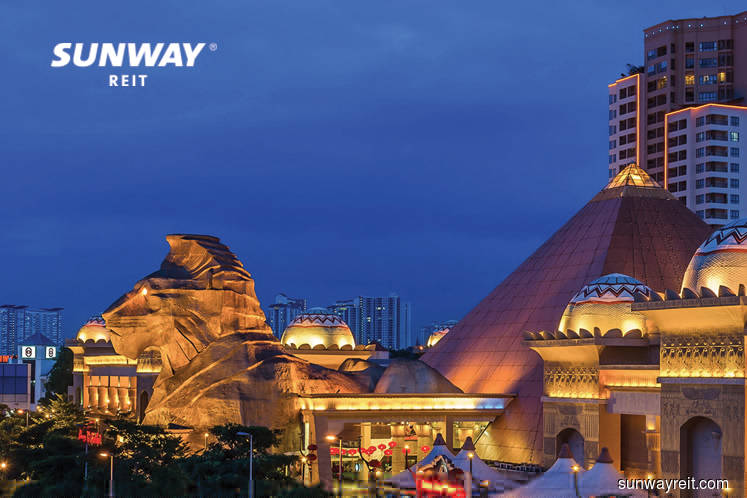 Sunway Real Estate Investment Trust
(Aug 9, RM1.91)
Maintain market perform with a lower target price (TP) of RM1.80: Sunway Real Estate Investment Trust's (Sunway REIT) top line barely came in within at 95% of our estimates, while slightly higher-than-expected financing cost — 102% of our financial year 2019 estimate (FY19E) — weighed down bottom-line margin to 48.7% versus our expectations of 49.1%. Its gross distribution per unit (GDPU) of 2.28 sen in the fourth quarter of 2019 brought FY19 GDPU to 9.59 sen, also slightly below our expectations at 94% of FY19 GDPU of 10.2 sen, implying a gross yield of 5.1%.
 
Year-on-year and year to date, the top line was up 3.5% driven by the retail segment (2.4%), attributable to a higher rental from its star performer Sunway Pyramid; the office segment (14.8%) from an improved occupancy at Sunway Putra Tower and Wisma Sunway; the industrial and others segment (14.6%) from better rental reversions at the Shah Alam industrial asset; and the services segment with contributions from Sunway Medical and Sunway University & College Campus (SUCC). The only drag was the challenging hospitality segment (-4.9%) as almost all asset contributions declined.
Net property income margin improved slightly (0.84 percentage point [ppt]) on better cost management at the asset level, but higher expenditure (5.6%) and financing cost (11.6%) resulted in a flattish realised net income (RNI) (0.1%). We take note of a positive fair value gain of RM108 million in FY19.
Quarter-on-quarter, the top line was down 3.9% due to the retail (-4.4%) and hospitality (-39%) segments — a seasonally weaker quarter — offset by slight improvements in the office segment (0.9%) and also the inclusion of SUCC. This, coupled with higher expenditure (8.9%) and financing cost (3.9%) as well as the perpetual bond cost incurred for the recent acquisition, weighed down the RNI (-11.3%).
We are expecting a capital expenditure of up to RM100 million in FY20 and FY21, mostly for constructing the Sunway Carnival Extension, expected to be completed in second half of 2021, as well as for enhancing other assets. In FY20, 41.1% of net lettable assets are up for renewal on expectations of low single-digit reversions for retail, and flattish to low single-digit reversions for office and hospitality assets. Additionally, the group is looking to more actively grow the others segment — industrial, healthcare and education, among others — in the longer term.
We reduced our FY20E earnings after lowering reversions to low single digits for the retail segment (from mid-single digits), as well as lower occupancy rates for the hospitality segment given a challenging outlook. This translates into FY20E and FY21E net distribution per unit of 8.8 sen to 9.1 sen or 4.7% to 4.8% net yield.
We maintained our "market perform" rating but on a lower TP of RM1.80 from RM1.90. Our TP is based on lower FY20E gross and net dividends per unit of 9.8 sen and 8.8 sen, from 10.4 sen and 9.4 sen, and an unchanged +1.8 ppts spread to the 10-year Malaysian Government Securities target of 3.7%. Our spread is on the higher-end versus pure retail mortgage REITs' spread of +1.3 to +1.8 ppts, except for CapitaLand Malaysia Mall Trust at +2.4 ppts due to its challenging assets, as we are mindful of the challenging hospitality and office segments, and accounted for this in our estimates and valuations. — Kenanga Research, Aug 9