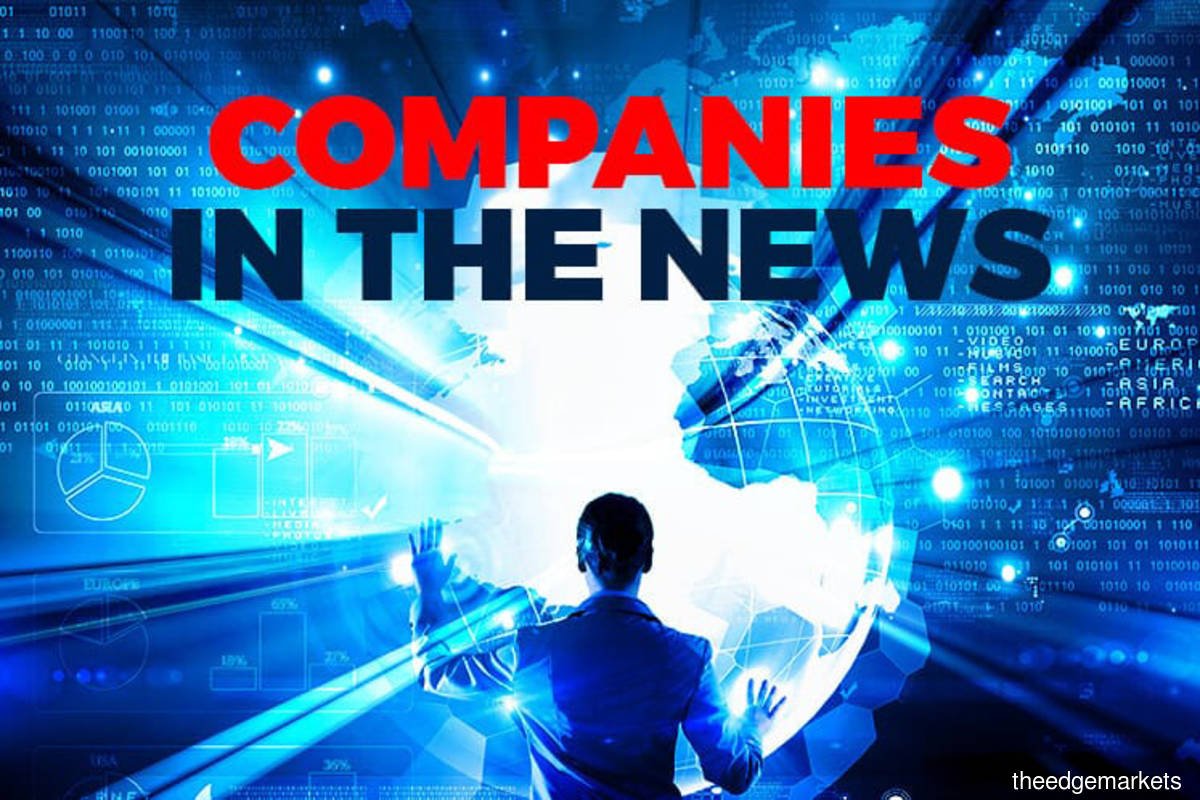 KUALA LUMPUR (March 12): Based on corporate announcements and news flow today, companies in focus on Monday (March 15) may include Supermax Corp Bhd, Wegmans Holdings Bhd, Straits Inter Logistics Bhd, Supercomnet Technologies Bhd, FGV Holdings Bhd, Cheetah Holdings Bhd, XOX Bhd, Lambo Group Bhd, Seacera Group Bhd and Vsolar Group Bhd.
Supermax Corp Bhd has tapped London-based architecture studio Szczepaniak Astridge to design its new headquarters in Meru, Klang. According to portal designboom.com, the studio has presented its competition-winning design for the rubber glove giant's new headquarters. The project, which is situated alongside an oil palm plantation, will use husks and leaves from the plantation to power Supermax's associated factories.
Wegmans Holdings Bhd saw its net profit for the fourth quarter ended Dec 31, 2020 rise 4.7 times to RM4.75 million, from RM1.01 million in the previous year's corresponding quarter. This was on the back of higher revenue during the quarter — up by 75.49% to RM41.14 million from RM23.44 million — underpinned by higher sales volume in North America.
Straits Inter Logistics Bhd's net profit for the fourth quarter ended Dec 31, 2020 dropped 30.99% to RM726,000, from RM1.05 million in the preceding quarter, as lower profit contributions from its associate companies, continued losses from its inland transportation and logistics segment and year-end provision offset the higher revenue. Revenue grew 9.49% to RM176.52 million from RM161.22 million largely due to a higher revenue from its oil trading and bunkering services and vessel management segments by RM14.5 million and RM500,000 respectively amid continued economic recovery from the impact of Covid-19.
Supercomnet Technologies Bhd, which specialises in making wires and cables for medical devices, saw its net profit jump 61.84% to RM7.38 million for the fourth quarter ended Dec 31, 2020, from RM4.56 million a year ago, on improved margins and better revenue recognition. Revenue grew 18.36% to RM38.34 million from RM32.4 million.
FGV Holdings Bhd announced that the Federal Land Development Authority has acquired another 467,300 of FGV shares at RM1.30 a share via the open market.
Cheetah Holdings Bhd, XOX Bhd and Lambo Group Bhd have entered into a tripartite collaboration to launch an online apparel store, Cheetah Online Store, by April 2021. Under the collaboration, led by XOX, Cheetah will revamp its apparel brands, focusing on online business and the youth market, the companies said in a joint statement.
Seacera Group Bhd has secured a contract from construction engineering group Vizione Holdings Bhd to supply building materials up to an aggregate value of RM300 million over three years. The tile manufacturer said Vizione's wholly-owned unit Vizione Builders Sdn Bhd will place orders with the group for quantities of the building materials that are required based on the prevailing market price.
Vsolar Group Bhd plans to undertake a private placement to raise as much as RM22.51 million to finance solar photovoltaic projects the company secures. It said it will issue up to 846.22 million or 30% of its existing issued shares to independent third-party investors to be identified at an issue price to be determined later. The expected proceeds to be raised are based on an illustrative issue price of 2.66 sen per placement share, which is a discount of 19.88% to the five-day weighted average market price of the shares up to March 9, of 3.3 sen.