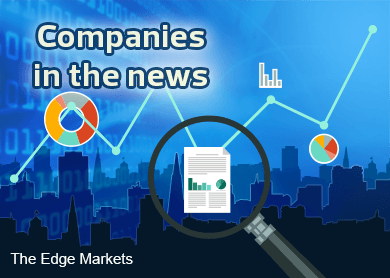 KUALA LUMPUR (June 1): Based on corporate announcements and news flow today, the companies that may be in focus tomorrow (Tuesday, June 2) could be: TA Global, Ewein, WZ Satu, WCT, ECM Libra, Hiap Teck, Takaso, Kian Joo, Can-One, Hibiscus, Microlink, Y&G, Berjaya Assets, and BIMB.
Property developer TA Global Bhd (fundamental: 1.2; valuation: 2.0)'s wholly-owned unit Crystal Caliber Sdn Bhd (CCSB) commenced arbitration proceedings against Saudi royalty-owned Kingdom Hotel Investments (KHI) on a dispute relating to breach of sale and purchase agreement (SPA) concerning a resort property in Thailand.
TA Global told Bursa Malaysia that the dispute arose from breaches by KHI of the said SPA, whereby the latter had agreed and covenanted to pay CCSB any tax liability and cost before May 31, 2012.
The SPA entailed the acquisition of the hotel and business of Movenpick Karon Beach Resort in Phuket, Thailand, from KHI at a price of US$90.21 million (equivalent to RM276.94 million at that time).
Precision sheet metal fabricated parts maker Ewein Bhd will be incorporating its 60%-owned subsidiary called Ewein Zenith II Sdn Bhd, which, according to a source, is in anticipation of it bagging a new RM1 billion gross development value property development project at Bandar Tanjong Pinang, Penang.
In its filing with Bursa Malaysia, Ewein said the remaining 40% stake in Ewein Zenith II will be held by Consortium Zenith BUCG Sdn Bhd (CZBUCG).
The proposed directors of Ewein Zenith II will be Ewein (fundamental: 1.55; valuation: 1.4) managing director Datuk Ewe Swee Kheng, CZBUCG chairman Datuk Zarul Ahmad Mohd Zulkifli and Ewein director Chan Gooi Yew.
Ewein said the intended principal activities of Ewein Zenith II will be property development, construction and property investment.
Engineering and construction firm WZ Satu Bhd (fundamental: 1.7; valuation: 1.1)'s wholly-owned unit, WZS KenKeong Sdn Bhd, has won a subcontract worth RM58.22 million for works related to the expansion of Kuantan Port.
The construction period for the project is 120 weeks, according to the group's filing with Bursa Malaysia.
The subcontract entails the construction of a bridge to Kuantan Port, with the scope of works including earthworks, infrastructure works, street lighting services, relocation of utilities services and landscaping works.
The Securities Commission Malaysia (SC) has filed a suit against WCT Holdings Bhd (fundamental: 0.6; valuation: 1.4) deputy managing director Goh Ching Liong, Chan Soon Huat and Leong Ah Chai for insider trading in shares of WCT Bhd, which has been delisted in July 2013 after a restructuring that transferred operations into the current listed outfit.
In a statement today, SC said Leong had disposed of WCT shares after he was told by Goh regarding the cancellation of an awarded construction contract, prior to public announcement.
Chan, on the other hand, was alleged to have conducted insider trading as well after he disposed of the above-mentioned shares before public announcement of the cancellation.
The SC is seeking a disgorgement of three times the profits earned by them as a result of the insider trading.
The regulator is also claiming a civil penalty of RM1 million from each of the three defendants and barred them from being a director of a public listed company
ECM Libra Financial Group Bhd (ECM Libra) has proposed to distribute RM320.1 million of what it terms as excess cash to entitled shareholders, by way of a proposed share capital reduction of approximately RM234.74 million and a proposed special dividend of RM85.36 million.
ECM Libra (fundamental: 1.35; valuation: 1.65) told Bursa Malaysia that the proposed distributions will be in the form of cash and/or a combination of Eastern & Oriental Bhd (E&O)'s shares or warrants.
The E&O securities are currently part of the portfolio of securities held under Libra Strategic Opportunity Fund, which is held by ECM Libra.
ECM Libra said the proposals could provide an opportunity for it to redeploy excess assets to its shareholders and to reorganise its share capital base to reflect its existing level of operations and asset base.
Pursuant to the distribution exercise, ECM Libra will embark on a proposed share split involving the subdivision of ECM shares, based on a ratio to be determined later, subject to the completion of the proposed distribution.
"Upon the completion of the proposed share split, the issued and paid-up share capital of ECM Libra is proposed to be consolidated into ordinary shares of par value 50 sen each," it said.
The group expects to complete the corporate exercises by end-January next year.
Steel pipe maker Hiap Teck Venture Bhd (Hiap Teck) plans to raise up to RM213.72 million for working capital via the issuance of 5% redeemable convertible unsecured Islamic debt securities (RCUIDS), on the basis of two RCUIDS for every five existing shares held on an entitlement date to be determined later.
In its Bursa Malaysia filing, Hiap Teck (fundamental: 0.35; valuation: 1.4) said the rights issue will be accompanied by up to 320.58 million free detachable warrants, on the basis of three warrants for every four RCUIDS subscribed..
Further, Hiap Teck (fundamental: 0.35; valuation: 1.4) proposed a bonus issue of up to 213.72 million new shares, on the basis of one share for every two RCUIDS subscribed, pursuant to the proposed rights issue.
The proposals are subject to approvals being obtained from the relevant regulators and the shareholders of Hiap Teck at an extraordinary general meeting to be convened. 
If all the necessary approvals are secured, the group expects to complete the corporate exercises in the fourth quarter of 2015.
Baby products and condom maker Takaso Resources Bhd will jointly develop a mixed development on a parcel of land in Kuantan, Pahang.
The group told Bursa Malaysia that it has, via 70%-owned outfit Takaso Development (Kuantan) Sdn Bhd, entered into a conditional joint venture agreement (JVA) with SSPP Development Sdn Bhd, in relation to the proposed development.
Under the JVA, SSPP will procure the land to be transferred to it, and convert the land from Malay reserved land to Non-Malay reserved land, as well as ensure the said land is free of all encumbrances and third party interests, within six calendar months from the date of the JVA.
Takaso (fundamental: 1.65; valuation: 0.3) noted that this may result in diversification of its business operation, on which it will seek shareholders' approval in due course.
The Court of Appeal today dismissed Datuk Anthony See's appeal to prevent Can-One Bhd from voting on the sale of Kian Joo Can Factory Bhd's assets and liabilities to Aspire Insight Sdn Bhd for RM1.47 billion.
Aspire Insight is the vehicle of Kian Joo (fundamental: 2.0; valuation: 1.5)'s chief operating officer (COO) Chee Khay Leong and the Employees Provident Fund.
In filings to Bursa Malaysia, Kian Joo and Can-One (fundamental: 1.1; valuation: 1.8) said the court has dismissed the appeal against the company and awarded costs of RM20,000 each to the company.
With See's appeal being dismissed, Kian Joo may proceed to call for a long delayed extraordinary general meeting to deliberate on the sale of assets to Aspire Insight, said market observers.
See, previously a director of Kian Joo, filed an appeal after his suits against Kian Joo, Can-One and a few others, including Kian Joo's group managing director Yeoh Jin Hoe, Chee and Aspire Insight, had been struck out by the Kuala Lumpur High Court on Nov 14 last year.
Hibiscus Petroleum Bhd has called off its acquisition of Australia-based Talisman Resources Pty Limited, which includes a 25% stake in the Kitan producing oil field, for RM66.2 million (US$18 million).
In a statement to the bourse, the oil and gas exploration and production firm said this was because the conditions precedent under the deal have not been 'fully satisfied' by the cut-off date of May 31, 2015.
On June 23 last year, Hibiscus (fundamental: 1.65; valuation: 0.3)'s wholly-owned subsidiary Timor Hibiscus had entered into a share sales agreement with Talisman Australia to purchase the entire equity interest in Talisman Resources at the said price.
Banking solution provider Microlink Solutions Bhd was slapped with an unusual market activity (UMA) query by Bursa Malaysia today after its share price surge 205% year-to-date.
The counter closed 15 sen or 8.82% higher at RM1.85 apiece today, and was one of the top gainers across the bourse with over 2.08 million shares traded. The current price gives it a market capitalisation of RM258.66 million.
However, in reply to the exchange, Microlink (fundamental: 2.1; valuation: 0.2) said it was not aware of any factors that led to the unusual market activity.
Bursa Malaysia also issued an UMA query to property developer Y&G Corp Bhd, after its share price spiked almost 30% today.
Y&G (fundamental: 2.7; valuation: 2.6) shares closed 32 sen or 29.6% higher at RM1.40 today, with 126,600 shares traded. Its market capitalisation was RM215.34 million.
The group, in a reply to Bursa, said it has no knowledge onto the reason of the unusual movement in its share price.
Gaming cum property developer Berjaya Assets Bhd's net profit in the third quarter ended March 31, 2015 (3QFY15) stood at RM18.96 million or 1.7 sen per share, on higher profit contribution from gaming, property development and investment business segment.
The group posted a net loss of RM12.25 million in 3QFY14, but returned to profitability in 4QFY14.
Revenue for 3QFY15 was marginally weaker at RM106.09 million compared with RM106.54 million last year, its filing to Bursa Malaysia today showed. 
For the cumulative nine months (9MFY15), Berjaya Assets (fundamental: 0.85; valuation: 1.2) saw its net profit grow 217.29% year-on-year (y-o-y) to RM66.6 million or 5.98 sen a share from RM20.99 million or 1.89 a share in 9MFY14. 
BIMB Holdings Bhd is expecting a 15% growth in assets for its wholly owned banking arm Bank Islam Malaysia Bhd for 2015, despite saying that it will be a very challenging year for the banking industry.
The group's chief strategy officer of the managing director's office Hizamuddin Jamalluddin told reporters that the expected asset growth is based on the group's current balance sheet.
Hizamuddin said BIMB (fundamental: 2.7; valuation: 2.2)'s managing director Datuk Seri Zukri Samat has hightlighted that Bank Islam's 15% growth was estimated based on the current size of its balance sheet.
In terms of loan growth, Hizamuddin said the group is expecting this year's growth to be similar to that of last year's.
(Note: The Edge Research's fundamental score reflects a company's profitability and balance sheet strength, calculated based on historical numbers. The valuation score determines if a stock is attractively valued or not, also based on historical numbers. A score of 3 suggests strong fundamentals and attractive valuations.)