This article first appeared in The Edge Malaysia Weekly, on June 6, 2022 - June 12, 2022.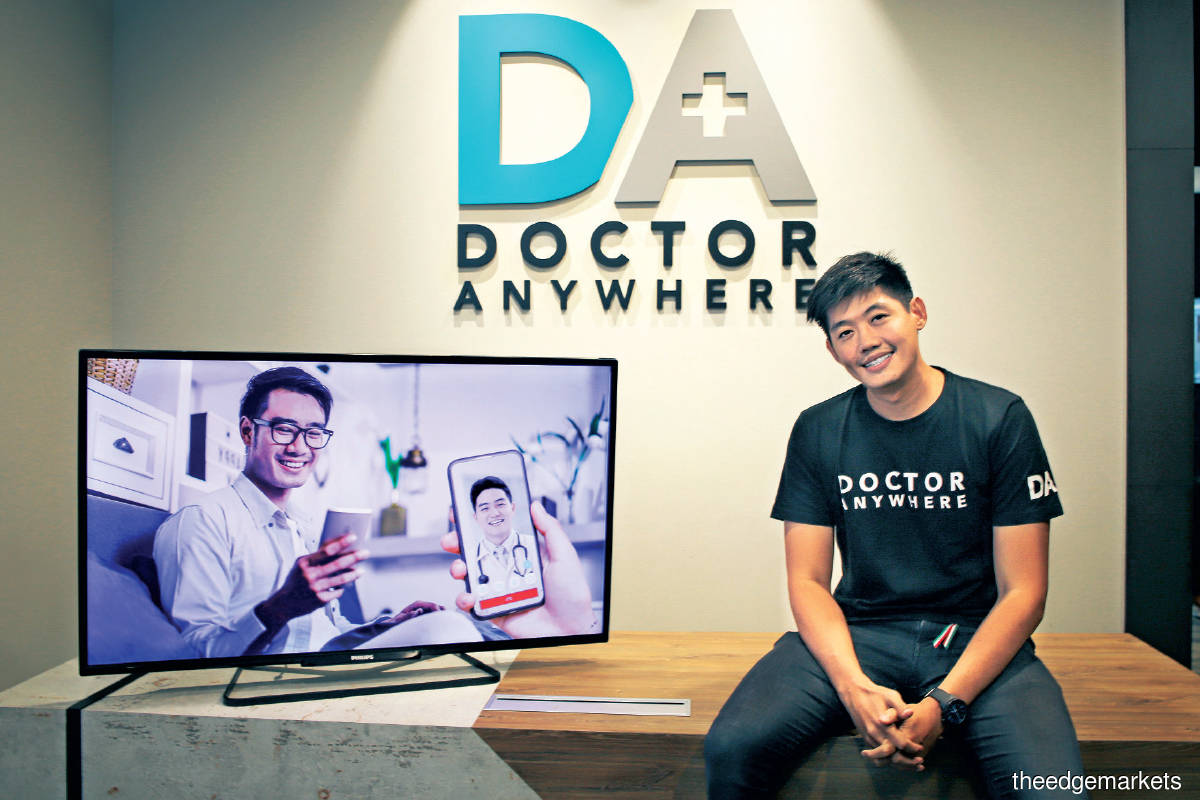 THESE days, a virtual consultation with the doctor has become so commonplace that no one bats an eyelid if someone suggests it. In fact, many people now prefer an online consultation from the comfort of their home to queueing at the hospital to get a routine check-up.
This trend can be partly attributed to the advancements in technology and connectivity that are widely accessible by many today. But an even larger boost has been the Covid-19 pandemic, which has accelerated the growth of the telemedicine industry by leaps and bounds.
The telemedicine industry is certainly not new in Malaysia, with several players established in the market even before the outbreak of the virus. However, its adoption really started to take off with the onset of the pandemic.
Doctor Anywhere (DA) founder and CEO Lim Wai Mun can attest to the fact that the pandemic has served as a catalyst for the greater adoption of telehealth services in the region by at least five years. The tech-enabled, omnichannel healthcare service has a presence in five countries — Malaysia, Singapore, Thailand, Vietnam and the Philippines. Having launched its services here in mid-2020, it has seen a fourfold increase during the pandemic.
"As user behaviour shifted to online purchases, we experienced a tremendous uptrend in online medical consultations, medication purchases and demand for home-based healthcare services. In the region, businesses and consumers have developed a better understanding of telemedicine, in part due to the strong encouragement of their governments, and are much more motivated to adopt the service," he tells The Edge in an email reply.
As the acceptance of telemedicine increases, it has allowed the company to go beyond offering virtual consultations to include services like Covid-19 medical advisory clinic, mental wellness support and specialist consultations, says Lim.
Locally established DOC2US has also witnessed the effects of the change, as evident by the growth in e-prescriptions generated by its doctors online since the launch of the service five years ago. From only 500 e-prescriptions in 2017, these surged to 230,000 in 2020 and 322,000 in 2021. "To date, DOC2US has generated and processed a total of 800,000 e-prescriptions," founder Dr Raymond Choy tells The Edge via email.
Prior to the pandemic, DOC2US' daily teleconsultations averaged at 300 calls per day. During the implementation of the various movement restrictions, the company recorded between 1,000 and 1,500 teleconsultations daily.
Are telehealth start-ups here to stay?
However, the rate of growth has started to taper off this year as the economy reopens. According to Choy, while DOC2US is not seeing exponential growth in the number of consultations following the reopening of the economy, the number of teleconsultations has remained steady at between 1,000 and 1,500 calls daily.
"The need for digital health services is not bound by the existence of a pandemic. If anything, the pandemic has only been a catalyst to highlight its importance. In fact, it is even more necessary now because the times call for the adoption of technology," says Choy.
Singapore-based Speedoc, which operates in Malaysia and the city state, has also seen growing acceptance of online consultations in this country. Its data revealed that telemedicine services recorded double-digit growth week on week, especially during the three cycles of the Movement Control Order (MCO), which continued to show a significant take-up two weeks post-MCO.
"This shows Malaysian consumers are learning more and appreciating the convenience of virtual consultations with our doctors, especially when they are unable to visit a clinic or leave their homes, or personally choose not to expose themselves. Yet, they are still able to receive their medicine right after their online consultation on the Speedoc app," say co-founders Serene Cai and Dr Shravan Verma, who is also CEO of the firm.
Undoubtedly, as the popularity of telemedicine grows, so has the competition among the players.
Shravan and Cai say digital health in Asia could climb to US$100 billion (RM438 billion) in value by 2025 due to the ageing populations and increase in chronic-disease incidences in the region. This certainly has made many yearn for a slice of the pie.
Players have learnt to be innovative in order to stay ahead of the curve. Many are tying up with insurance companies, offering consultation or providing post-surgery monitoring care to policyholders. Some also partner with hospitals, specialist clinics and pharmacies to widen their reach.
In recent years, funding has poured into the industry. In Mercom Capital Group's 4Q and Annual 2020 Digital Health (Healthcare IT) Funding and M&A report, it found telemedicine to be the top-funded segment in the digital health category globally in 2020. Venture capital led funding activities, with US$4.3 billion in 2020, a 139% year-on-year increase from US$1.8 billion in 2019.
Among the three companies interviewed, DA — which was established in Singapore — has raised the largest amount of capital since its inception in 2017, amounting to more than S$140 million (RM447 million). In its latest round of Series C fundraising, it raised S$88 million, making it one of the largest private funding rounds to be raised by a healthtech company in Southeast Asia.
Speedoc had raised US$6.7 million in funding at end-2020.
DOC2US has yet to raise any money from investors and has operated based on the funding and investment from its founders. However, it is now seeking to raise US$8 million to US$10 million for R&D on its e-pharmacy model, data analytics and human resources.
As the world transitions to endemicity, it is no surprise that in the absence of MCOs, the growth in the number of consultations in the telemedicine industry is not as robust as it was during the height of the pandemic. This phenomenon isn't unique to Malaysia as such trends are also observed globally.
It does raise the question of whether the telemedicine industry can continue to be as exciting as it had been during the early pandemic years, when growth skyrocketed. Many believe that players will need to continue providing innovative offerings and enhance convenience to users to remain attractive.
DOC2US' Choy believes that the digital health industry as a whole will grow into specialised medical fields such as neurology, endocrinology, psychiatry, cardiology and oncology. "The incorporation and integration of digital health with new technology is also a foreseeable leap in the industry. As part of the growing trend in digital health and medicine, telemedicine software and systems can be integrated with wearable fitness technology, health monitoring devices and even smart vehicles, which further boost accessibility," he says.
"In the near future, health data and medical records can be digitally centralised to be effectively and securely stored and accessed for better patient follow-ups."
DOC2US expanded to Myanmar last year with local partner HOPE Telecare. It intends to continue focusing on Malaysia and establish a better ecosystem with strategic partners before venturing to other countries such as Indonesia, Vietnam and the Philippines in the next three years.
For DA, its key area of focus is to strengthen its suite of products by scaling its tech infrastructure and big-data capabilities to ensure a more seamless online-to-offline user experience.
"Our goal is to become the largest omnichannel telehealth provider in Malaysia. We have expanded our services beyond online consultation with general practitioners to include home-based healthcare services such as vaccination and health screening," says Lim.
"Our aim this year is to deliver medication within an hour, anywhere in the country. We are also developing more tailored services for different demographics, and personalised programmes to manage chronic diseases."
Meanwhile, Speedoc's Shravan and Cai intend to continue pushing the boundaries of healthcare beyond the traditional brick-and-mortar setting to extend its reach further into communities, ensuring healthcare is made more accessible and affordable to patients.
"Introducing a full range of innovative services to a patient's home means greater access to quality care, lower hospital footfall and reduced patient waiting time while maximising cost savings for the patient. A virtual hospital or clinic such as Speedoc can transcend geographical boundaries."