This article first appeared in The Edge Financial Daily, on November 27, 2019.
The Labadi Beach Hotel in Accra.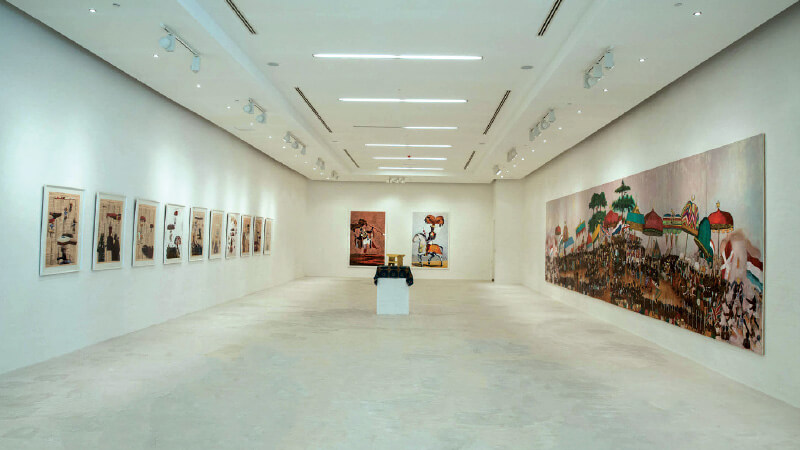 An exhibition of works by Donkor at Gallery 1957 in Accra.
An offer of coffee or warm water is usually as far as most artists go when hosting curious visitors to their creative lair. But when I enter the home studio of Zohra Opoku, a photographer who lives and works in a secluded, woodsy neighbourhood in the northern part of Accra, she has made a fresh salad and a potato casserole in expectation of my visit.
Earlier in the day, I sauntered into the studio of painter Godfried Donkor — who has exhibited in Amsterdam's Stedelijk Museum, the Smithsonian National Museum of African Art, and the Studio Museum in Harlem — and was handed a cup of freshly brewed tea. We talked for an hour.
But that is Accra for you. It sounds cliched, but for West Africans, particularly Ghanaians, friendliness is the default. "We're the happiest, most welcoming people you could ever meet," said Nickie Cartel, a British-Ghanaian DJ, over drinks at Skybar 25, a rooftop venue in the well-heeled Airport Residential area of the capital. As its name implies, this posh hood sits right next to the airport. To a Westerner, that is perhaps antithetical to the idea of luxury, but Accra's rush-hour traffic jams are legendary, so this is where the wealthy live and play. A lot of playing happens inside Icon House, a commercial complex that is home to the elegant steakhouse Urban Grill, the cafe-style cocktail bar Coco Lounge and the velvet-roped club Carbon.
The city itself is attracting both pleasure seekers and cultural tourists. "The art scene is unstoppable," said Victoria Cooke, a director of Gallery 1957. "It feels like right now, the city is filled with creativity." Although time seems to move slower in West Africa, the development in Accra's tourism infrastructure has lured more than one million visitors annually over the last five years, enough for the Ghanaian government to borrow US$40 million (RM167.2 million) from the World Bank as part of a 15-year investment plan to boost tourist spending to US$2.5 billion by 2022.
The new Terminal 3 at Kotoka has been a particular boon. Until it opened in September 2018, the airport served as a notoriously disorganised entry to the country: Bribes, hours-long lines and missing luggage were common. But after a US$278 million investment, the terminal has almost erased the memories of its previous iteration. T3, as it is casually referred to, processes about 1,250 passengers an hour and is designed to accommodate five million passengers a year. Thirty-eight airlines now pass through and international passenger arrivals have grown 6.7% since it opened.
This year is a distinct one for Ghana in another way. The European colonial past is never far from view in Accra, and 2019 marks the 400th anniversary of the first enslaved Africans departing for the 13 British colonies. The government has been reaching across the Atlantic to akwaaba, or welcome, black Americans to explore their heritage. Comedian Steve Harvey and former National Football League quarterback Colin Kaepernick have already made the journey. Across the country, the "Year of Return" has sparked exhibitions and festivals, and will culminate in the Afrochella cultural festival in December.
"The energy and drive of young entrepreneurs and creatives that are bringing fresh new ideas and talent to the city are probably the most exciting aspects of Accra right now," said Anna Robertson, the founder of the Ghanaian clothing brand Yevu. She pointed to residents such as Italo-Ghanaian native Stefania Manfreda, who started the boutique shop Elle Lokko to showcase local designers as much as stage performances and art shows, and Tarek Mouganie, who runs a microfinance platform and is also a co-founder of Accra's exclusive member club Front/Back. "We have a culture of looking after your neighbour," Mouganie said. "We are proud of who we are, what we do, and want others to know it."
The city is so filled with warmth — not only from sweltering tropical conditions — that even funerals here occasion some of Ghana's biggest, liveliest parties. After I send a WhatsApp message to Paa Joe, a long-time maker of ornate "fantasy coffins", his son and studio manager Jacob Ashong invites me to come meet the man known "to give the dead a ride to the afterlife", as he puts it.
"We are glad to have guests," Ashong said. "We're even ready to host anyone who would love to learn this trade." The creations come in many oversize forms, including exotic animals and Nike Air Max sneakers; he created one in the shape of an oak tree trunk in memory of the late Ghanaian diplomat and United Nations secretary-general Kofi Annan. Every August, Joe headlines a funeral processional during the Chale Wote Street Art Festival, where his coffins are danced down the street.
One day in the bustling neighbourhood of Osu, I, too, become absorbed in a funeral processional. The local auntie who passed must have had numerous close relatives: Thousands of people fill the streets, chanting, singing and dancing. Drums bang, a DJ eventually comes on, and the sound rings through the neighbourhood long after I leave. When I come back 10 hours later, it is still in full swing.
Daytime excursion
Horses and live music are fixtures on Accra's beaches, and either La Palm Royal or the Labadi Beach Hotel — which has a lappool, tennis courts and office space for business trips — will get you close to the action. Elsewhere, the Kempinski Hotel Gold Coast is a five-star business hotel designed with gleaming efficiency right in the middle of the city. It has a fun pool scene and offers a sprawling breakfast of fresh tropical fruits. The Kempinski is also home to Gallery 1957 and from there it is a 10-minute taxi ride to Studio Accra, a creative hub of performances and film screenings run by photographer Francis Kokoroko. Twenty minutes from the hotel is the Nubuke art complex, which just reopened after two years of renovation.
For a more planned itinerary, Tastemakers Africa can arrange a tour through the historic neighbourhood of Jamestown, famous for its boxing history, or to the Makola market to buy fabric and have an outfit tailored for you. Tastemakers can also set up studio visits such as the one I took to meet Opoku.
Weekend getaway
The Volta River and its delta flow through beautiful parts of the country. A stay at the Royal Senchi Hotel & Resort, up the river in Akosombo, is a tranquil escape from the dusty bustle of the city. It is set right along the river within a protected natural reserve, and those kayaking and hiking are encouraged to explore the lush tropical surroundings.
In the delta proper is seductive Ada Foah, Accra's answer to the Hamptons. Public accommodations are rare, but if you do not have an invitation to stay with a local, crash at the kitschy Aqua Safari Resort. It has several pools, including one that features a recreation of a local waterfall, complete with giant boulders. Each section touts a different architectural style, whether white stucco or 1970s A-frame wood cabins. It is also a convenient way to end your trip: From here, T3 at Kotoka is a two-hour drive. — Bloomberg