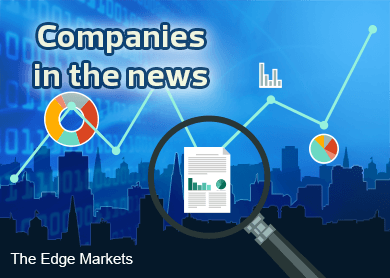 KUALA LUMPUR (April 15): Based on corporate announcements and news flow today, companies that may be in focus tomorrow (Thursday, April 16) could include: TH Heavy Engineering (THHE), Pesona Metro, Mitrajaya, Zhulian, Tropicana, Bintai Kinden, CapitaMalls (CMMT), Matrix Concepts and AmFIRST REIT.
Banking tycoon Tan Sri Quek Leng Chan has ceased to be a substantial shareholder in mid-cap fabricator TH Heavy Engineering Bhd (TTHE), effective yesterday (April 14).
In a filing to Bursa today, TTHE (fundamental: 0.35; valuation: 1.2) said Quek disposed of some 38.86 million shares via his indirect stake in GuoLine Capital Ltd, GuoLine Capital Assets Ltd, Hong Leong Company (M) Bhd and HL Holdings Sdn Bhd.
Quek chairs privately-held conglomerate Hong Leong Co (M) Bhd which is involved in the finance, property and food sectors. Guoline is a subsidiary of the group.
Quek first emerged as a substantial shareholder in THHE when he took up a sizeable stake in the company via a private placement at 45 sen a share in 2013.
Pesona Metro Holdings Bhd has bagged a RM266.75 million contract from PBT Engineering Sdn Bhd to build a 17-storey office block and two SoHo buildings in Cyberjaya, Selangor.
Pesona Metro (fundamental: 1.8; valuation: 0.5) said its wholly-owned subsidiary Pesona Metro Sdn Bhd received the letter of award today for the proposed project.
The project is for 29 months, beginning April 20 this year.
It expects the contract to contribute positively to its earnings and net assets for the duration of the project.
Mitrajaya Holdings Bhd has agreed to dispose of its entire 51% stake in Optimax Eye Specialist Centre Sdn Bhd, which will raise about RM5.1 million.
Mitrajaya (fundamental: 1.7; valuation: 1.4) has agreed to dispose of all of its interest in Optimax comprising 1.28 million shares, representing 51% of the issued and paid up capital of the latter, at a proposed consideration of RM4 per share.
"Pursuant to the pre-emption terms of the shareholders agreement dated Dec 13, 2001, between the company and Datuk Tan Boon Hock (TBH) in relation to the rights and obligations in relation to Optimax, the company has given notice of this intention to TBH, who is to reply within 30 days of his acceptance," it said in its filing to Bursa Malaysia today.
Zhulian Corp Bhd posted a 27% fall in its net profit to RM12.55 million for its first quarter ended Feb 28, 2015 (1QFY15) from RM17.18 million in the previous year, which brought its earnings per share to 2.73 sen from 3.73 sen.
Revenue for the quarter declined 17% to RM55.22 million, from RM66.16 million in the previous year, its filing to Bursa Malaysia showed today.
The group also declared a first interim single tier dividend of 1.5 sen per share for the year ending Nov 30, 2015, payable on May 27, 2015. This is half the 3 sen per share it had paid for the same period last year.
Zhulian (fundamental: 2.7; valuation: 1.4) attributed the fall in its earnings for the quarter to a "drop in local market demand".
Going forward, Zhulian expects the market to remain challenging, but remains cautiously optimistic about its performance for FY15.
Tropicana Corp Bhd is disposing of its entire 73% stake in Tenaga Kimia Sdn Bhd to Austin Powder Asia Pacific for RM194.7 million cash, which will be used to repay debt and for working capital.
The property developer expects to record a net gain of RM48.5 million for its current financial year ending Dec 31, 2015 (FY15), arising from this proposed transaction.
"Tropicana (fundamental: 1.3; valuation: 2.4) will also benefit from interest savings as a result of the utilisation of the sale proceeds to lower borrowings," the group said in a statement today.
Tropicana's wholly-owned unit Tropicana Tenaga Kimia Sdn Bhd signed an agreement with Austin Powder Asia Pacific today, for the proposed disposal.
Bintai Kinden Corp Bhd has bagged a S$17.7 million (RM48.1 million) contract, which involves the maintenance of land-transport premises in Singapore.
Bintai Kinden (fundamental: 0.35; valuation: 1.2) announced to Bursa Malaysia today that Singapore's Land Transport Authority had awarded the contract to Bintai Kinden's 69.82%-owned subsidiary Bintai Kindenko Pte Ltd.
According to Bintai Kinden, Bintai Kindenko received the letter of award yesterday (April 14). "Barring unforeseen circumstances, the targeted date for the project to be completed is by April 29, 2018," Bintai Kinden said.
CapitaMalls Malaysia Trust (CMMT) first financial quarter ended March 31, 2015 (1QFY15) recorded a distributable income of RM40.03 million, down 2.86% on-year from RM41.21 million a year ago.
Distribution per unit (DPU) thus fell 3.02% to 2.25 sen in 1QFY15, from 2.32 sen in the previous corresponding quarter.
CMMT (fundamental: 1.8; valuation: 1.0) said its performance was dragged by an 8.6% increase in finance costs, which is mainly due to the additional revolving credit facilities being drawn for its capital expenditure and the impact of higher interest rate on the floating rate, post Overnight Policy Rate hike in July 2014.
The shopping mall-focused real estate investment trust (REIT) posted a revenue of RM80.98 million in 1QFY15, up 2.55% from RM78.97 million in 1QFY15.
Profit for the quarter was flat at RM38.24 million, compared to RM38.19 million in the previous quarter.
Matrix Concepts Holdings Bhd has proposed a bonus issue together with free new warrants, on the basis of one bonus share and one free warrant for every six Matrix Concepts shares held on an entitlement date to be determined later.
In a statement today, the group said the exercise will see an issuance of up to 77.8 million new ordinary shares of RM1 par and up to 77.8 million 5-year warrants.
The exercise price of the warrants and the expected proceeds will be determined at a later date.
The bonus shares will effectively increase Matrix Concepts' share capital by up to a maximum of RM544.8 million, comprising 544.8 million shares of RM1 par, from 461.4 million shares currently.
The five-year warrants are expected to eventually increase the group's share capital by an additional RM77.8 million, assuming the full exercise of the warrants during the 5-year tenure.
AmFIRST Real Estate Investment Trust (AmFIRST REIT) said the acquisition of Mydin Hypermall in Bukit Mertajam, Penang, is expected to help lift the distribution per unit (DPU) by 0.34 sen per unit per year.
Am ARA REIT Managers Sdn Bhd chief executive officer Wong Khim Chon told reporters after the signing ceremony of the proposed acquisition today, that this is based on lease terms which include an initial net property income yield of 6.5% for the first five years.
The REIT is acquiring the Mydin Hypermall from Mydin Mohamed Holdings Bhd for RM250 million cash. The Edge Financial Daily had on Tuesday (April 14) reported that the store is at the tail end of construction and is expected to commence operations in the third quarter of this year.
Upon completion, the hypermall will be leased to Mydin Mohamed for 30 years, with the rent to be reviewed every five years.
Wong said following the acquisition which is expected to be completed in July this year, the trust will look to pare down its gearing, as it is close to hitting its limit of 50% of assets. AmFIRST REIT (fundamental: 0.6; valuation: 2.7) will fund the acquisition through bank borrowings.
Wong said the gearing level of the REIT will rise to 42.8%, from 32.65% as at March 31, 2014, and that there won't be enough headroom for further expansion, unless the REIT undertakes a private placement or rights issue to pare down its borrowings.
"But we have yet to firm up what we are going to do," he added.
(Note: The Edge Research's fundamental score reflects a company's profitability and balance sheet strength, calculated based on historical numbers. The valuation score determines if a stock is attractively valued or not, also based on historical numbers. A score of 3 suggests strong fundamentals and attractive valuations.)