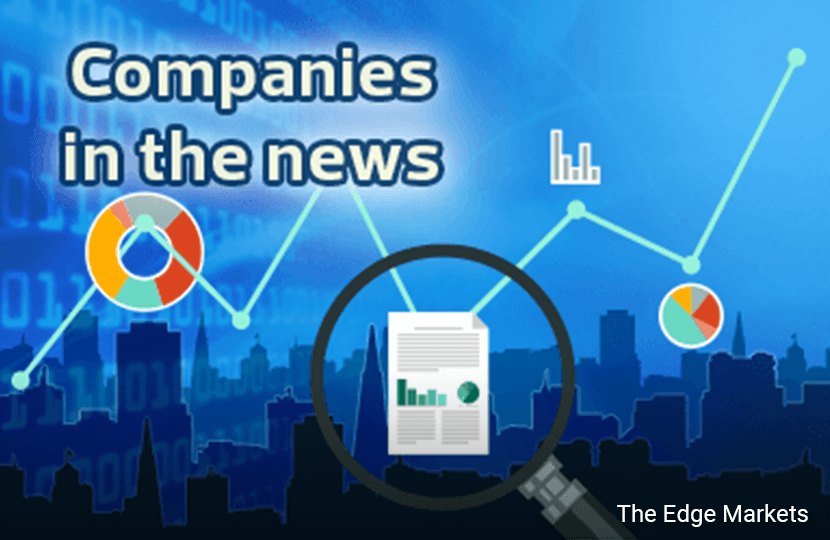 KUALA LUMPUR (Oct 16): Based on corporate announcements and news flow today, companies that might be in focus on Monday (Oct 19) could include: TNB, Mega First, Milux, MQ Technology, Century Logistics, Notion VTec, Ingenuity Consolidated, MPCorp, Caring Pharmacy, Star Media, Hibiscus Petroleum, Komarkcorp and Malakoff.
 
Tenaga Nasional Bhd (TNB) has submitted a conditional offer to acquire the power generation assets of Edra Global Energy Bhd (Edra), from 1Malaysia Development Bhd (1MDB), for an undisclosed amount.
TNB said the conditional offer is subject to its finalising the confirmatory due diligence process, as well as finalising and executing the share purchase agreement (SPA).
Following its in-depth due diligence, TNB believes that as Malaysia's leading national power company, Edra's power generation assets would be a strong fit for its growth strategy, domestically and internationally.
TNB emphasised the conditional offer will be dependent upon the conditions being met by 1MDB; thus there can be no assurance that any transaction will be concluded.
Earlier in the day, it was announced that plans by TNB and SIPP Energy Sdn Bhd to develop a new 1,000-1,400 megawatt (MW) combined cycle power plant in Pasir Gudang, Johor, also known as Track 4A project, have fallen through, after the Energy Commission (EC) rejected the consortium's project proposal.
Following the decision made by the EC, TNB said it will exit from the consortium that was formed with SIPP Energy in July last year, to undertake the development of the Track 4A project.
TNB said the reason why the consortium's proposal, which was submitted on May 15, was not accepted, was because the levelised tariff could not meet the EC's terms in the conditional letter of award.
Mega First Corp Bhd said its 80%-owned power generation unit in Laos, Don Sahong Power Co Ltd, has awarded a US$320 million (RM1.34 billion) contract to China's Sinohydro Corp Ltd, for the development, construction and commissioning of the Don Sahong Hydropower Project in Laos, over a period of 50 months.
Mega First said Don Sahong Power had signed an engineering, procurement, construction and commissioning (EPCC) contract with Sinohydro Corp yesterday (Oct 15), for the proposed hydropower project.
The EPCC contract follows the announcement made by Mega First on Oct 1, that Don Sahong Power had secured a power purchase agreement (PPA) for the proposed hydropower project.
The PPA between Don Sahong Power and Electricité Du Laos (EDL) covers 25 years from the commercial operation of the project. Don Sahong Power will construct a 230kV transmission line from the project's switchyard, to interconnect with the existing EDL grid system.
Household appliance maker Milux Corp Bhd is partnering RGF Cabaran Sdn Bhd (RCSB) to jointly develop 12 pieces of land, measuring 25,832.31 sq m in Bentong, Pahang, into a residential property consisting of condominiums.
Milux said its wholly-owned subsidiary, Milux Properties Sdn Bhd (MPSB), has entered into a joint-venture (JV) cum shareholders' agreement with RCSB, to form a JV company called Phoenix Pentagon Sdn Bhd, to undertake the proposed project, dubbed "Pentagon Genting Highlands".
MPSB will have a 60% stake in the JV company, and RCSB the rest.
MQ Technology Bhd has been asked by Bursa Malaysia to explain the reason behind the recent high trading volume of its shares.
In an unusual market activity (UMA) query today, Bursa asked MQ Tech if there was any corporate development, business negotiation rumour or report, or any other possible explanation that could account for the sharp rise in its volume.
Century Logistics Holdings Bhd has filed a claim against Nestlé Products Sdn Bhd, seeking RM8.44 million, being damages and loss of profit resulting from misrepresentation by the latter.
The logistics company has also filed four counter-claims against Nestlé Products, Nestlé Manufacturing (Malaysia) Sdn Bhd, Nestlé Asean (Malaysia) Sdn Bhd and Cereal Partners (Malaysia) Sdn Bhd, this time to seek outstanding sums, totaling RM853,997.95, being amount payable for services rendered for interim assignments that had been undertaken by Century Logistics' wholly-owned subsidiary, Century Total Logistics Sdn Bhd (CTL).
"The company will be making further announcements, as and when necessary," Century Logistics said in a filing with Bursa Malaysia today.
CTL was served with a writ of summons yesterday (Oct 15), together with a statement of claim in relation to a claim filed by Nestlé Products, alleging CTL had failed and/or neglected to exercise due care, diligence and skill in undertaking its scope of work for outbound logistics services, as set out in Nestlé Products' request for quotation.
Nestlé Products alleged as a result of the failure and/or breach, it had suffered losses totaling RM21.65 million.
Notion VTec Bhd's co-founder and executive chairman Thoo Chow Fah has sold more shares in the hard-disk drive maker, cutting his direct and indirect stake to 4.431%.
According to Notion VTec's filing with Bursa Malaysia today, Thoo disposed of 1.5 million shares or 0.56% of his stake, via the open market today. However, the transacted price was not disclosed.
Notion VTec's share price closed one sen or 2.56% lower at 38 sen today, bringing it's market capitalisation to RM103.28 million. The stock is veering towards a five-year low recorded on Dec 16 last year, when the share price hit 34 sen.
On Tuesday (Oct 13), Thoo had sold 2.7 million shares in the open market and ceased to be a substantial shareholder of the company, which may not go down well with the investor community, considering the company had slipped into the red in the financial year ended Sept 30, 2014 (FY14).
Thoo has been reducing his stake since last month. He has sold a total of 12.05 million shares, equivalent to a 4.49% stake, since Sept 22.
Ingenuity Consolidated Bhd has aborted its plan to implement a private placement exercise that would have involved placing out 119.95 million new shares or 10% of its issued capital, to raise between RM7.54 million and RM12 million.
In a filing with Bursa Malaysia today, Ingenuity said it has decided to withdraw its application to Bursa Securities on Sept 17, for a further extension of time of one month from Sept 19 to Oct 18, for it to complete the implementation of its private placement.
"As such, the private placement will not be implemented and shall be deemed lapsed," it added.
Bursa Malaysia had earlier granted the company a one-month extension from Feb 19 this year to March 18, to complete the implementation of the exercise; and later, a six-month extension from March 19 to Sept 18, to complete the exercise.
Malaysia Pacific Corp Bhd (MPCorp) has once again requested more time to complete the first draft of its special audit, due to technical issues from its accounting systems when retrieving requested information for the financial year ended June 30, 2014 (FY14) and years prior to FY14.
In a filing with Bursa Malaysia today, MPCorp said it would expect to complete the special audit in six weeks, due to the encountered challenges.
"The company is experiencing technical issues from its accounting systems, when retrieving the requested information for FY14 and years prior to FY14. The company has engaged the service provider to recall and to restore the requested information," it added.
"In view of this, the special auditor requires additional time to complete its fieldwork and finalise the first draft report," MPCorp said.
On Aug 21, MPCorp, a Practice Note 17 company, had requested more time to complete the special audit, after it experienced shortage of staff with the resignation of its chief financial officer and accounts staff in the last few months.
MPCorp had said then, that it expected to complete the special audit by the middle of October 2015, due to the encountered challenges.
MPCorp had appointed UHY as special auditor on June 18, to undertake a special audit for the purpose of addressing minority shareholders and Bursa Securities' queries in relation to a number of issues raised in its annual general meeting held on Dec 30, 2014; and the disclaimer opinion issued by its former external auditors on the audited financial statements for FY14.
Caring Pharmacy Group Bhd remains positive that it will continue to be profitable in the current financial year ending May 31, 2016, on the back of expansion and enhancement of its e-commerce platform.
Managing director Chong Yiew Siang said the group will be investing in 10 new outlets this year. The capital expenditure (capex) per new outlet is estimated at RM500,000.
The group hopes to eventually have a total of 120 new outlets in 2016, from its current 104 outlets as at end May 2015.
Star Media Group Bhd announced it is buying out the remaining 49% stake in Li TV Holdings Ltd, which is involved in operating and distribution of English language lifestyle television channel 'Life Inspired', for US$1.5 million (RM6.26 million).
In a filing with Bursa Malaysia today, Star Media said it has entered into a sale and purchase agreement (SPA) with Juita Viden International Ltd, for the said acquisition.
Li TV is currently a joint venture company, whereby Star Media owns a 51% equity stake, and Juita Viden owns the remaining 49% stake.
Star Media said the acquisition will not have a significant effect on its earnings or net assets per share for financial year ending Dec 31, 2015.
Hibiscus Petroleum Bhd expects to start drilling its Sea Lion oil and gas (O&G) field within Australia's Bass Strait, this Oct 25. Drilling is anticipated to take up to 30 days.
In a statement to Bursa Malaysia today, Hibiscus said the O&G field could produce between eight and 15 million barrels of oil.
 
"The Sea Lion prospect is located 6km from the West Seahorse field. In the event of a commercial discovery at Sea Lion, there exists potential for an integrated
development with West Seahorse; thereby materially reducing development and operating expenditure.
"The estimated prospective unrisked recoverable resources is between 8 and 15 million barrels of oil, with a good probability of success," Hibiscus said.
Hibiscus is undertaking the Sea Lion project via wholly-owned subsidiary, Carnarvon Hibiscus Pty Ltd.
Komarkcorp Bhd, which received a non-binding interest indication from France-based Autajon to buy the Malaysian firm's label business, has agreed to allow the French company to undertake a due diligence exercise.
Komarkcorp and Autojon are label manufacturers. Komarkcorp announced to Bursa Malaysia today that it had deliberated on Autojon's letter of intent on its planned acquisition of Komarkcorp's Malaysia, Thailand, Indonesia and China-based units.
"The board of directors of Komark wishes to inform that the board had on Oct 15, 2015, deliberated on the letter of intent and has agreed for Autajon to undertake a due diligence exercise pursuant to the letter of intent," Komarkcorp said.
On Tuesday (Oct 13), Komarkcorp said the due diligence would include the financial, legal, commercial, human resource and regulatory aspects of the operating units.
Malakoff Corp Bhd's 1,000-megawatt (MW) Tanjung Bin Tanjung Bin Energy coal-fired power plant (T4) in Johor is a step closer to its target commission in March next year.
In a statement, Malakoff said the plant was synchronised with the national grid yesterday (Oct 15), marking its initial operation date yesterday.
This follows the T4's first coal-firing of its boiler that was achieved on Aug 27, 2015, the statement read.
Malakoff's chief executive officer Datuk Seri Syed Faisal Albar reiterated the project is right on schedule, as indicated by the synchronisation with the national grid.
"The final stage will be the commercial operation date of the plant, that is expected in March 2016," he added.
(Note: The Edge Research's fundamental score reflects a company's profitability and balance sheet strength, calculated based on historical numbers. The valuation score determines if a stock is attractively valued or not, also based on historical numbers. A score of 3 suggests strong fundamentals and attractive valuations.)