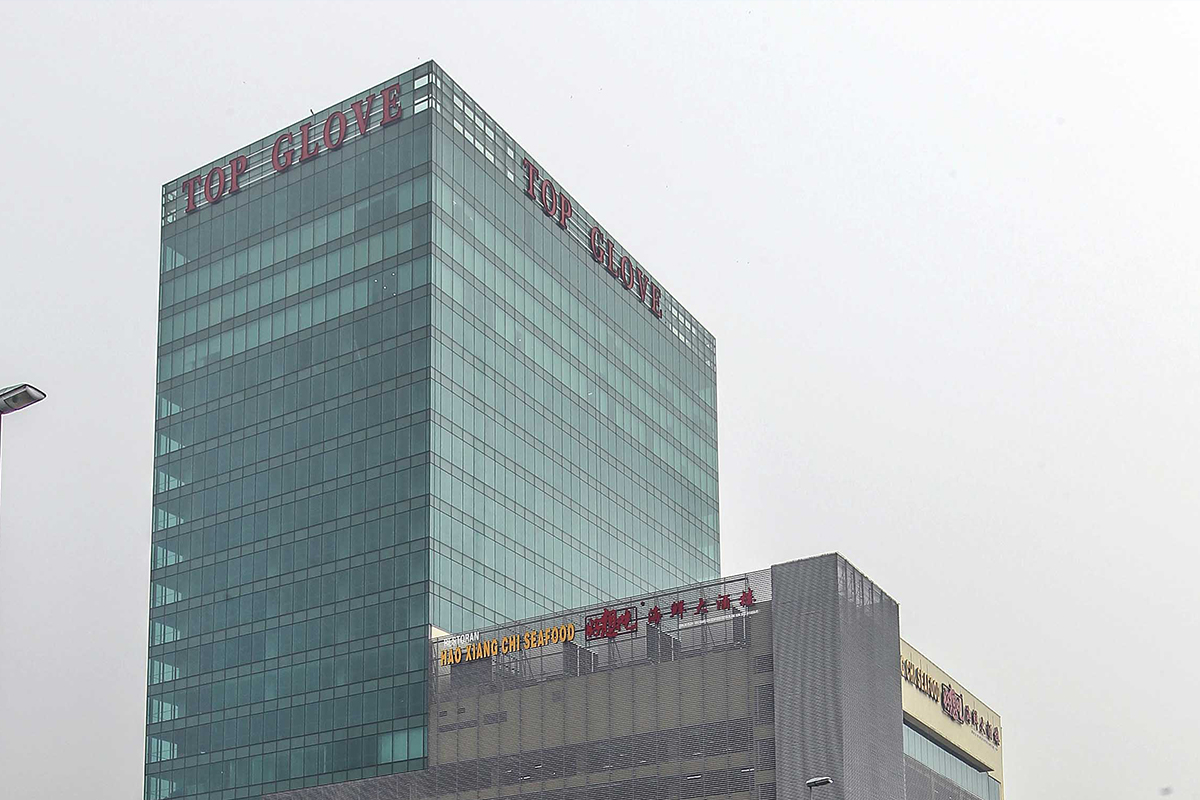 KUALA LUMPUR (March 31): Top Glove Corp Bhd plunged to a 10-month low of RM4.45 today, as the forced labour issue it is facing in the US raises concern on the world's largest glove maker's prospects, moving forward.
Some RM5.26 billion in market capitalisation was wiped off from Top Glove due to the selling pressure this week, as the stock price slides to the lowest level since May last year, when the rally started.
At market close, Top Glove was trading at RM4.52, down 26 sen or 5.44%. This was the third time the glove maker sank below RM5 since the glove mania started last year.
Selling pressure is also mounting on its peers Supermax Corp Bhd and Hartalega Holdings Bhd.
Supermax fell as much as 19 sen or 4.81% to RM3.76, before closing at RM3.81. Hartalega, the sixth biggest loser today, sank as much as 46 sen or 4.91% to RM8.90, before settling at RM8.93.
"The selling pressure could be due to the recent development in forced labour issue. I reckon this gives traders additional impetus to short the sector," Rakuten Trade Research head of Research Kenny Yee told theedgemarkets.com.
However, he foresees bargain hunting emerging in the sector, when the selling dries up.
AmInvestment Bank Research said in a note yesterday, total sales to the US provided roughly 25% of total Top Glove sales in FY19, and the average selling price in the US is estimated to be at a 5% premium, compared to that of other countries.
"While glove demand is projected to remain elevated in the next few years, it is unlikely that the company will find viable substitutes for the entire US customer base. This will affect the group's earnings as glove urgency begins to normalise," it said.
AmInvestment Bank noted that this provides local peers, as well as China players such as Blue Sail Medical and Intco Medical, with additional bargaining power amongst US customers.
The research house has maintained a "hold" call on Top Glove with an unchanged fair value of RM5.46 per share, based on a price-to-earnings ratio of 23 times on 2022 forward earnings per share, incorporating an ESG-adjusted discount of 3% for the research house rating of two stars.
Commenting on the forced labour issue, Top Glove said it is unable to ascertain the quantum of the financial and operational impact arising from the US Customs and Border Protection's (CBP) directive to its personnel at all US ports of entry, to begin seizing disposable gloves produced in Malaysia by Top Glove over forced labour allegations.
It also said that its US counsels are in midst of liaising with representatives of the CBP to obtain more clarity and information on the latest order issued.
"The company wishes to inform all its stakeholders that it will take all necessary steps to address the issue and shall make the necessary announcements as appropriate, when there are further developments in the above matter," it said.
The CBP on Monday said in a statement that it had directed its personnel at all US ports of entry to begin seizing disposable gloves produced in Malaysia by Top Glove, after the CBP Office of Trade, in consultation with the secretary of the Treasury, published forced labour allegation findings against Top Glove.
Read also:
Top Glove unable to ascertain impact of US seize order over forced labour claims
US Customs issues seize order on Top Glove products on forced labour finding
US CBP finds Top Glove products manufactured using convict, forced, indentured labour
Kathy Fong & Tan Choe Choe