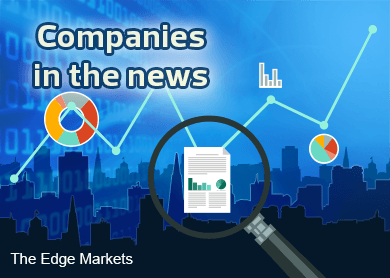 KUALA LUMPUR (May 7): Based on corporate announcements and news flow today, companies that may be in focus tomorrow (Friday, May 8) could include: Top Glove, Gas Malaysia, PetChem, Benalec, Daibochi, Asia Poly, Brahim's, MBSB and TNB.
Top Glove Corp Bhd is acquiring a 1.5 acre commercial plot in Bukit Raja, Selangor, from Century Logistics Holdings Bhd for RM20.26 million, cash.
Top Glove (fundamental: 2.5; valuation: 1.3) told Bursa Malaysia its wholly-owned unit Top Glove Properties Sdn Bhd has signed a sales and purchase agreement (SPA) with Century Total Logistics Sdn Bhd, a wholly-owned subsidiary of Century Logistics, to effect the acquisition.
It said the purchase consideration which is not inclusive of the 6% goods and services tax (GST), will be funded by internally-generated funds. The acquisition is expected to complete within three months from the date of the SPA.
Gas Malaysia Bhd saw its net profit for the first quarter ended March 31, 2015 (1QFY15) dropped 31.5% on-year to RM28.49 million or 2.22 sen a share, as compared with RM41.61 million or 3.24 sen a share, mainly due to tariff revision resulting in lower gross profit.
Revenue however rose 31.2% to RM761.58 million, from RM580.57 million in 1QFY14, on higher volume of gas sold and an upward revision of the natural gas tariff.
"The board anticipates the increase in gas volume and number of customers to sustain in financial year 2015 ending Dec 31. The profitability of the group for FY15 is expected to be in tandem with the level reflecting the current tariff setting mechanism framework," said Gas Malaysia (fundamental: 2.1; valuation: 1.1) in a filing with Bursa.
Petronas Chemicals Group Bhd (PetChem) recorded a 19.23% on-year decline in net profit to RM605 million in the first quarter ended March 31, 2015 (1QFY15), from RM749 million, on narrower product spreads.
This translates into lower earnings per share of 8 sen in 1QFY15, as compared to 9 sen in 1QFY14.
In a filing with Bursa, PetChem (fundamental: 2.7; valuation: 1.1) said its 1QFY15 revenue dipped 17.5% to RM3.14 billion in 1QFY15, compared with RM3.806 billion in 1QFY14, due to lower average realised product prices which have offset higher sales volumes and favourable exchange rate movements.
The slide in quarterly profit caused its earnings before interests, taxes, depreciation and amortisation (EBITDA) to decline by RM129 million or 10% to RM1.1 billion.
Benalec Holdings Bhd's wholly-owned unit Benalec Sdn Bhd (BSB) is being sued by Sentosacove Sdn Bhd for an alleged breach of agreement relating to marine reclamation works in Klebang, Melaka.
In a filing today, Benalec (fundamental: 1.15; valuation: 0.6) said BSB received the originating summons and statement of claim on April 30, and that Sentosacove is alleging BSB had breached its contractual and implied duties under the reclamation agreement which was inked on Sept 10, 2010.
Under the agreement, Benalec was appointed as contractor to carry out marine reclamation works to reclaim a total area spanning 720 acres in Klebang.
Benalec said it is rigorously contesting the alleged claims and has instructed its solicitors to defend the case, as well as to file counter claim(s), if it is necessary and justified.
"The company is of the view that the plaintiff's claims are without merit and the company has a valid and strong defence against the plaintiff's claims," said Benalec in the announcement to the stock exchange.
Benalec said it cannot ascertain the financial impact of the suit now, but will make further announcements on the development of the matter as and when necessary.
Daibochi Plastic and Packaging Industry Bhd's net profit dropped 6.3% to RM6.19 million or 5.45 sen a share for its first quarter ended March 31, 2015 (1QFY15), from RM6.6 million or 5.8 sen a share a year ago, on higher depreciation and labour costs.
Revenue for 1QFY15 also fell 4.7% to RM86.16 million, from RM90.39 million in 1QFY14, due to a slight decline in export sales for the quarter, as well as deferred orders for its new product lines to the second and third quarter of 2015, said Daibochi (fundamental: 1.5; valuation: 1.1) in a statement.
The group also declared a first interim dividend of 3.5 sen per share for the financial year ending Dec 31, 2015 (FY15), which translated into a payout of about RM4 million or 64.4% of 1QFY15's net profit. The dividend is payable on June 19, 2015.
Daibochi managing director Thomas Lim Soo Koon said both developed and developing countries still hold strong growth potential in the long term, alongside rapid urbanisation and increased consumer mobility.
"Daibochi had in 2QFY15, commercialised our in-house developed innovation for a leading multinational corporation's (MNC) fast moving consumer goods (FMCG) products in Australia," he said in the statement.
Asia Poly Holdings Bhd's substantial shareholder Teoh Cheng Chuan has disposed an 11.4% stake or 10 million shares in the company.
According to a filing with Bursa today, Teoh sold the block of shares at 43 sen through off market deal yesterday (May 6), halving his remaining interest to an 11.4% stake or 10 million shares in Asia Poly.
Asia Poly (fundamental: 0.55; valuation: 0.5) is a manufacturer of A-Cast branded cast acrylic sheets. These sheets can be used for back-lit lighting applications, such as signboards and lighting displays.
The company's share price has doubled since early April, from 24.5 sen to a high of 53 sen yesterday (May 6). The stock closed at 51.5 sen today, down 1.5 sen or 2.8% from previous day's closing, giving it a market capitalisation of RM46.16 million.
Brahim's Holdings Bhd confirmed today that it is still in discussions with Malaysian Airline System Bhd (MAS) to mutually extend the cut-off date for the former's new catering agreement.
This confirms a report by The Edge Financial Daily published today, which stated negotiations for a new catering agreement have yet to be concluded, despite it having exceeded the revised April 30 cut-off date.
In a filing with Bursa, Brahim's (fundamental: 0.35; valuation: 1.2) said its 70%-owned subsidiary Brahim's Airline Catering Sdn Bhd (BAC) is still engaged in discussions to mutually extend the new agreement cut-off date, which expired on April 30, 2015.
"The company will make further announcement on the developments," it added.
Both Brahim's and MAS had both agreed on April 1 to extend the new catering agreement cut-off date from March 31 to April 30.
Malaysia Building Society Bhd (MBSB) saw its net profit drop 37% to RM124.31 million for its first quarter ended March 31, 2015, from RM196.73 million a year earlier, mainly due to significantly higher bad loan allowance as Islamic banking net income fell.
In its filing with the exchange today, MBSB (fundamental: 1.2; valuation: 3) said net profit had also fallen on higher operating expenses. The profit fall was despite revenue increasing to RM690.6 million, from RM667.11 million.
"The higher allowances for impairment losses are in line with the group's ongoing impairment programme under its strategy to align its policies with industry best practices and banking standards.
"The revenue performance shown in the first quarter of 2015 is partly due to the company's substantial efforts in penetrating the corporate segment and this has resulted in a slight asset growth, amidst a challenging retail banking environment," said MBSB president and CEO Datuk Ahmad Zaini Othman.
According to MBSB's income statement, allowance for impairment loss on loans, advances and financing jumped to RM101.32 million, from RM15.19 million.
With several power assets that are reported to be up for sale, Deutsche Bank Markets Research has raised concerns on the risk of Tenaga Nasional Bhd overpaying for these assets.
Also, Duetsche Bank foresees electricity tariff reduction going forward.
"There are no details on the assets up for sale, but we are concerned about Tenaga overpaying for these assets, if it participates," said Deutsche Bank in a report.
Deutsche Bank has downgraded the utility group to "sell" recommendation and slashed target price by 27% to RM11.50, as compared to the market price of RM14.16.
Speculation is rife that 1Malaysia Development Bhd (1MDB) is looking for buyers for its power assets to raise fresh capital. Tenaga is perceived to be a prospective buyer. Also, there is rumour that Tenaga is currently in talks with Jaks Resources Bhd to acquire a majority stake in the latter's 2X600MW coal-fired power plant project in Hai Duong, northern Vietnam.
In the report, Deutsche Bank wrote that such concern came after Tenaga's proposed takeover of Integrax Bhd for RM780 million, which was priced 24 times forward the former's price earnings (PE).
Deutsche Bank pointed out that TNB's aggressiveness in acquiring Integrax, a port operator, signals a worrying trend on future acquisitions.
(Note: The Edge Research's fundamental score reflects a company's profitability and balance sheet strength, calculated based on historical numbers. The valuation score determines if a stock is attractively valued or not, also based on historical numbers. A score of 3 suggests strong fundamentals and attractive valuations.)