This article first appeared in The Edge Financial Daily, on March 11, 2020.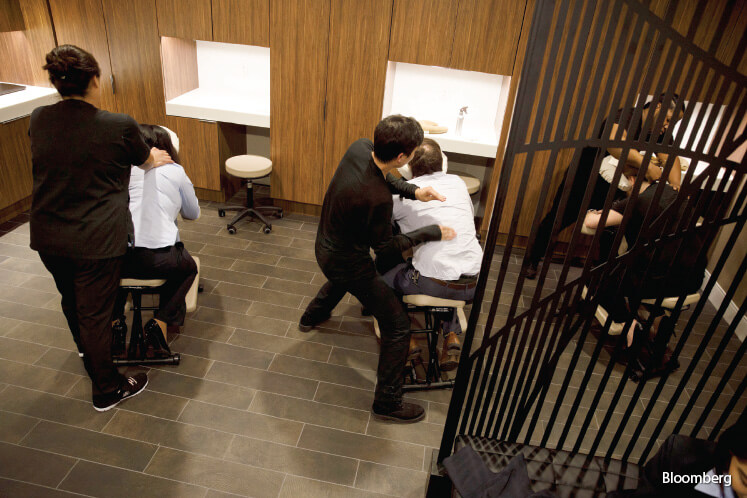 IN the battle for premium cardholders, American Express Co's (Amex) latest weapon is the scent of leather and ear reflexology.
Amex on Monday opened its newest Centurion Lounge at Los Angeles International Airport (LAX), with plans to open an additional three — at Denver International Airport, Heathrow Airport in London, and John F Kennedy International Airport in New York — in the coming months. The LAX lounge will be Amex's 12th and its most ambitious yet, spanning roughly 14,000 sq ft, with access from five terminals.
The card issuer is making major investment this year to provide cardholders more access to airport lounges around the world. Amex has told shareholders that spending on membership services, which includes its lounge collection, will be its fastest-growing expense this year — cost decisions that came prior to the current crimp on global travel due to Covid-19. The company spent US$2.2 billion (RM9.31 billion) on such cardholder services last year, a 25% increase from 2018.
"The lounges drive the decision to get the Platinum card," says Alex Lee, the company's vice-president of travel experiences and benefits. "We look at this as a very durable benefit that's tough to replicate. It's highly experiential. Our customers — every time they think of Amex and the Platinum card, they think of lounges."
Amex opened its first Centurion Lounge in Las Vegas in 2013. According to Lee, the site was an experiment of sorts to see if consumers would even use the lounge. It quickly became customers' most cited travel benefit.
In designing that first lounge, Amex worked to develop a signature scent — with ingredients including bergamot, pink peppercorn, lavender, vetiver, and leather — that would waft through the area. In recent promotional mailers for its US$550-a-year Platinum card, Amex touted the lounge collection and included a scratch-and-sniff section, intending to lure potential cardholders with a whiff of the scent.
Scent memories
"It helps our customers immediately recognise our brand," says Walter Frye, who leads global brand engagement for the company. "So when you walk into the space, whether it's unconscious or conscious, you start to know you're in an Amex environment." It's the same rationale luxury hotels use, feeding the estimated US$300 million scent-branding industry.
The site at LAX will offer a moonrise tranquillity room designed to feel like a starry night, as well as a sunrise room, with dawn-like lighting, to help travellers transition between time zones, as well as such photo moments as a green wall for the all-important Instagram brag. And, of course, free food and booze, with Southern California-inspired cocktails designed by Jim Meehan. On tap in the spa is ear reflexology massage and reiki energy treatments — all free.
"We wanted it to be special and a complete departure from the airline environment," Lee says of the design and offerings across the Centurion portfolio.
The investment in lounges is part of the card issuer's ongoing struggle with rivals, including JPMorgan Chase & Co, for premium-card customers. Four years ago, JPMorgan debuted the massively popular Sapphire Reserve card, a move that Amex at the time called a "full frontal assault" on its premium offerings. In response, it quickly moved to add new perks and benefits to its Platinum card, its largest portfolio in the US.
Since then, 50% of new Platinum customers have been under age 35, partly the result of Amex's focus on enticing Gold cardholders to upgrade. The number of Platinum accounts has climbed 60% in that time.
"We have some really good competitors," Amex chief financial officer Jeff Campbell told investors this week. "Sitting here now, in hindsight, I actually think their launch of the Chase Sapphire Reserve card was tremendously positive for us." — Bloomberg