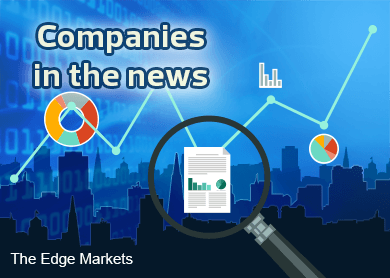 KUALA LUMPUR (May 5): Based on corporate announcements and news flow today, companies that may be in focus tomorrow (Wednesday, May 6) could include: Tune Ins, Wing Tai Malaysia, KLCC Stapled Group, Hartalega, MAHB, Fraser & Neave (F&N), CB Industrial Product (CBIP), Three-A Resources and Handal Resources.
Tune Ins Holdings Bhd has proposed to acquire a 50% stake plus one share in Indonesian insurance provider PT Asuransi Staco Mandiri (ASM) for 82.86 billion rupiah (RM22.9 million).
In a filing with Bursa Malaysia today, Tune Ins (fundamental: 2.7; valuation: 0.35) said it has executed a conditional binding offer letter to acquire 38,235 shares or 23.33% of ASM's enlarged share capital from the vendors, for 26.76 billion rupiah.
The group will also subscribe to the entirety of 43,707 newly-issued shares or 26.67% of ASM's enlarged share capital under the agreement, for 30.59 billion rupiah.
To facilitate the acquisition, Tune Ins had entered into a cooperation agreement with PT Cahaya Putratama Abadi (CPA), for the latter to assist the group in becoming the holding company of ASM and also for business development services for the expansion of its insurance business in Indonesia for 25.5 billion rupiah.
It said the Investment in ASM will enable Tune Ins Group to have a controlling interest in a local general insurer in Indonesia, through which Tune Ins Group can directly underwrite its online insurance businesses and offer products through other channels in the fast growing and sizeable markets in Indonesia.
Wing Tai Malaysia Bhd's net profit slid 42% to RM8.5 million in the third quarter ended Mar 31, 2015, from RM14.6 million in the previous corresponding quarter, as the group was hit by the slowdown in the property market and weak consumer spending. Revenue was down 27% to RM82.99 million, from RM113.47 million a year earlier.
In a statement to Bursa, Wing Tai (fundamental: 1.5; valuation: 2.4) said for the nine-month period, net profit jumped 27.6% to RM52.31 million, from RM40.99 million in the same period last year; but revenue declined 13.3% to RM249.8 million, from RM288.0 million previously.
The property developer that also delves into lifestyle and fashion retailing, said its higher profit for the nine months was mainly due to a gain on disposal of shares in its joint venture (JV) PT Windas Development in Indonesia.
It said the lower revenue from the property development division was mainly attributable to lower revenue recognition from its Verticas Residensi project.
Meanwhile, in a separate announcement, Wing Tai has proposed to undertake a renounceable rights issue of up to 164.195 million shares, which is expected to raise a gross proceeds of up to RM197 million.
The diversified group said the gross proceeds raised from the exercise will be utilised for development expenditure and working capital, which will be used within 36 months.  
Wing Tai said the rights issues is on the basis of one rights share for every two existing shares held by the entitled shareholders of Wing Tai. The group, however, has yet to determine the final rights issue price and the actual number of rights shares to be issued.  
Wing Tai indicated the rights issue price is expected to be fixed at a discount of up to 30% to the theoretical ex-rights price (TERP) of the shares immediately preceding the price-fixing date, adding it shall not be lower than the par value of RM1 each.
The KLCC Stapled Group, consisting KLCC Property Holdings Bhd (KLCCP) and KLCC Real Estate Investment Trust (KLCC REIT), saw a marginal 3% decline in its net profit to RM178.51 million for the first quarter ended March 31, 2015 (1QFY15), from RM183.96 million a year earlier.
The lower quarterly profit was in line with a 4% fall in revenue to RM326.89 million, from RM340.88 million in the previous year.
The stapled group (fundamental: 1.6; valuation: 2.1) declared a total dividend payout of RM150.57 million or 8.34 sen per stapled security for the quarter (1QFY14: 8.65 sen): comprising a dividend of 3.02 sen for KLCCP and an income distribution per unit of 5.32 sen for KLCC REIT, payable on June 12, 2015.
In a filing with the exchange, the group said its property investment–office segment saw marginally lower rental revenue for the quarter, due to the closure of City Point Kompleks Dayabumi for new development.
Hartalega Holdings Bhd reported a higher net profit of RM55 million in the fourth quarter ended Mar 31, 2015, against RM49.3 million in the previous corresponding quarter, on the back of higher sales and adjustment of tax rates.
Hartalega (fundamental: 2.6; valuation: 0.5) declared a third interim dividend of three sen per share for its financial year ended Mar 31, 2015. This raised the total dividend for the year to 13 sen per share, compared with 14.5 sen per share the year before.
Its revenue for the quarter stood higher at RM305.1 million, from RM280.3 million a year earlier.
The increase in revenue was attributable to the start-up of the group's Next Generation Integrated Glove Manufacturing Complex (NGC) facilities in December last year, it said.
For the full-year, Hartalega recorded a lower net profit of RM209.6 million or 27 sen per share, against RM232.8 million or 31.3 sen per share in the year before, due to lower average selling price as a result of declining raw material costs, and the start-up cost of NGC.
Revenue for the year grew 3.5% to RM1.145 billion, from RM1.107 billion last year, due to higher sales volume.
Malaysia Airports Holdings Bhd (MAHB) saw its net profit plunge 74.69% to RM32.58 million or 1.28 sen a share for the first financial quarter ended March 31, 2015 (1QFY15), from RM128.71 million or 10.19 sen a share a year ago, mainly dragged by finance cost.
In a filing with Bursa, MAHB (fundamental: 1.15; valuation: 1.4) said its finance cost surged over 22 times to RM159.91 million, compared with RM7.26 million in 1QFY14.
Finance cost arose from interest expenses for loans taken to support the airport operator's working capital, including airport services, project and repair, and maintenance activities.
Revenue for 1QFY15 however, rose 12.18% to RM876.18 million, from RM781.08 million a year ago, driven by its non-aeronautical business which includes lease of commercial spaces (rental), management and operations of airport parking facilities, advertising business, the airside transit hotel and the Sama-Sama hotel operations.
MAHB also said passenger movements for its airports fell by 1.5% to 20.3 million passengers in 1QFY15, from 20.6 million passengers previously.
Fraser & Neave Holdings Bhd (F&N) posted a 3.52% increase in net profit to RM70.49 million or 38.4 sen a share for its second financial quarter ended March 31, 2015 (2QFY15), up from RM68.091 million or 37.5 sen a share a year ago, driven by its dairies business.
Revenue grew a marginal 0.48% to RM939.885 million, from RM935.395 million in 2QFY14.
The soft drinks manufacturer also declared an interim dividend of 22 sen per share, amounting to RM80.6 million for the financial year ending Sept 30, 2015 (FY15), payable on June 12, 2015.
F&N (fundamental: 2.1; valuation: 1.1) said the soft drinks' revenue was lower by 11.8% compared with the corresponding quarter's, despite effective Chinese New Year trade and promotion activation.
It said the lower sales revenue and volume for all products was predominantly due to the heavy pre-goods and services tax (GST) destocking by both its distributors and retailers, which it expects to recover in April and May.
CB Industrial Product Holdings Bhd (CBIP) bagged a mechanical, civil and electrical works contract worth RM74.92 million from PT Sinar Mas Group.
The group said its wholly-owned subsidiary Modipalm Engineering Sdn Bhd has received the Letter of Acceptance (LoA) dated April 29 from Golden Veroleum (Liberia) Inc, a subsidiary of PT Sinar Mas Group.
CBIP (fundamental: 3; valuation: 1.8) said the contract, worth US$20.984 million or equivalent to RM74.9 million, was for the mechanical, civil and electrical works for Tarjuowon Palm Oil Mill 40/80 TPH and Greenville Bulking Station, Liberia.
CBIP said the job is expected to contribute positively to the group's earnings for the financial years ending Dec 31, 2015 and 2016.
Three-A Resources Bhd's net profit for the first quarter ended March 31, 2015 (1QFY15) was down slightly by 2.36% to RM3.51 million or 0.89 sen a share, from RM3.6 million or 0.91 sen a share last year, on lower turnover.
Quarterly revenue came in at RM74.593 million, 2.7% lower compared to RM76.638 million in 1QFY14, on marginally lower sales of the group's products.
Three-A Resources (fundamental: 2.1; valuation: 1.4) said its profit before tax (PBT) for the quarter stood at RM5.93 million or 2.7% higher against RM5.775 million last year, due to foreign exchange gain and lower financial cost.
However, its PBT showed a decline of 14.6% to RM5.932 million against RM6.947 million in the preceding quarter, due to lower turnover and product margins.
Handal Resources Bhd meanwhile, has clinched a RM14.6 million crane fabrication contract from SapuraKencana Petroleum Bhd.
The integrated offshore crane services provider and fabricator said its wholly-owned unit Handal Offshore Services Sdn Bhd has received the letter of award in relation to the works from SapuraKencana (fundamental: 1.3; valuation: 1.4).
Handal Resources (fundamental: 1.4; valuation: 1.7) said the contract stipulated the engineering, procurement, construction, installation and commissioning of offshore pedestal cranes to SapuraKencana, to be delivered within one year.
(Note: The Edge Research's fundamental score reflects a company's profitability and balance sheet strength, calculated based on historical numbers. The valuation score determines if a stock is attractively valued or not, also based on historical numbers. A score of 3 suggests strong fundamentals and attractive valuations.)