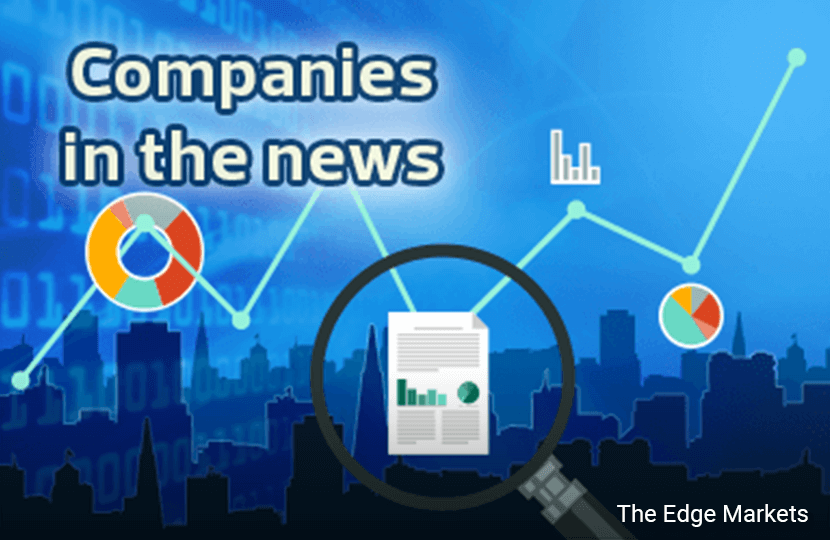 KUALA LUMPUR (Oct 29): Based on corporate announcements and news flow today, companies that may be in focus tomorrow (Fri, Oct 30) could include the following: Unisem, D'nonce, Public Bank, IHH Healthcare, Gadang, Maybank, Sasbadi, Homeritz, Cycle & Carriage, Sunway REIT and Tenaga.
Semiconductor manufacturer Unisem (M) Bhd's net profit rose 48% to RM40.2 million or 5.5 sen per share for its third quarter ended Sept 30, 2015 (3QFY15), from RM27.12 million or 4.02 sen per share a year earlier, mainly due to higher revenue.
The quarter's revenue came in 21% higher at RM329.61 million, from RM273.27 million in 3QFY14, its filing to Bursa Malaysia showed, primarily because of consistent demand for its products and the strengthening of the US dollar against the ringgit and yuan exchange rates, compared to a year ago.
Besides the favourable foreign exchange rates, Unisem's performance was supported by better contribution from its wafer bumping and advanced package operations, coupled with lower interest expense.
Hence, for the nine-month period (9MFY15), Unisem's net profit doubled to RM95.12 million, from RM47.23 million in 9MFY14; while revenue rose 21% to RM908.46 million, from RM752.9 million.
Its Asian segment's revenue for 9MFY15 increased by 35%, while its US and Europe segments improved by 12.9% and 10.1% respectively.
Going forward, the group expects its performance to remain satisfactory for the remainder of its current financial year.
Diversified entity D'nonce Technology Bhd sunk into the red with a net loss of RM1.59 million in the fourth quarter ended Aug 31, 2015 (4QFY15), compared to a net profit of RM4.27 million a year earlier, on lower logistics and contract manufacturing revenue.
Higher finance cost and taxation also led to the 4QFY15's net loss. Revenue fell to RM39.78 million, from RM55.14 million.
Full-year net profit shrank to RM389,000, from RM2.31 million a year earlier, on higher revenue of RM223.77 million versus RM178.76 million.
D'nonce said it was mindful of the challenging business landscape, which justified the need to explore the feasibility of other businesses.
Japan-based Mitsubishi UFJ Financial Group Inc became a substantial shareholder in Public Bank Bhd with a 5.002% stake, after purchasing 193.15 million shares in the Malaysian entity.
According to Public Bank's statement to Bursa today, Mitsubishi UFJ made the purchase on Oct 21 this year.
Malaysia's healthcare services provider IHH Healthcare Bhd is going to open its RM400 million Gleneagles Medini Hospital in Nusajaya, Johor.
The 300-bed tertiary hospital — which is located in Medini, Nusajaya, on a 15-acre site — is IHH Healthcare's 14th hospital in Malaysia.
Gleneagles Malaysia's chief operating officer, Dato Amir Abdullah Firdaus, said the new medical facility would help boost Iskandar Malaysia's attractiveness as a regional medical hub.
He said ultimately, 138 medical suites will be leased to specialists who wish to set up their own clinics and practices within the hospital premises, which has five centres of excellence — Cardiology, Orthopedics, Women and Children, Oncology and Ophthalmology.
Civil engineering and construction outfit Gadang Holdings Bhd saw its net profit for the first quarter ended Aug 31, 2015 (1QFY16) surge 118.66% to RM20.86 million or 9.61 sen per share, from RM9.54 million or 4.41 sen per share a year ago, primarily driven by higher contributions from property activities.
Revenue for the quarter came in 12% higher at RM149.38 million, from RM133.36 million in 1QFY15, according to its Bursa filing.
Gadang said profit before tax for its property division jumped 348.8% to RM16.65 million, from RM3.71 million last year, mainly due to higher development progress for various projects and changes in accounting estimates for revenue recognition treatment of its Capital City Project.
On prospects, Gadang expects earnings to improve in the current financial year ending May 31, 2016 (FY16), driven by strong outstanding order book of some RM805 million for the construction division — the core revenue generator for the group.
Malayan Banking Bhd (Maybank) saw its Indonesian outfit PT Bank Maybank Indonesia Tbk's net profit for the nine months ended Sept 30, 2015 (9MFY15) surge by 70.7% to Rp592 billion, from Rp347 billion in 9MFY14.
The strong performance was achieved on the back of improved net interest income (NII), better net interest margin (NIM), higher fee-based income, solid growth on liquidity — especially in current accounts, and outstanding achievement in syariah banking.
Its Indonesian arm said in a statement today that its NII increased 10.5% to Rp4.8 trillion in September, as its NIM improved to 4.82% from 4.63%, due to the bank's discipline in loan pricing and active funding management.
The bank's fee-based income (other operating revenue) recorded an increase of 12.4% to Rp1.6 trillion, driven mainly by fees from advisory activities, insurance, and foreign exchange transactions.
Meanwhile, the bank saw a loan growth of 6.6% to Rp111.5 trillion, despite the more challenging business environment and weaker domestic economy, with business (up 12.2% to Rp43.6 trillion) and retail banking (up 12.3% to Rp44.7 trillion) as its growth drivers.
As at Sept 30, its total customer deposit stood at Rp110.6 trillion, with Rp153.9 trillion in assets; while non-performing loans stood at 4.34% (gross) and 2.79% (net).
Sasbadi Holdings Bhd posted a net profit of RM2.23 million for fourth quarter ended Aug 31, 2015 (4QFY15), up 83% from RM1.22 million a year ago, due to the acquisition of a 70% stake in Sanjung Unggul Sdn Bhd.
The group recommended a final dividend of two sen per share, bringing its total dividend for FY15 to five sen per share.
In its Bursa note today, Sasbadi said the improvement was mainly attributable to the contribution from Sanjung Unggul, which publishes books and education materials for national-type Chinese school students.
Sasbadi's revenue for 4QFY15 rose 14.38% to RM20.10 million, from RM17.58 million last year.
For the full year (FY15), the group posted a net profit of RM15.33 million for an increase of 25.15%, from RM12.25 million in FY14; while revenue rose by 9.93% to RM87.41 million, from RM79.51 million. Earnings per share for FY15 thus rose to 12.07 sen, from 11.32 sen.
Sasbadi said it is "cautiously optimistic" of its prospects and performance for FY16, and will continue to pursue acquisition opportunities, besides organic growth, as a strategy for growth.
Furniture maker Homeritz Corp Bhd registered a net profit growth of 27.91% to RM6.64 million for its fourth quarter ended Aug 31, 2015 (4QFY15), from RM5.19 million a year ago, on higher sales and the strengthening of the US dollar.
Earnings per share thus improved to 2.21 sen, from 1.73 sen.
Its latest quarterly revenue rose by 14.7% to RM38.11 million, from RM33.24 million a year ago.
The group proposed a final dividend of 2.5 sen per share, bringing total dividend to four sen per share for FY15, its filing to Bursa showed.
For its full financial year (FY15), Homeritz posted a net profit of RM23.55 million, an increase of 16.32% from RM20.25 million in FY14; while revenue rose by 15.13% to RM146.42 million, from RM127.18 million last year.
Despite an improved financial performance, the group noted it is operating under conditions like global economic uncertainties, increases in its raw materials costs, and fluctuation in foreign exchange rates.
Nevertheless, it expects to remain profitable in FY16.
Higher sales of Mercedes Benz vehicles resulted in Cycle & Carriage Bintang Bhd's net profit surging over fourfold to RM13.46 million or 13.36 sen per share in the third quarter ended Sept 30, 2015 (3QFY15), compared to RM3.34 million or 3.31 sen per share in the previous corresponding quarter.
Its cumulative nine-month period's (9MFY15) net profit rose almost six times to RM41.93 million or 41.62 sen per share, from RM7.07 million or 7.02 sen per share in 9MFY14, its filing to Bursa today showed.
Its 9MFY15 revenue was up 86.12% to RM1.192 billion, from RM640.45 million in 9MFY14.
Cycle & Carriage said the group's good 9MFY15 results reflected good trading performance and the recognition of divided income (RM11.2 million) received from Mercedes-Benz Malaysia, the group's joint venture with Daimler AG.
A net profit of RM30.7 million was recognised by the Mercedes-Benz operations, compared with RM7.1 million in the previous year, due to the increased revenue with improved margins, especially from hybrid models.
The group expects trading conditions to become more difficult and competition to increase in the remainder of the year, in the face of a weakening economy.
Sunway Real Estate Investment Trust (Sunway REIT) reported a 4% increase in net property income (NPI) to RM89.94 million for its first quarter ended Sept 30, 2016 (1QFY16), from RM86.49 million a year ago, due to growth from its retail and hotel segment, but this was partially offset by lower contribution from its office segment.
The REIT's total profit for the period rose by 1.7% to RM64.51 million year-on-year (y-o-y), from RM63.45 million. Its gross revenue for the period rose by 6.5% to RM121.27 million, from RM113.81 million last year.
The manager of Sunway REIT, Sunway REIT Management Sdn Bhd, has proposed a distribution per unit of 2.12 sen, 7% lower than 2.28 sen a year ago.
In a statement today, the group explained that the retail segment registered an on-year growth of 6.2% y-o-y, despite headwinds affecting consumer and business sentiment.
"The growth was contributed by resilient performance from Sunway Pyramid Shopping Mall and Sunway Putra Mall resuming income contribution, following its soft opening on May 28, 2015. The latter achieved encouraging committed occupancy rate of above 80% as at Sept 30, 2015," the statement said.
The group's hotel segment registered a 16.9% NPI increase for 1QFY16, on the back of seasonal Middle Eastern tourists; it also received new income contribution from Sunway Hotel Georgetown, after its acquisition was completed on Jan 28, 2015.
Its office segment's gross revenue, however, declined by 22% due to lower occupancy rate, but was partially offset by new contribution from Wisma Sunway upon its acquisition on March 23, 2015.
Tenaga Nasional Bhd (TNB) saw its fourth quarter net profit plunge 39.5% due to ringgit depreciation, resulting in foreign exchange (forex) translation loss.
Net profit fell to RM820.9 million or 14.55 sen per share for the fourth quarter ended Aug 31, 2015 (4QFY15), from RM1.36 billion or 24.03 sen per share in 4QFY14, its filing today showed.
Revenue for 4QFY15 grew marginally to RM11.74 billion, compared with RM11.72 billion in 4QFY14, on higher sales of electricity of RM11.31 billion in 4QFY15, from RM11.2 billion in 4QFY14.
The weaker financials notwithstanding, TNB is proposing a final dividend of 19 sen per share for the financial year ended Aug 31, 2015 (FY15), which is subject to approval of its shareholders at the forthcoming annual general meeting.
The weaker 4QFY15 earnings dragged down the group's net profit for the 12-month period (FY15), which fell 5.4% to RM6.12 billion or 108.41 sen per share, from RM6.47 billion or 114.59 sen per share in FY14; revenue for FY15, however, rose 1.16% to RM43.29 billion, from RM42.79 billion in FY14.
TNB noted that it recorded a translation loss of RM819.3 million in FY15, compared with a gain of RM445.3 million in FY14, due to strengthening of the US dollar and the yen against the ringgit.
For FY16, TNB said electricity demand growth is expected to increase in tandem with the country's projected economic growth of between 4% and 5%. However, given the impact of the slowing global economy, it remains cautious on the group's prospect for FY16.
(Note: The Edge Research's fundamental score reflects a company's profitability and balance sheet strength, calculated based on historical numbers. The valuation score determines if a stock is attractively valued or not, also based on historical numbers. A score of 3 suggests strong fundamentals and attractive valuations.)