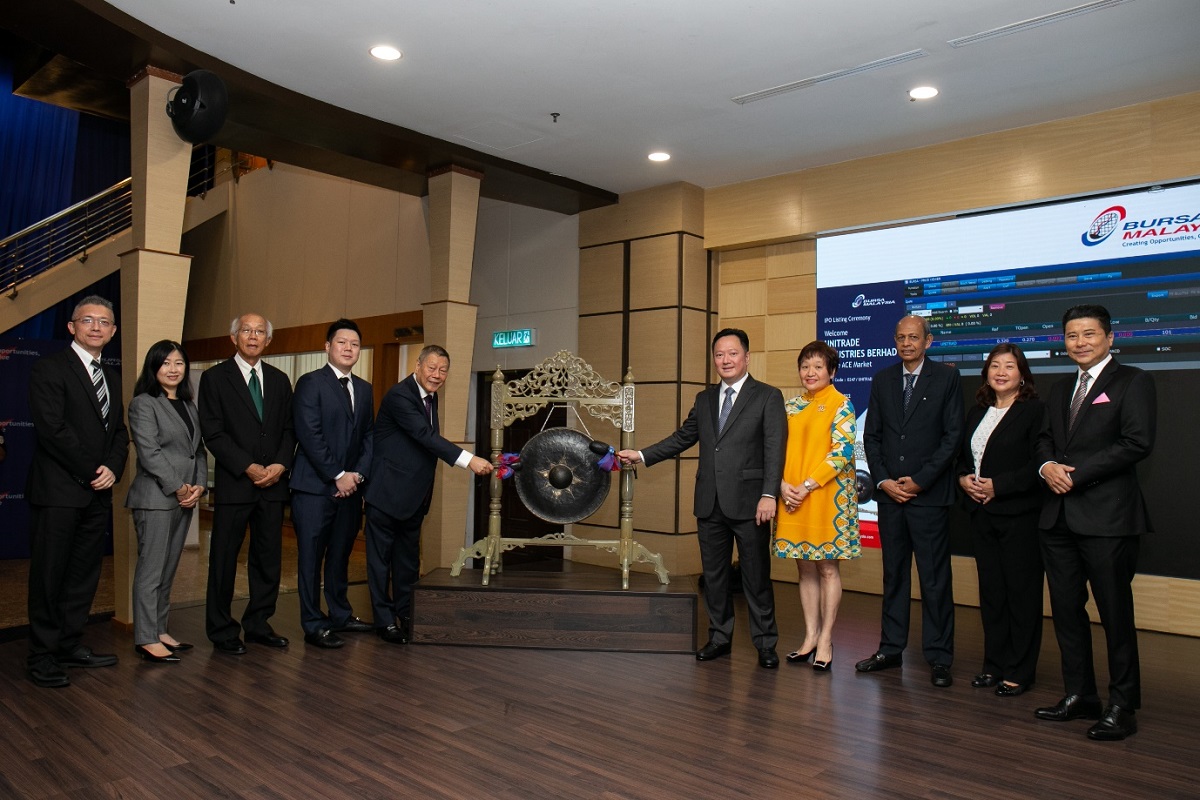 KUALA LUMPUR (June 14): Building material wholesaler Unitrade Industries Bhd made its ACE Market debut at 26.5 sen on Bursa Malaysia on Tuesday (June 14), 17.19% lower than its initial public offering (IPO) price of 32 sen. 
The lacklustre debut was in line with with the weaker broader market sentiment as global stocks and government bonds plunged again on Monday, with the sell-off pushing the US S&P 500 Index — which has dropped over 20% since a recent record close — into a bear market, and came on the heels of last Friday's data that showed US inflation accelerating more than expected in May.
As at 9.18am, Unitrade was trading at 25 sen, with some 40.93 million shares done. Trading volume of the stock swelled to 246.86 million shares by market close — making it the most actively traded stock of the day — with the counter closing at 30 sen, still down 6.25% or two sen from its IPO price. The latest price gave the company a market capitalisation of RM468.75 million.
Despite the unimpressive debut, Unitrade managing director Nomis Sim Siang Leng said the group firmly believes its business fundamentals are strong and that it will continue to grow regardless of the share price performance on Tuesday. 
"To be honest, this is not the best time for a listing, considering the global market from last Friday until today (Tuesday). Wall Street has impacted the entire world overnight, not just our counter, and these things are out of our control. 
"However, in the long term, we strongly believe that our fundamentals are strong and we will continue to grow irrespective of today's share price," he said at a virtual press conference on Tuesday in conjunction with Unitrade's listing on the ACE Market.
Unitrade's IPO exercise involves a public issue of 312.5 million new shares, representing 20% of its enlarged share capital, as well as an offer for sale of 125 million existing shares.
Out of the 312.5 million new shares, 78.1 million shares are available to the Malaysian public, 63.5 million shares to its eligible directors, employees and persons who have contributed to the success of the group, followed by 117.2 million shares reserved for private placement for bumiputera investors approved by the Ministry of International Trade and Industry, and 53.7 million shares for private placement to selected investors.
The Selangor-based company raised a total of RM100 million from the public issue under its IPO, of which RM50.5 million or 50.5% will be deployed as working capital. Another RM39.8 million or 39.8% shall go towards repayment of bank borrowings. 
Meanwhile, RM5 million will be allocated for capital expenditure to set up a pipe fabrication centre, while the balance of RM4.7 million has been earmarked to defray listing expenses.
With the recent move to a warehouse twice the size of the previous one and the proceeds from the IPO, Sim said, the group now has the capacity and ability to increase its warehouse volume and product range to meet growing demand for building materials from the construction sector.
"In addition, we will be among the first in Malaysia to build a new pipe fabrication centre to broaden our value-added service offerings to our customers. This facility will provide a long list of benefits to our customers, such as manpower reduction, acceleration of construction progress and more efficient use of space at construction sites, to name a few," said Sim. 
'No major impact from rising building material costs'
On a macro view, Sim said Unitrade is upbeat on the building materials industry, which is buoyed by the acceleration and roll-out of major infrastructure projects. 
"We have an established track record in supplying to large-scale projects in the past and hence, we are confident in capitalising on these opportunities. Besides new projects, our products are heavily used in refurbishment, retrofitting, repair and maintenance works as well. As such, Unitrade plays a critical and holistic role in supporting the full lifecycle of buildings and infrastructure," said Sim. 
On the impact of rising building materials costs related to the Russia-Ukraine war, Sim said, the impact has stabilised, so the group does not expect any major impact on prices or the supply chain. 
"Right now, supply and demand are pretty balanced. We also aim to improve our margin by focusing on higher-margin products and trying to reduce lower-margin products," he added. 
Moving forward, the group also has a plan to move its listing to the Main Market. 
"We have already achieved two years of positive operating cash flow. Should we achieve a fit in the next financial years, we will seek to move to the main board," added Sim. 
For the financial year ended March 31, 2022, Unitrade registered a revenue of RM1.29 billion and a record-breaking net profit of RM43.2 million.
Unitrade has a dividend policy where the board of directors intends to distribute dividends of up to 30% of its annual net profit to its shareholders.
M & A Securities Sdn Bhd is the adviser, sponsor, underwriter and placement agent for the IPO exercise.