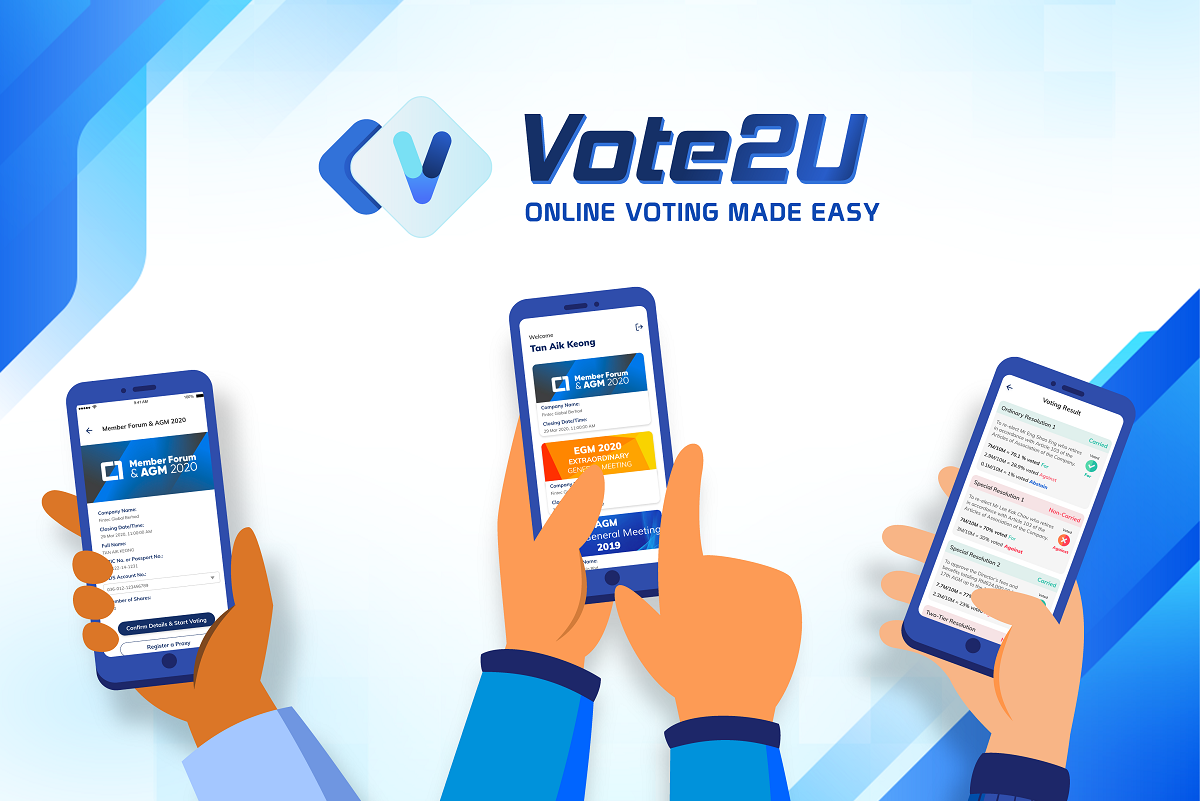 In 2019, Agmo Studio Sdn Bhd started off as an e-polling solution for students. Its CEO Tan Aik Keong tells Enterprise that at that time, the solution was used to conduct the first-ever large-scale election in Malaysia using blockchain for Multimedia University's Student Representative Council Election 2019 across three campuses (Cyberjaya, Melaka and Johor).
In early March this year, Tan was contacted by Andy Wong, CEO of Excel Force MSC Bhd, who was seeking a way to conduct the company's annual general meeting (AGM) virtually amid the Covid-19 outbreak.
He soon realised that the e-polling solution, while useful, did not generate revenue. During the Movement Control Order (MCO) in mid-March this year, the company decided to pivot its remote participation and voting (RPV) solution and offer it to public-listed companies to carry out annual general meetings (AGMs).
"Our first customer after that was MP Corporation Bhd and now, we have used this solution in more than 20 AGMs, including the likes of Pos Malaysia Bhd and My EG Services Bhd," he says.
Vote2U, a Malaysian start-up born during the MCO period, uses blockchain to power its RPV platform. It has since generated more than RM300,000 in revenue within three months of launching.
"This truly demonstrates the quote from John F Kennedy: 'in a crisis, be aware of the danger – but recognise the opportunity'," says Tan, who came up with the idea of Vote2U.
Tan explains a typical RPV software consists of three main features: livestreaming, a place to ask questions and to vote. Being a newcomer to the RPV market, Tan says Vote2U faced stiff competition from global virtual AGM software providers and multinational corporate service providers.
But Vote2U differentiated itself by offering electronic know-your-customer (e-KYC), records of depositors (ROD) integration and a blockchain audit trail. The e-KYC technology is used to verify shareholders' identities against their identity document. 
Meanwhile, the ROD is exported directly from Bursa to ensure the user is a shareholder of a specific public limited company. These features allow shareholders to sign up to join the AGM even on the AGM day itself.
Tan adds that since voting is crucial during AGMs as it could involve substantial monetary value, Vote2U uses Quorum blockchain technology as the audit trail to ensure data integrity and tamper-proof results.
"Vote2U is designed as a universal solution for fully virtual, hybrid and physical general meetings. In the case of hybrid and physical general meetings, shareholders will be provided with a QR-code polling slip; they can scan the code using their smartphone to vote," Tan says.
"This is a desirable approach amid the Covid-19 pandemic, compared to using a shared polling kiosk or polling device, which could potentially cause the virus to spread."
After the recovery MCO period, Tan says Securities Commission Malaysia still encourages public listed companies to continue leveraging technology to conduct their general meetings and communications with shareholders.
"This is a great driving factor for Vote2U to continue growing in the RPV sector. Vote2U has also planned to scale the business beyond the public listed company sector and into the AGM for property joint management bodies, associations and co-operative societies," he says.
"We have also seen interest from Singapore and Hong Kong."