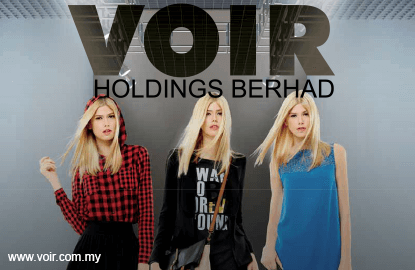 KUALA LUMPUR (April 29): Voir Holdings Bhd saw as much as 50.7% of its shares crossed off market today, at a steep discount compared to its market price.
According to Bloomberg data, a total of 66.93 million shares were moved in one block at 50 sen a piece, for a total value of RM33.47 million. The transaction price represents a 22 sen or 44% discount to today's closing price of 72 sen.  
It is not known as to who the parties involved in the trades are. But the transaction could well be be related to Voir's holding company, Marvellous Future Sdn Bhd.
Last month, Marvellous accepted Vista Lestari Development Sdn Bhd's offer to acquire a 50.71% stake in the fashion retailer for RM36.48 million or 50 sen per share, (along with 33.47 million warrants for nine sen per warrant).
The transaction has turned the takeover offer to unconditional.
 
Following completion of the transaction, Vista Lestari will be the majority shareholder of Voir and will make a mandatory general offer (MGO) to all shareholders of Voir at the same price.
Voir first announced the deal on March 1. It said Marvellous had taken up the offer to sell its entire 50.71% shareholding in Voir, as well as all of its warrants amounting to 55.78% to Vista Lestari.
"Datuk Zarul Ahmad Mohd Zulkifli is the ultimate offeror for the proposed MGO, being the chairman and a major shareholder of Vista Lestari," said Voir. Zarul is also chairman of Consortium Zenith BUCG Sdn Bhd, the main contractor for the controversial RM6.3 billion undersea tunnel project in Penang.
According to Voir, the persons acting in concert with Vista Lestari for the purpose of the proposed MGO, are Vista Lestari director and substantial shareholder Zarul Ikhwan Zarul Ahmad, director and substantial shareholder Mohd Asfirdaus Asri, and Datuk Lee Chee Hoe being a guarantor for the financing of the proposed acquisition.
Lee is also a director of Zenith Construction Sdn Bhd, Consortium Zenith BUCG and Zenith PMC Sdn Bhd, which are the subsidiaries of Vista Lestari.
Voir was not traded on the market yesterday. It was last traded on April 18, closing at 72 sen, albeit in thin trading volume of 1,100 shares.