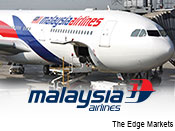 KUALA LUMPUR: (Nov 27): The contracts between companies which will provide goods and services for the new Malaysia Airlines Bhd (MAB) in line with the transitional plan to rescue the ailing Malaysia Airlines (MAS) will be maintained for the time-being, said Minister in the Prime Minister's Department Datuk Seri Wahid Omar.
The Malaysian Airline System Bhd (Administration) Bill 2014 was passed in Parliament today.
Clause 14 of the bill states that current parties who have a contract with MAS and its subsidiaries shall continue their services with the new corporation MAB and its subsidiaries at the same rate. 
However, whether or not these goods and services are required for MAB and its subsidiaries, will be determined by the administrators. 
The administrators, consists of members or directors of MAS and its subsidies. The appointment of this board is subject to the approval of the prime minister according to the bill. 
An amendment to the clause was tabled in Parliament today. Among others, it stated that if the companies with current contracts fail to continue their services – if required – MAB and its subsidiaries would be able to recover any incurred cost or damages for any loss. 
Wahid said the contracts were retained to ease the transition period of the flight operations from MAS to MAB. 
He said the rate was maintained because it may take some time to find new suppliers if the current companies disagreed with the new terms which will be proposed at a later date. 
The minister said the clause and the related amendment was to ensure that these companies do not hold MAB "to ransom". 
"New caterers for instance would take more than 12 months to find," he said. Brahim's Airline Catering Sdn Bhd is currently the in-flight catering company for MAS. 
The bill, which was tabled in Parliament yesterday, focused on the purview of a new entity, MAB, to manage the loss-making airline.
Among the highlights of the bill were that it provides power to the administrator to renegotiate the terms and conditions of any contracts and agreements of the administered companies with MAS and its subsidiaries. 
The new company will also not be it will not be liable for any obligation relating to any retirement plan or other post-employment benefit plans of the employees or former employees currently. 
The administrator also cannot be sued or prosecuted in any court or tribunal for any loss or damage caused by its exercise of power under the new act, unless it is due to willful misconduct or gross negligence. 
Khazanah has a 69% equity interest in MAS and has offered to buy the remaining stake in the airline for 27 sen per share or nearly RM1.4 billion.